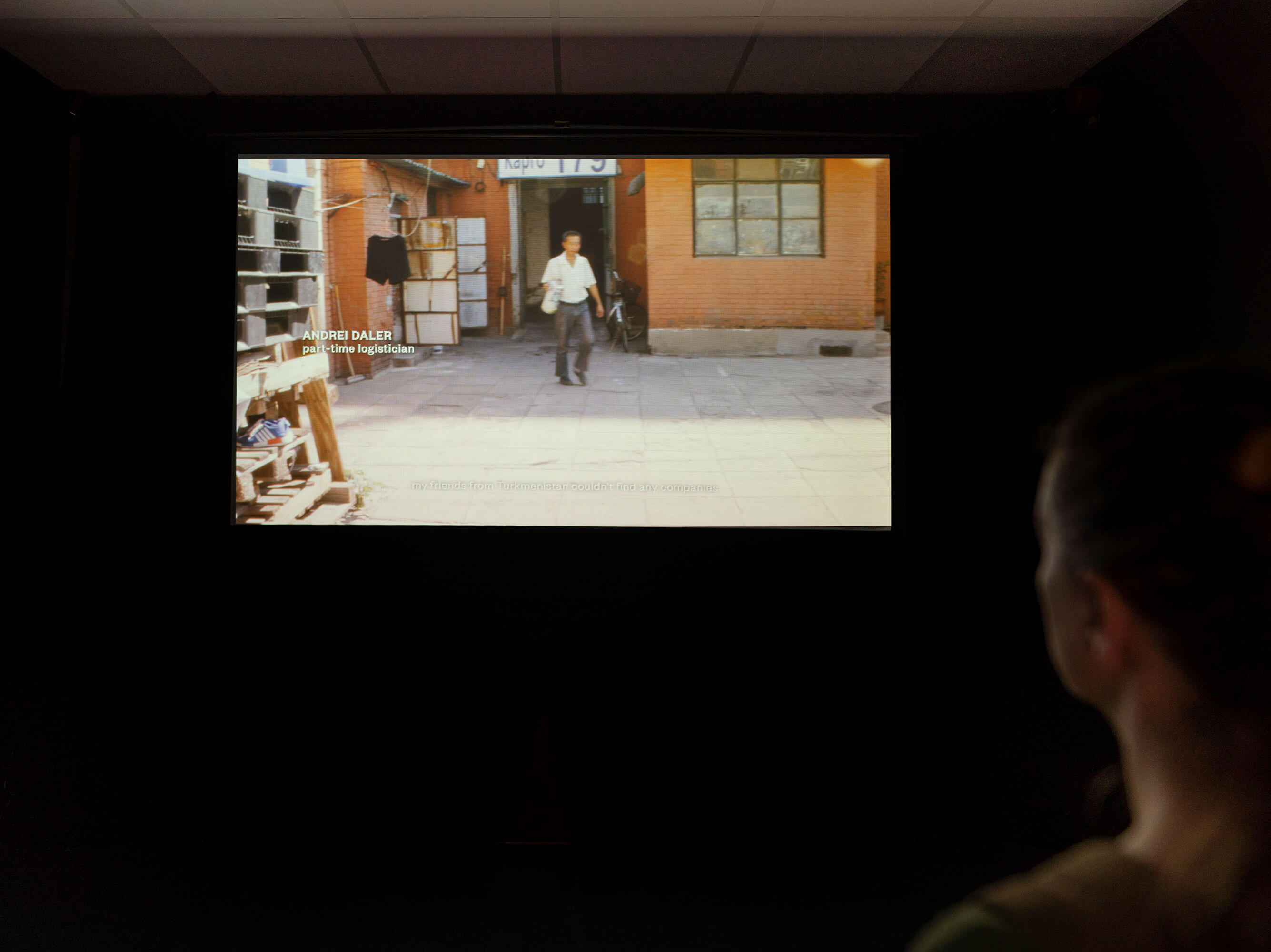 Installation view AAA Cargo by Solveig Qu Suess at Konsthallen Blå Stället. Photo Hendrik Zeitler
AAA Cargo
2018
Video with sound, 34 min  
Sound design by Josh Feola 
Script written in collaboration with Ming Lin  
With contributions from Ravi Sundaram, Charmaine Chua, and Rune Reyhé.  
The film essay AAA Cargo is part fiction, part documentary about the New Silk Road. The video traces the anticipation of infrastructure and trade on a planetary scale. It follows distribution networks as they expand between China and Europe. Along their routes, geographies are reformatted for logistical purposes. The changing landscapes also attract "paralogisticians", a new generation of precarious workers who hack infrastructural spaces. The personal relationships and narratives of the paralogisticians seep into dominant forms of governmentality, such as transnational regulations, labor management, and security measures, slowly eroding their solidity. Concurrently, the shifting desert sands disrupt roads and railways, sometimes engulfing whole cities.  
---
Biography
Solveig Qu Suess (1990, Switzerland) works within the fields of documentary-making, research, and writing. Her moving-image practice has been researching embodied and ecological politics across infrastructures of circulation, attentive to new spatial configurations of power. Suess is a former Digital Earth fellow, holds a master's degree from the Centre of Research Architecture at Goldsmiths, and is currently a Junior Researcher at the Critical Media Lab. She is part of Geocinema, whose collective work uses expanded cinema as a method to investigate aesthetics in geopolitical systems. Solveig Qu Suess is based in Basel and Berlin.