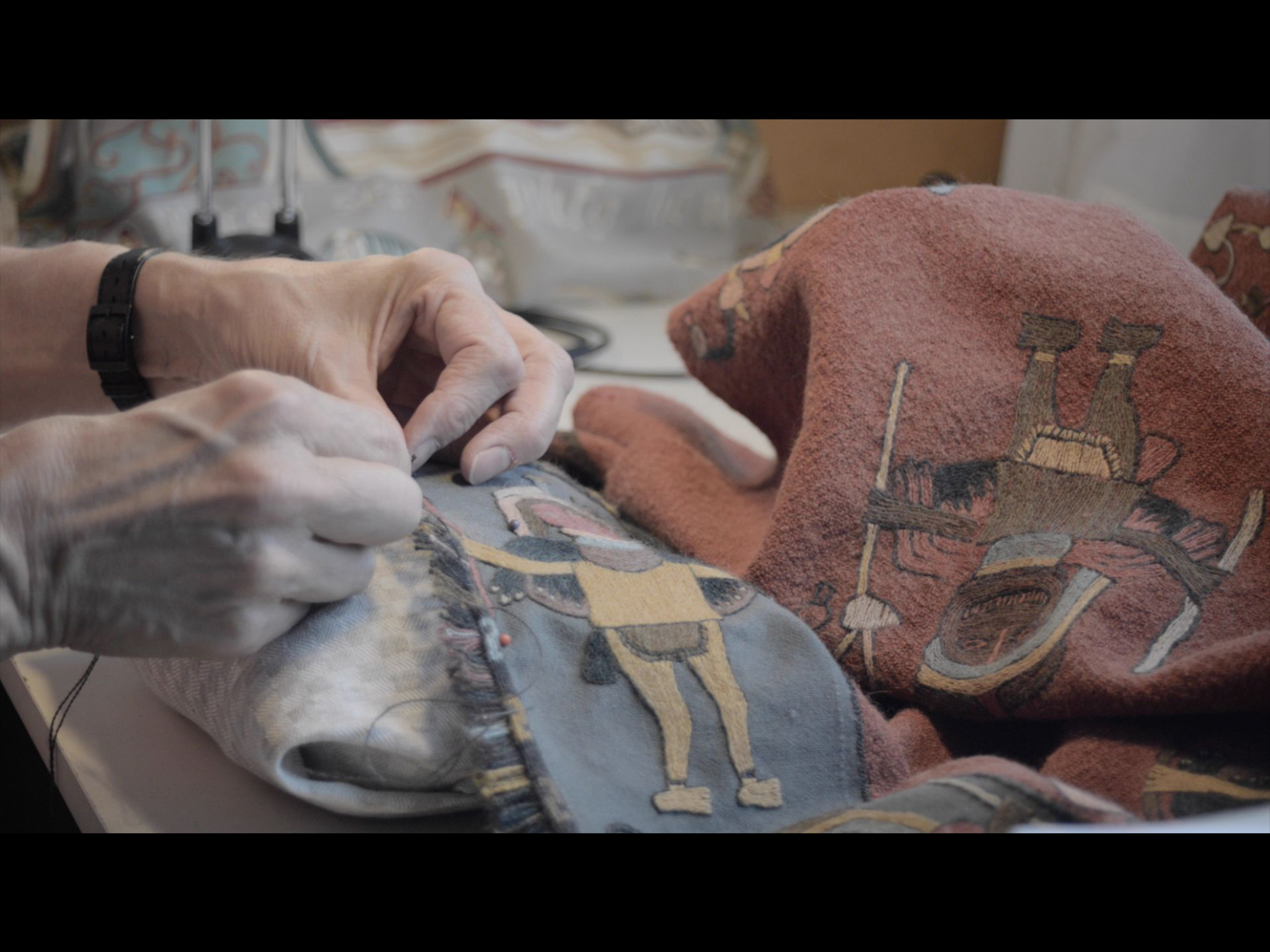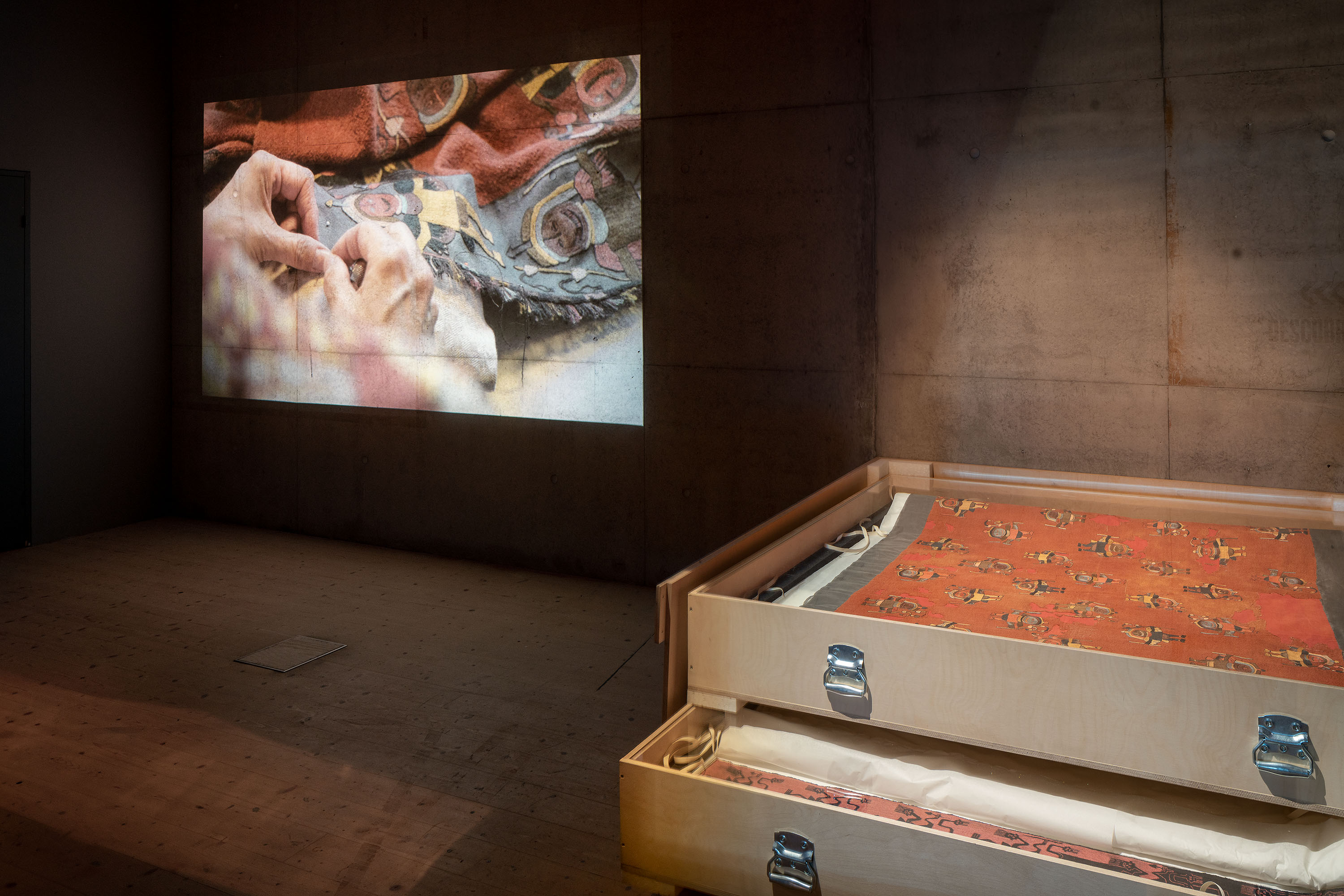 Gibca 2021 Världskulturmuseet. Photo: Hendrik Zeitler
Within Heritage Movements
2013-2021
Reproductions of ancient textiles, diplomatic transport boxes, archival materials, video with sound, 27 min 
The point of departure for Lara's project was a diplomatic dispute sparked by a collection of Peruvian pre-Columbian textiles that the Museum of World Culture in Gothenburg showed in 2008 as part of the exhibition 'A Stolen World'. The exhibition told the story of how the textiles had been looted from a 2000-year old desert grave in the 1930s and shipped secretly by diplomatic post to Gothenburg. After the Peruvian ambassador requested the textiles were returned to Peru, Lara embarked on a research process lasting several years, during which identical copies of the stolen textiles were made according to the same ancient techniques as the originals. The painstaking replication of the textiles took over four years and was made with Swedish expertise and funding only. Once finished, the copies were brought to Peru and shown at the MALI Museum of Arts in Lima, reproducing the museological aesthetic of the 2008 Gothenburg display.   
Since the start of the dispute, several of the Peruvian textiles have been repatriated from Sweden to Peru. In the summer of 2021, the two originals copied by Lara were also returned.   
The current installation at Museum of World Culture shows the two replicas in transport boxes, in the same way as the originals were shipped from Gothenburg to Lima. Also on display is a video documenting the elaborate process of producing the replicas. The project addresses the colonial foundations of ethnographic co llections in European museums, how cultural change occurs when objects are relocated, and the politics of display aesthetics.    
Produced with support from the Royal Institute of Art in Stockholm, the Museum of World Culture and GIBCA. The alpaca wool was sourced from Hamralpaca and Österlen Alpacka.   
Thank you to Martin Ciszuk, Lena Hammarlund, Maiko Tanaka, Anna Javer and María Ysabel Medina.  
Textile practitioners involved in the production process: 
Hanna Adenbäck, embroiderer 
Martin Ciszuk, research and production advisor 
Elisabeth Hamfelt, embroider, material expert 
Lena Hammarlund, research and production advisor 
Torhild Hektoen, wool spinner 
Jenny Larsson, embroiderer 
Ulrika Mars, embroiderer 
Maria Nordin, embroiderer 
Astri Sorby, embroiderer 
Maiko Tanaka, research and production director 
Sara Thorn, research and embroiderer   
---
Biography
Oscar Lara (b. 1977, Peru) is an artist based in Stockholm and Lima. He holds a Master of Creative Arts from the University of Wollongong, Australia and is currently a PhD candidate at the Royal Institute of Art, Stockholm. His work researches social practices for substantial structural change and recontextualization of ethnographic material for the activation of decolonial power. Lara has exhibited at MALI – Museo de Arte de Lima (2017), Espacio Fundación Telefónica (Madrid, 2012), Tetem Kunstruimte (Enschede, Netherlands, 2011), Museum of World Culture (Gothenburg, 2008).