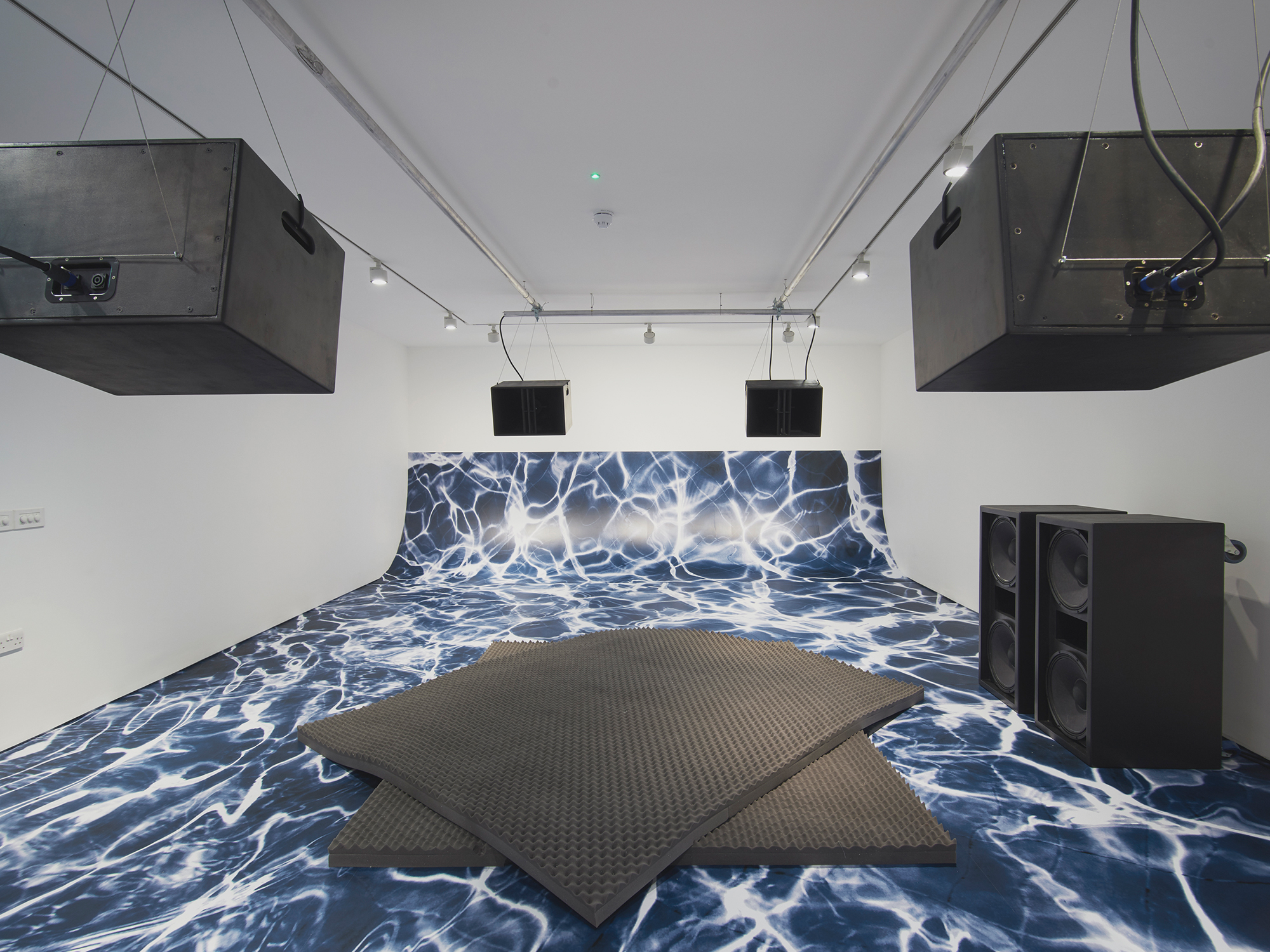 Ritual (Without) Belief, installation view, 2018. Commissioned by Gasworks. Courtesy the artist. Photo: Andy Keate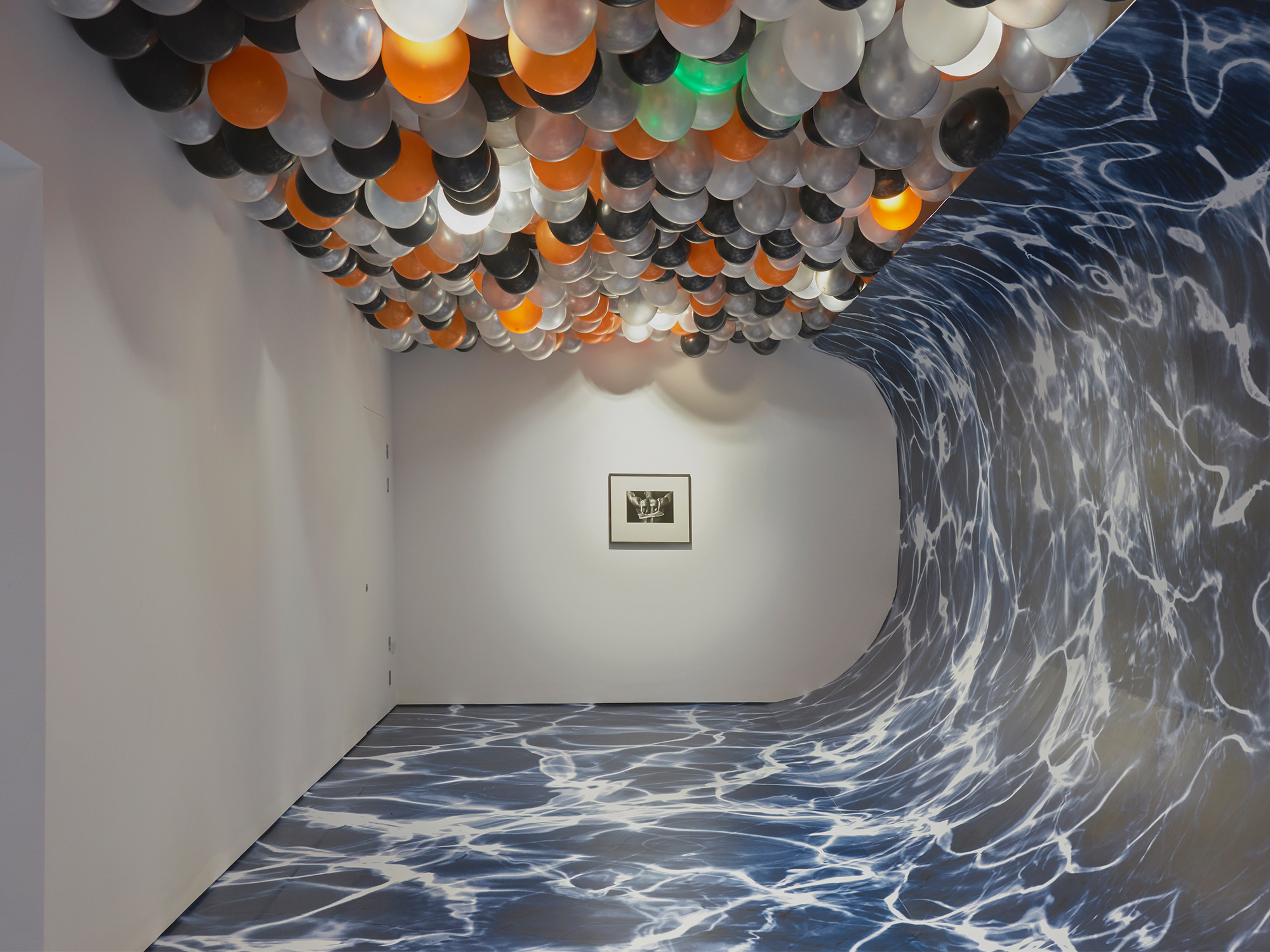 Ritual (Without) Belief, installation view, 2018. Commissioned by Gasworks. Courtesy the artist. Photo: Andy Keate
Ritual Without Belief

2018 
Sound installation 
Dimensions variable 
Courtesy the artists 
Evan Ifekoya describes their 6-hour sound work as "a black queer algorithm across generations, locations, and political affiliations." The installation explores how to create conditions for polyvocality. The soundtrack combines underwater and inner body sounds with vocal samples embodying and channeling other voices drawn from literature, theory, and music, as well as conversations with friends and intimate thoughts and reflections. A gray-scale ocean covers the floor, arching up in waves at either side of the gallery. The ocean is imagined as a site of transformation, where the cyclical nature of life and death is a rhythm reproduced in every wave and breath as well as across time. The balloons allude to The Loft, an LGBT club night started in New York in the 1970s. They also speak to the notions of time and decay, deflating and changing how the work is experienced over the duration of the exhibition. The photographic work Bodybuilder with Bra (1990) by artist Ajamu X is included in the installation as a further gesture of intergenerational dialogue and community building. 
---
Biography
Evan Ifekoya (b. 1988, Nigeria) is an artist and energy worker who uses archival and sonic investigations to speculate on blackness in abundance. They established the collectively run and QTIBPOC (queer, trans*, intersex, black, and people of color) led Black Obsidian Sound System (B.O.S.S.) in 2018. They have presented exhibitions, moving image, and performances across Europe and Internationally, most recently Liverpool Biennial (2021), Gus Fischer New Zealand (2020), De Appel Netherlands (2019), and Gasworks London (2018). Evan Ifekoya is based in London.
Ajamu (b. 1963, UK) is a darkroom/fine art photographer, archivist, and radical sex activist with over twenty-five years of experience exhibiting in museums, galleries, and alternative spaces worldwide. His work includes portraits/self-portraits that unapologetically celebrate black queer bodies, the erotic, and pleasure activism. A graduate of Van Eyck Academy, Ajamu is currently a PhD candidate at the Royal College of Art in London. His solo shows include Through a Queer Lens, Jewish Museum London (2016); Future Histories, Street Level Photoworks, Glasgow (2012); and Ajamu: Selected Works, Pinacoteca Do Estado, Sao Paulo (1995). Ajamu lives and works in London.