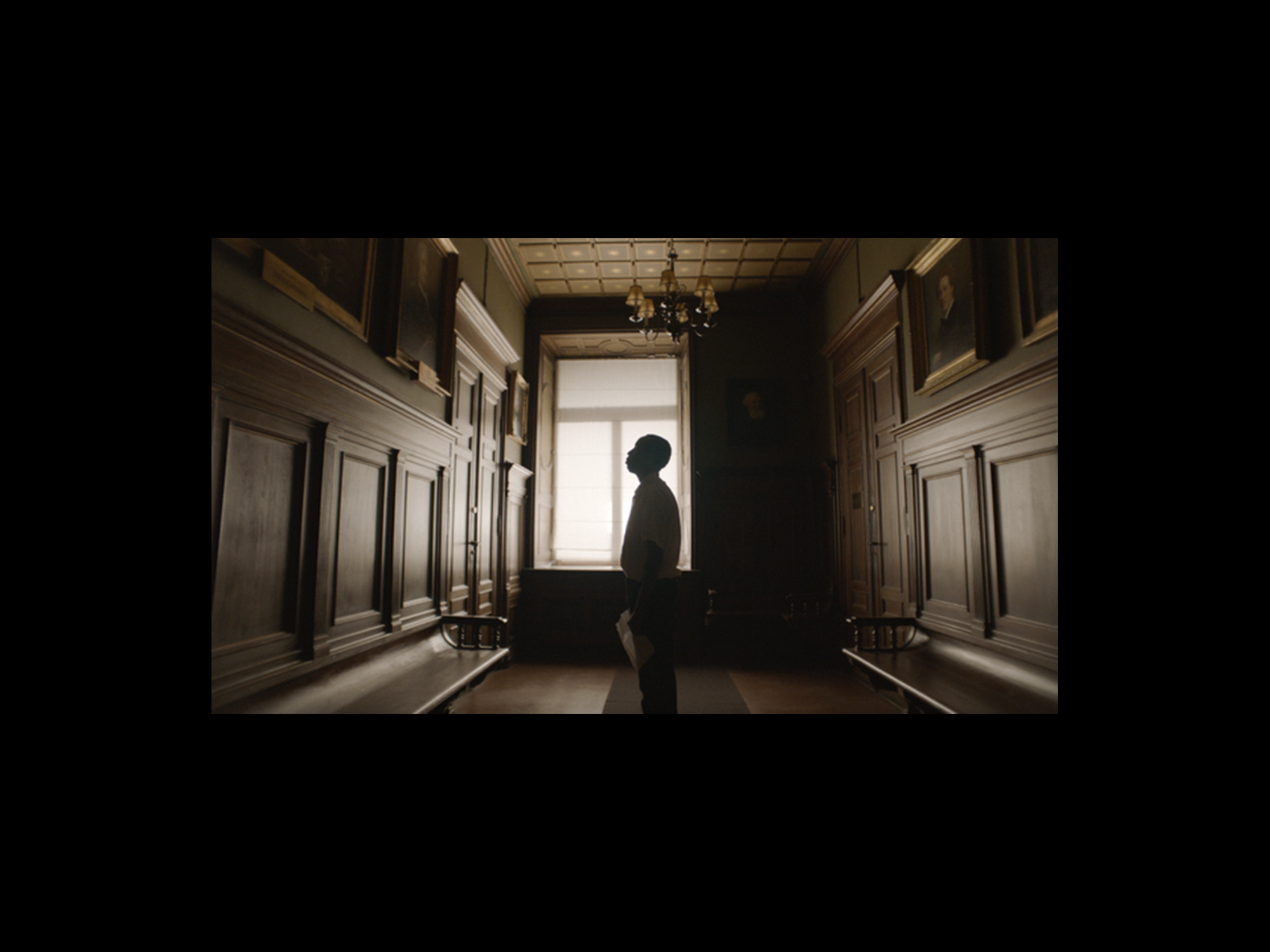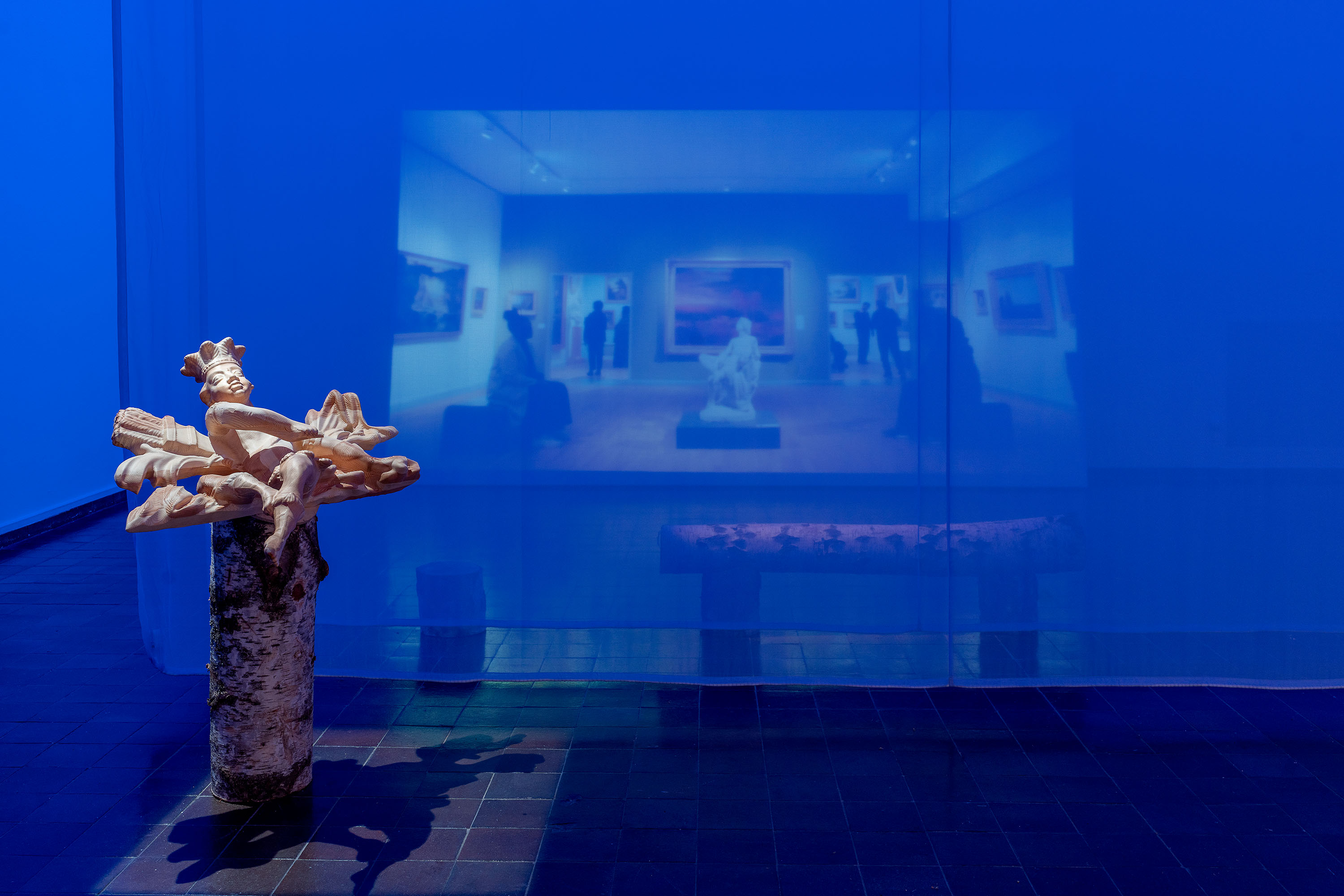 Vanus Labor Göteborgs Konsthall. Photo: Hendrik Zeitler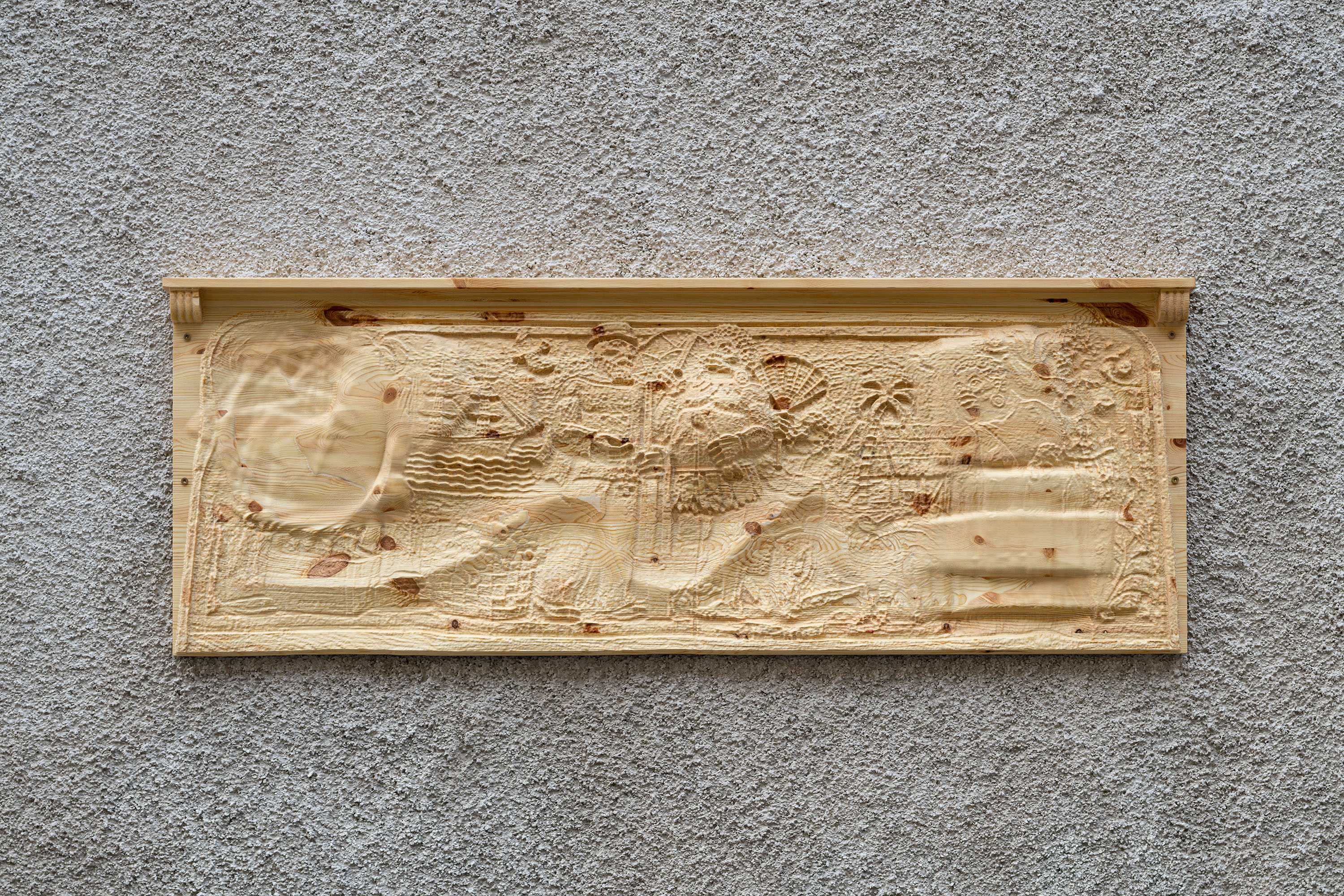 Untitled (En resa från förr), Postgatan. Photo: Hendrik Zeitler
Vanus Labor
2021 
Sculpture and light installation, video with sound, 12 min 45 sec
Light design by Ivan Wahren. 
Courtesy the artist 
For a long time Salad Hilowle has been studying old paintings and sculptures from the history of Swedish art whose subjects are people of the African diaspora. Through his research-based project, Hilowle gives greater depth and expression to this part of Afro-Swedish life as it exists in art. The title Vanus Labor (Vanity's Labor) comes from David Klöcker Ehrenstrahl's work from the end of the seventeenth century depicting a group of white children washing a black child. The gesture can be interpreted in different ways. Hilowle's writing of history tries not to reformulate what we believe we already know, but rather to find ways of getting past it. In order for those ways to be possible, he challenges us not only to search out and notice the anomalies, but also to examine the familiar as though for the very first time.   
Digital catalouge – Vanus Labor
Thanks to the Bernadotte Programme at the Royal Swedish Academy of Fine Arts.
Untitled (En resa från förr)
2021
3D relief carved in pine 
Salad Hilowle's site-specific work Untitled (En resa från förr) is based on a previous work by the sculptor Arvid Bryth. The original piece was made in the 1940s on commission from the shipping company Rederi AB Transatlantic, and it still hangs in the lobby of their former headquarters at Packhusplatsen 3. Bryth's carved wooden relief depicts an encounter between white sailors and a group of black people. Between them we see weapons and trade goods. The picture is executed in a naïvistic style, but it has violent undertones. Hilowle brings Bryth's picture out into the public realm by placing a reworked copy of the original around the corner from Packhusplatsen. His interventions in the piece shed new light on the original scene and also change it. The new work reminds us of historically inequitable relationships and stereotypes, but also of the potential for change.   
---
Biography
Salad Hilowle (b. 1986, Somalia) is both an artist and a film director. Hilowle holds an MFA from the Royal Institute of Art in Stockholm. Hilowle is currently working on a feature film with the working title Tungomål and is also a Bernadotte Fellow for 2020. Solo exhibitions include: Vanus Labor, the Academy of Fine Arts (Stockholm); Home Is Where the Heart Is: Part II, Österängens konsthall; Buurha u Dheer (Passion of Remembrance), Royal Academy of Arts (Stockholm); Home Is Where the Heart Is, Konstfack Gallery (Stockholm); and Brev till Sverige, Tierp konsthall. Hilowle lives and works in Stockholm.
---
Venue
Postgatan 2
Göteborgs Konsthallen