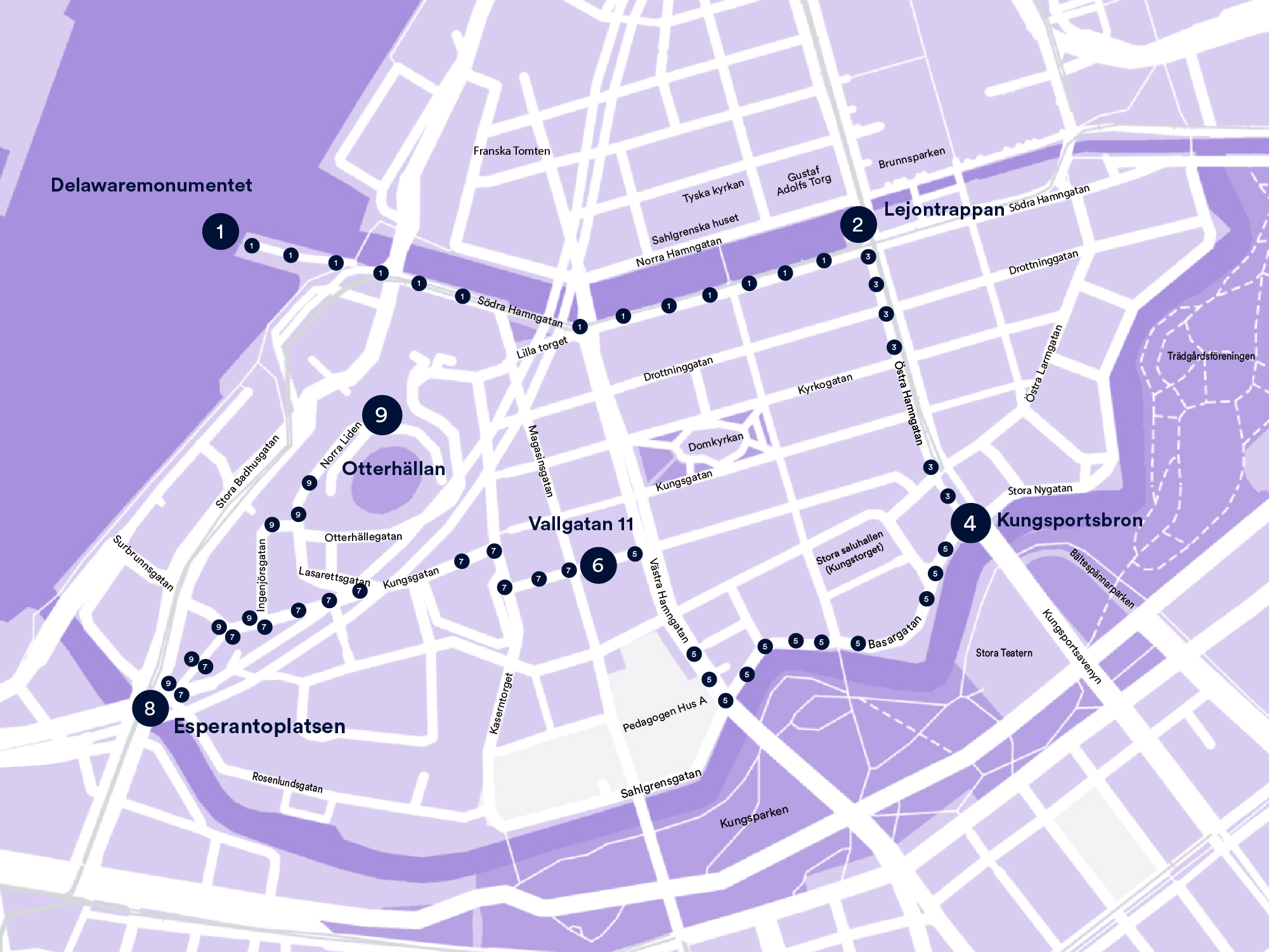 Brunbältet
Brunbältet

2021
Sound art work
75 min
Language: Swedish  
Listen with your own earbuds and phone. The piece can be accessed through GIBCA's app and website. The starting point is the Delaware monument at Stenpiren.  
The work brings you along on an audio walking tour of downtown Gothenburg. It comprises nine sound tracks that are meant to be heard in numerical order. The walk from Stenpiren to Otterhällehuset stops at Lejontrappan, Kungsportsbron, Vallgatan, and Esperantoplatsen, offering a critical conversation about Gothenburg's colonial and Nazi history. A fictional character leads the listener from one place to the next, wandering among different historical eras. At each place we encounter documentary clips with voices that describe their own experiences of being victimized by Nazi violence there. The work links together the colonial exploitation of the seventeenth century with other eras and other kinds of dehumanization, including the anti-Semitism of the 1920s and 30s, the homophobia of the 80s, and the Neo-Nazism of the 90s. With the contemporary city as backdrop, the audio walking tour follows traces that are not always visible but are present in various ways in people's thoughts, memories, and bodies.  
Actors:  
Ellen Nyman 
Wahid Setihesh    
Documentary voices: 
Salem Yohannes 
Christina Kjellsson 
David 
Katja 
Robin Grams 
Nasim   
Composers: 
Masih Madani 
Amanda Lindgren  
Thanks to:
Valentina Vidaurrazaga Aras, Nava Bergman, Gunlög Fur, Alejandra Goic,
Johanna Gustavsson, Adam Hjorthén, Tobias Hübinette, Nemanja Stojanovic, Klas Rönnbäck, Björn Karlsson 
---
Biography
HAMN (Nasim Aghili & Malin Holgersson)
Nasim Aghili (b. 1980) is a Swedish-Iranian artist, director, writer, and performer. Nasim's participatory performances, theater installations, and art in the public space often deal with the experience of existing and living in different forms of exile and often take the form of healing rituals. Nasim Aghili's plays have been translated into various languages such as English, Spanish, and Arabic, and their work has been performed or presented in countries such as Puerto Rico, England, Mexico, US, Holland, Estonia, and Sápmi.
Malin Holgersson (b. 1974, Sweden) is a Swedish artist, playwright and podcaster that works mostly within performing arts and audio drama. Their work is interdisciplinary and combines text, sound, and body/ies. With a background as a radio producer, they often use journalistic methods and stage documentary stories. Holgersson's latest work is We Are This Place or Condition (a collaboration with artist Johanna Gustavsson), a binaural audio drama and site-specific sound installation made for headphones that takes place in an apartment. Aghili and Holgersson work together in HAMN and in the queer feminist art collective Ful.
---
Venue
Online/Offsite
Stenpiren – Otterhällehuset