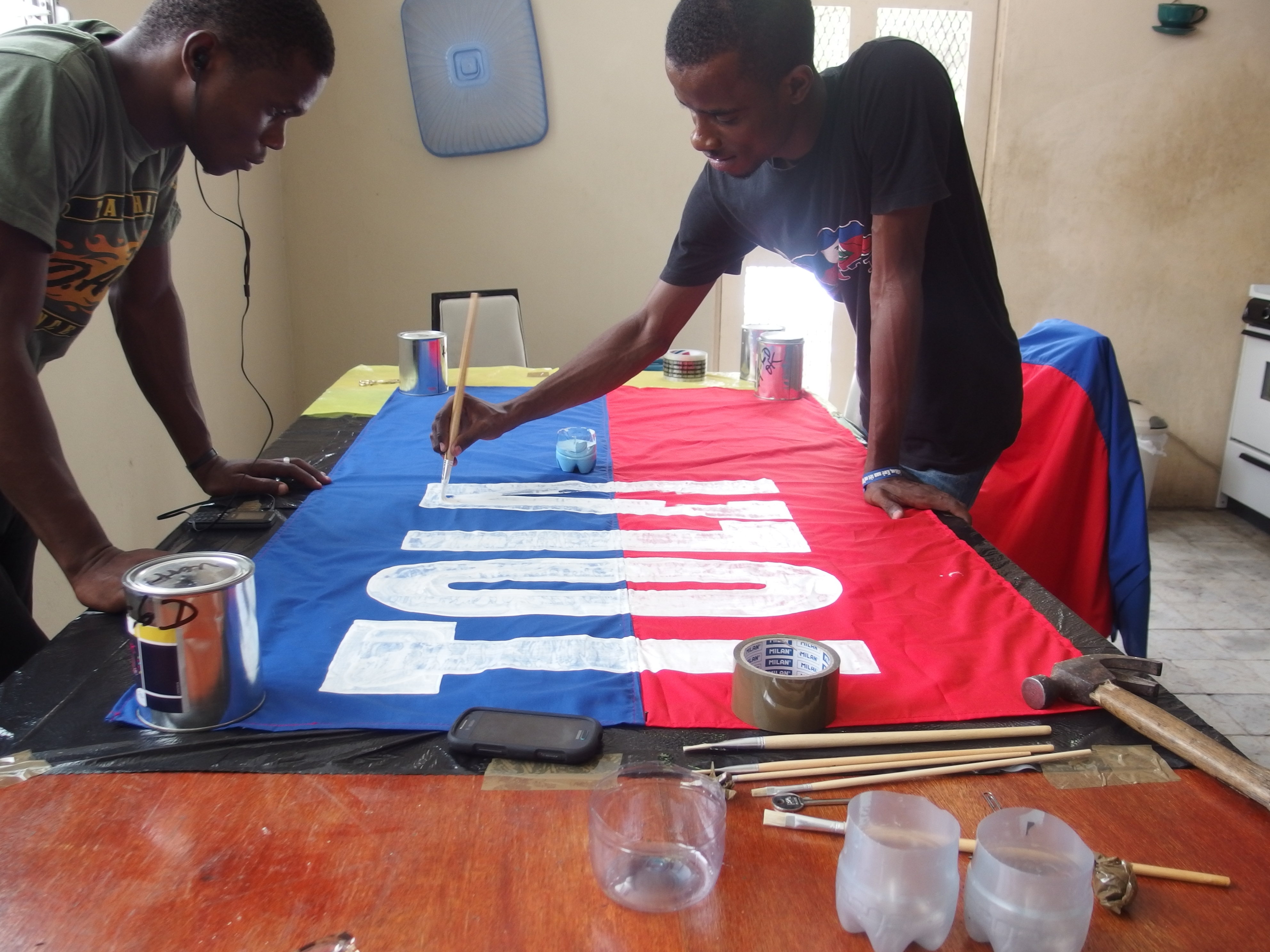 Tolalito, 2016, Haitian flag, graphic design James Ford Auguste Photo: Gaelle Choisne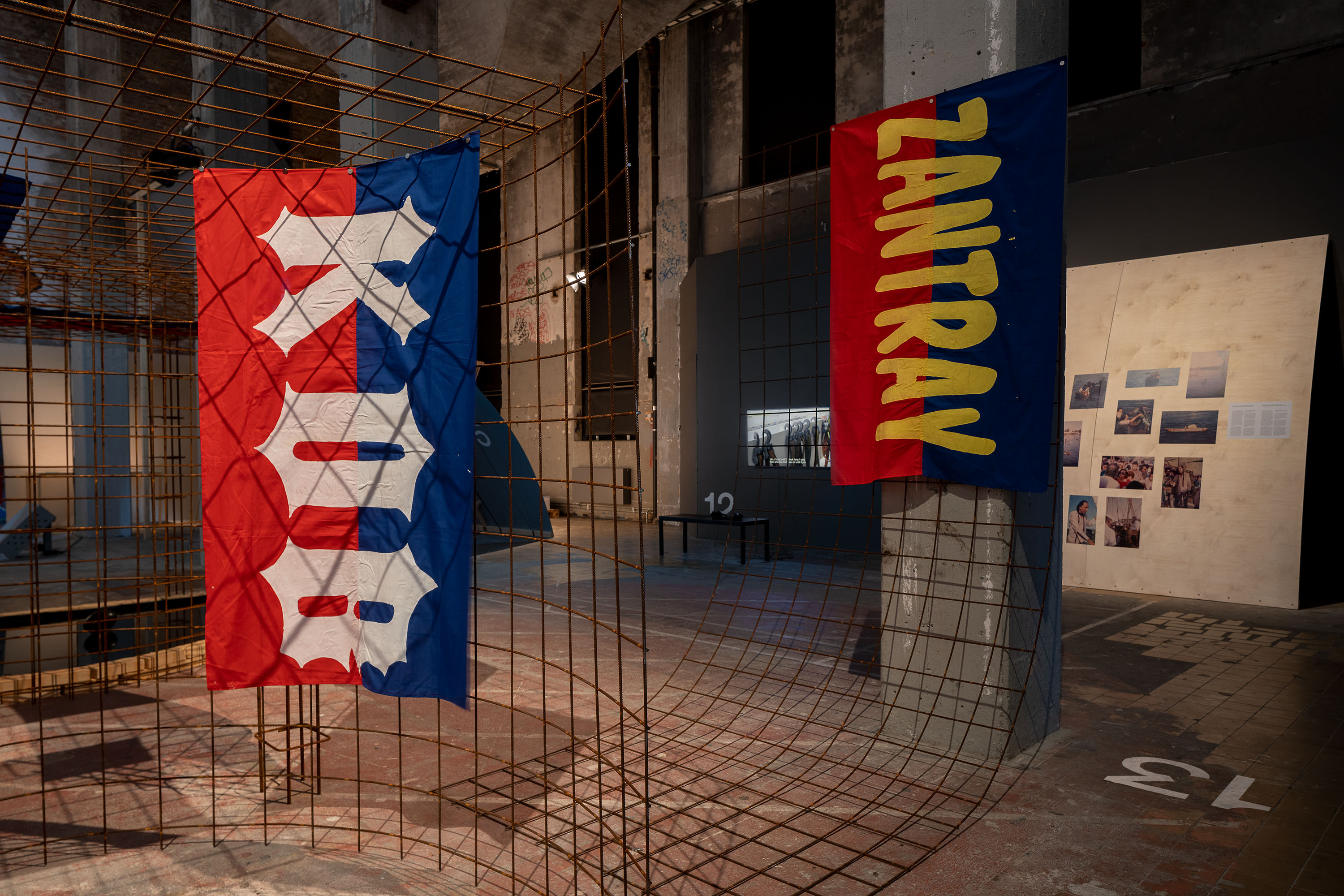 Gibca 2021 Röda Sten Konsthall. Photo: Hendrik Zeitler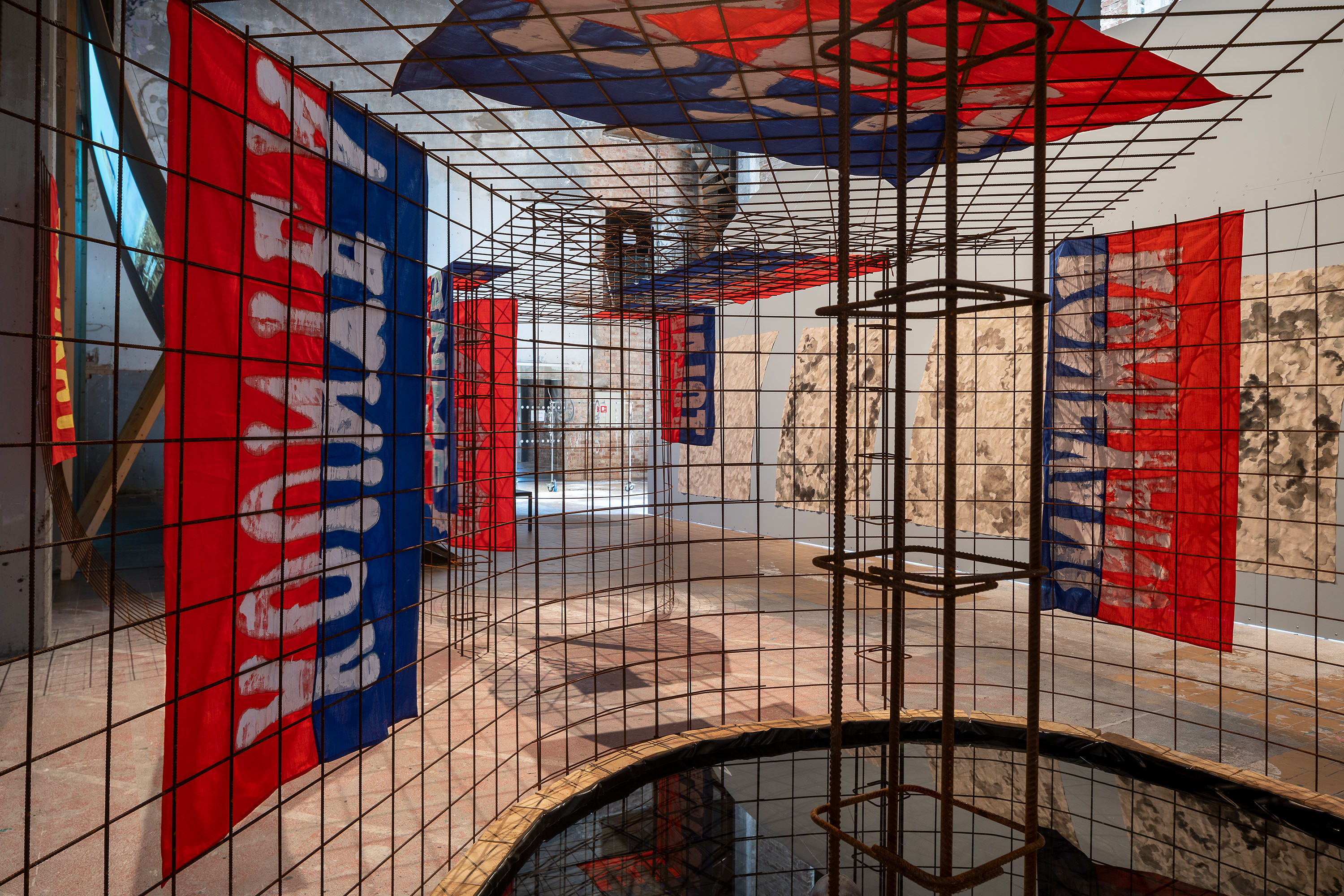 Gibca 2021 Röda Sten Konsthall. Photo: Hendrik Zeitler
Temple of Love – To Be Ascetic (Tolalito)
2021
Concrete wire mesh, hand-painted flags, pool with bricks and water, lingam stone. 
Dimensions variable  
Courtesy Studio  Gaëlle  Choisne 
Presentation with support from Institut Français de Suède 
This installation is the most recent iteration of Choisne's ongoing project Temple of Love, which is inspired by Roland Barthes's book A Lover's Discourse: Fragments. Choisne's project explores love as a form of resistance and a catalyst for courage and transgression. Each iteration refers to a chapter in Barthes's book. Constructed as spatial and sculptural arrangements, the Temple of Love installations offer a delicate balance between shelter and confinement, and between the organic and the artificial. The flags were inspired by political banners used during elections in Haiti and were made in Port-au-Prince by the graphic designer James Ford Auguste. The bricks reference those used as ballast by Northern European ships deployed in the triangular trade. In the center of the pool is a lingam stone, which holds healing properties and the ability to protect against bad energy.  
With support of 'Institut français de Suède
---
Biography
Gaëlle Choisne (b. 1985, France) is a graduate of the École Nationale Supérieure des Beaux-Arts de Lyon. The artist explores contemporary issues relating to resource exploitation and vestiges of colonialism in installations that mix esoteric Creole traditions with myths and folk cultures. Her projects are conceived as ecosystems of sharing and collaboration, pockets of "resistance" where new possibilities are created. Her works have been exhibited at the Curitiba Biennial (2017), Sharjah Biennial (2017), Lyon International Biennial (2015), Havana International Biennial (2015), Centrale Powerhouse (Montreal), CAFA Museum (Beijing), Pera Museum (Istanbul), MAM – Musée d'art moderne de Paris, Zacheta Gallery (Warsaw), the Mistake Room (Los Angeles), and Bétonsalon (Paris). Choisne lives and works in Paris.