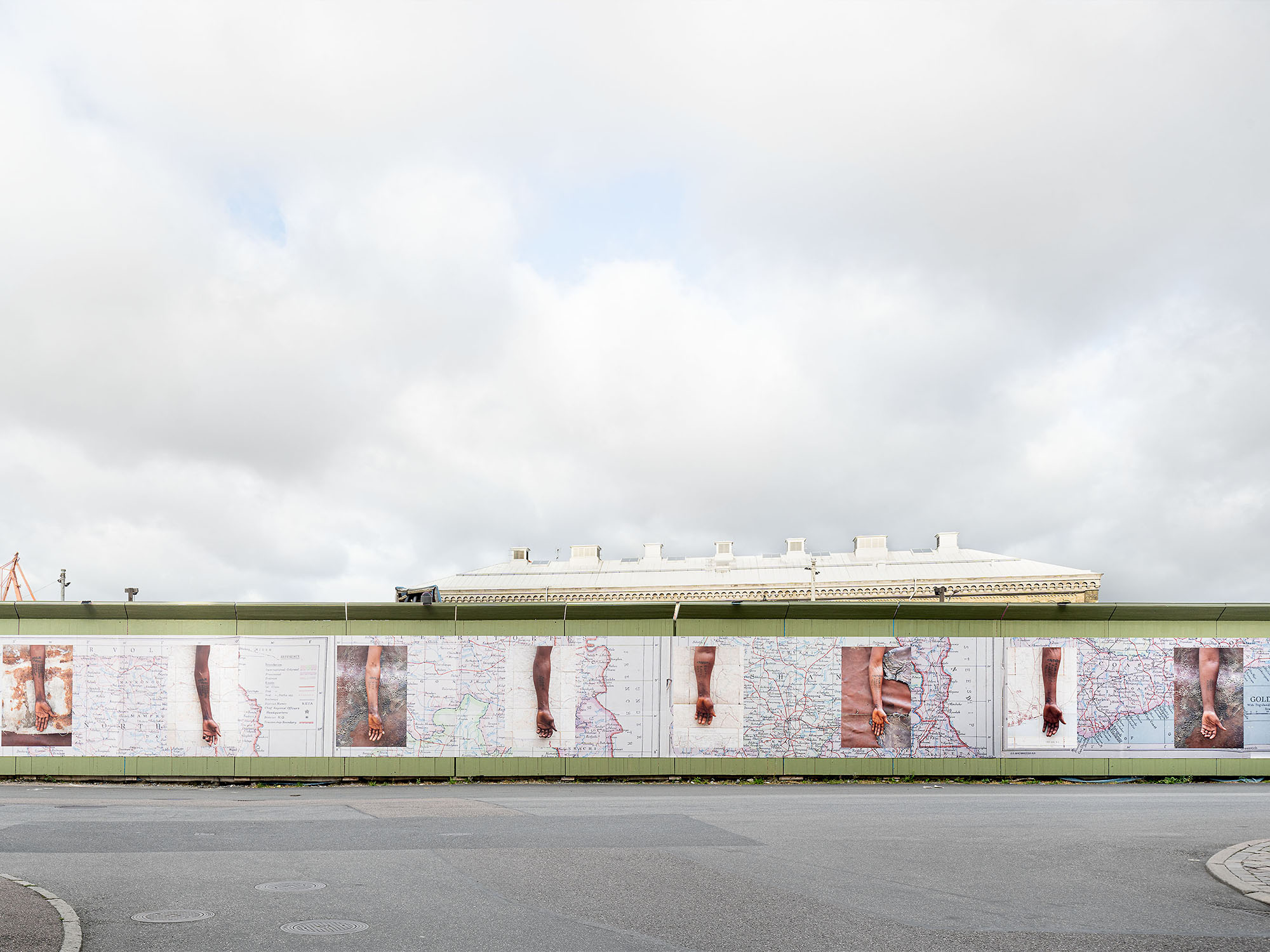 Installation view work by Ibrahim Mahama at Franska tomten. Photo Hendrik Zeitler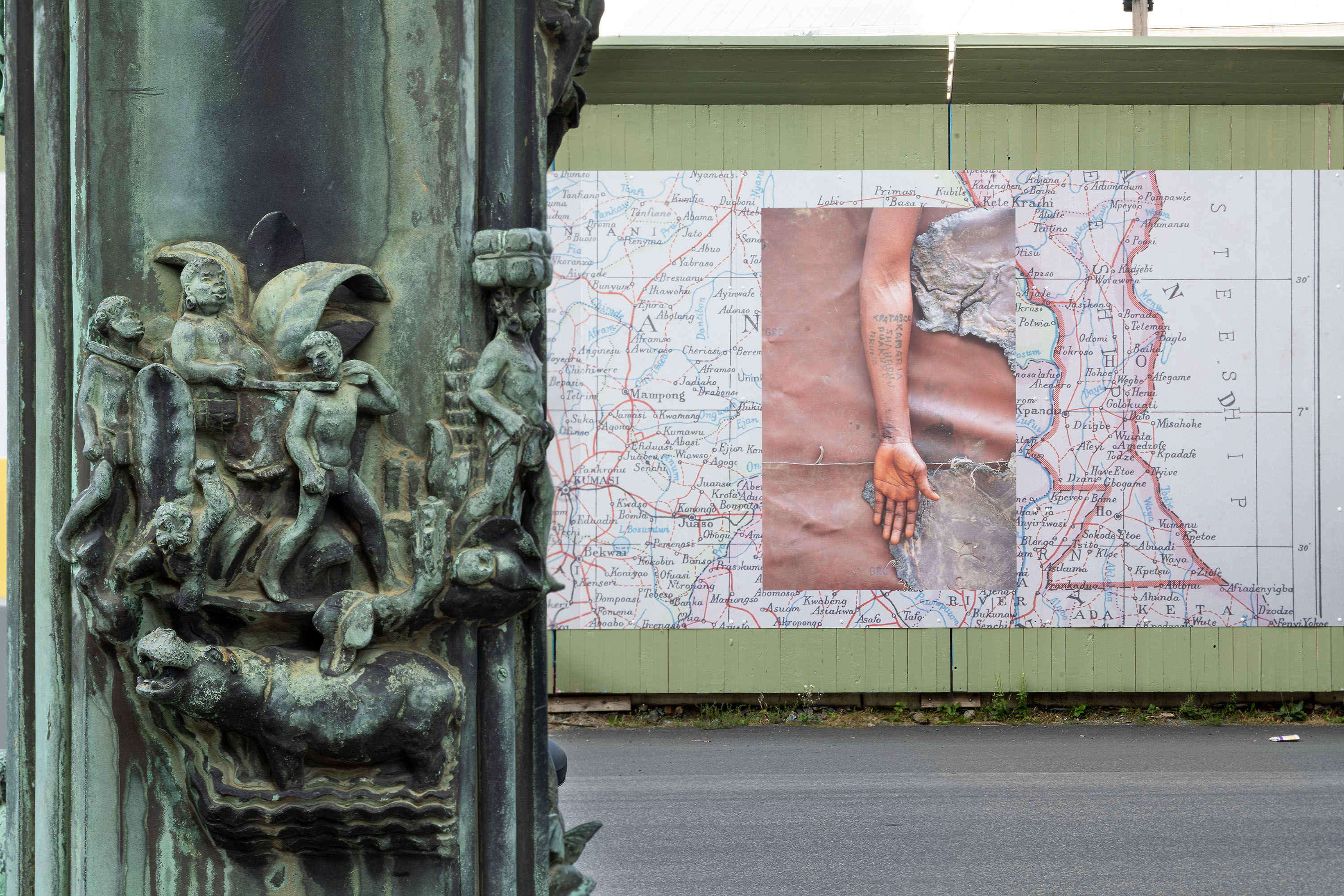 Franska tomten, Göteborg. Photo: Hendrik Zeitler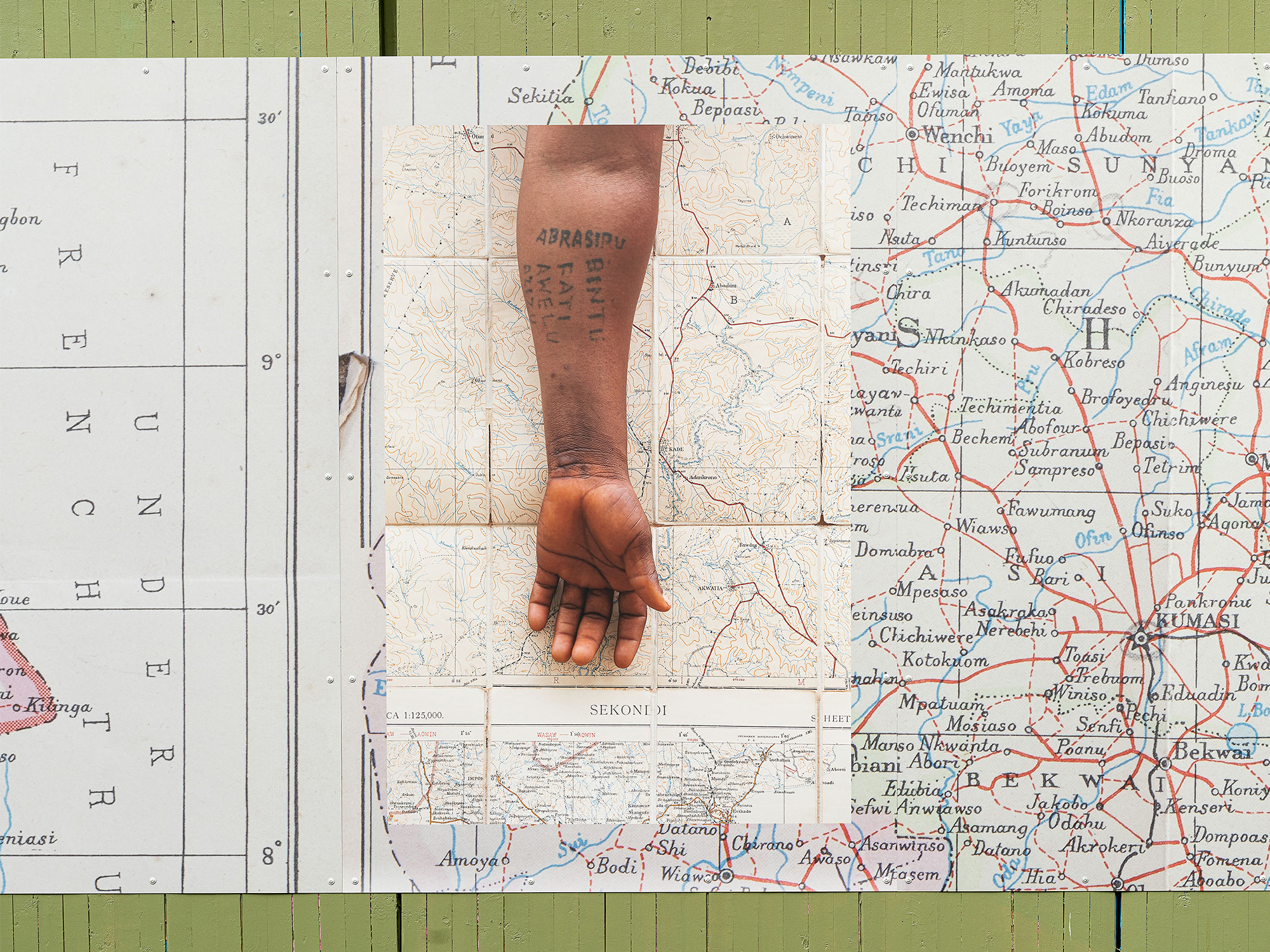 Installation view work by Ibrahim Mahama at Franska tomten. Photo Hendrik Zeitler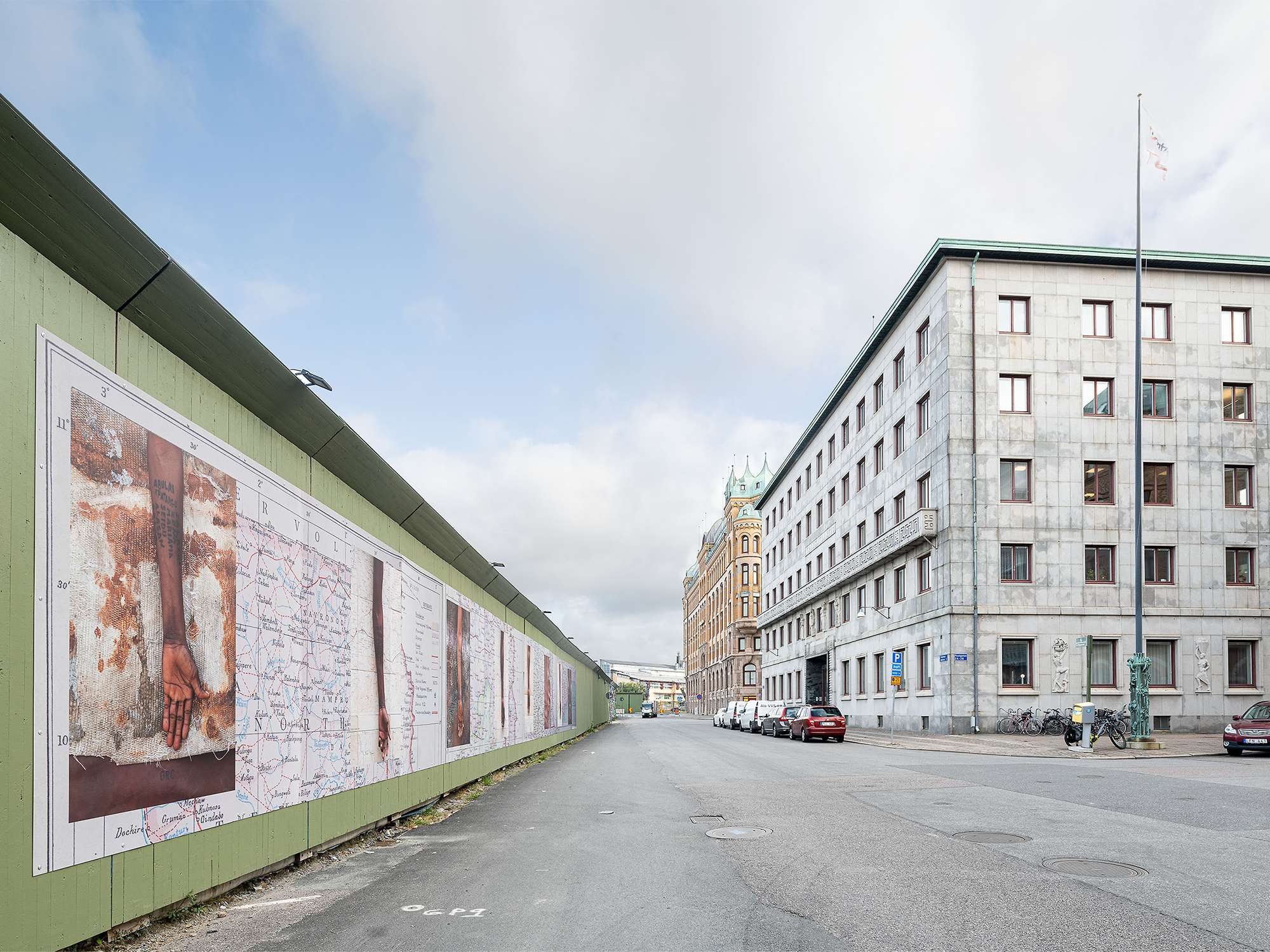 Installation view work by Ibrahim Mahama at Franska tomten. Photo Hendrik Zeitler
ABULAI KPATARGU GRC
ABULAI MARIAMA
ABULAI REHI LOCATION
AZARA SEIDU
BINTU ABRASIPU SEKONDI
KAMARIA KPATASCO GRC
KAMARIA SHAHARU ACCRA
MAMUNA AZARA LOCO 
C-print on gobond
2,8 m × 30 m
Courtesy the artist and White Cube Gallery 
The photographs depict the tattooed arms of collaborators Ibrahim Mahama has worked with throughout Ghana. The arms are overlaid on historic colonial maps of key locations, cities and villages across the county. Others are photographed against leather train seats, salvaged from the Gold Coast Railway, which was built during the colonial time. Ghana's colonial history led to the forced migration of multiple ethnic groups from the lands that previously supported them. Due to a lack of identification papers, tattooing family names or locations of birth on forearms is a common practice throughout rural Ghana. Many of the collaborators Mahama has worked with have migrated from rural areas to port cities such as Tema and Accra in search of work. Working conditions can be treacherous, and the tattoos are often used to identify people who have been injured or die at work. The art installation at Packhusplatsen is a reminder of how colonial structures still operate through global inequality linked to working conditions, economy and migration.  
The installation is the second artwork in a series of three commissioned in connection to Franska tomten's history. The artworks are produced by Göteborg International Biennial for Contemporary Art (GIBCA) in collaboration with Trafikverket. 
---
Biography
Ibrahim Mahama (b. 1987, Ghana) lives and works in Accra, Kumasi and Tamale. His work has appeared in numerous international exhibitions, such as NIRIN, 22nd Biennale of Sydney (2020); tomorrow, there will be more of us, Stellenbosch Triennale (2020); Future Genealogies, Tales From The Equatorial Line, 6th Lubumbashi Biennale, Democratic Republic of the Congo (2019); Parliament of Ghosts, The Whitworth, University of Manchester (2019); Ghana Freedom, inaugural Ghana pavilion, 58th Venice Biennale, Venice (2019); Labour of Many, Norval Foundation, Cape Town (2019); Documenta 14, Athens and Kassel (2017); All the World's Futures, 56th Venice Biennale, Venice (2015). Starting 2019 Ibrahim Mahama opened two artist-run project spaces in his home country, Savannah Centre for Contemporary Art (SCCA) and Red Clay. Both sites represent Mahama's contribution towards the development and expansion of the contemporary art scene in his home country. Mahama is the 2020 Principal Prince Claus LAUREATE.