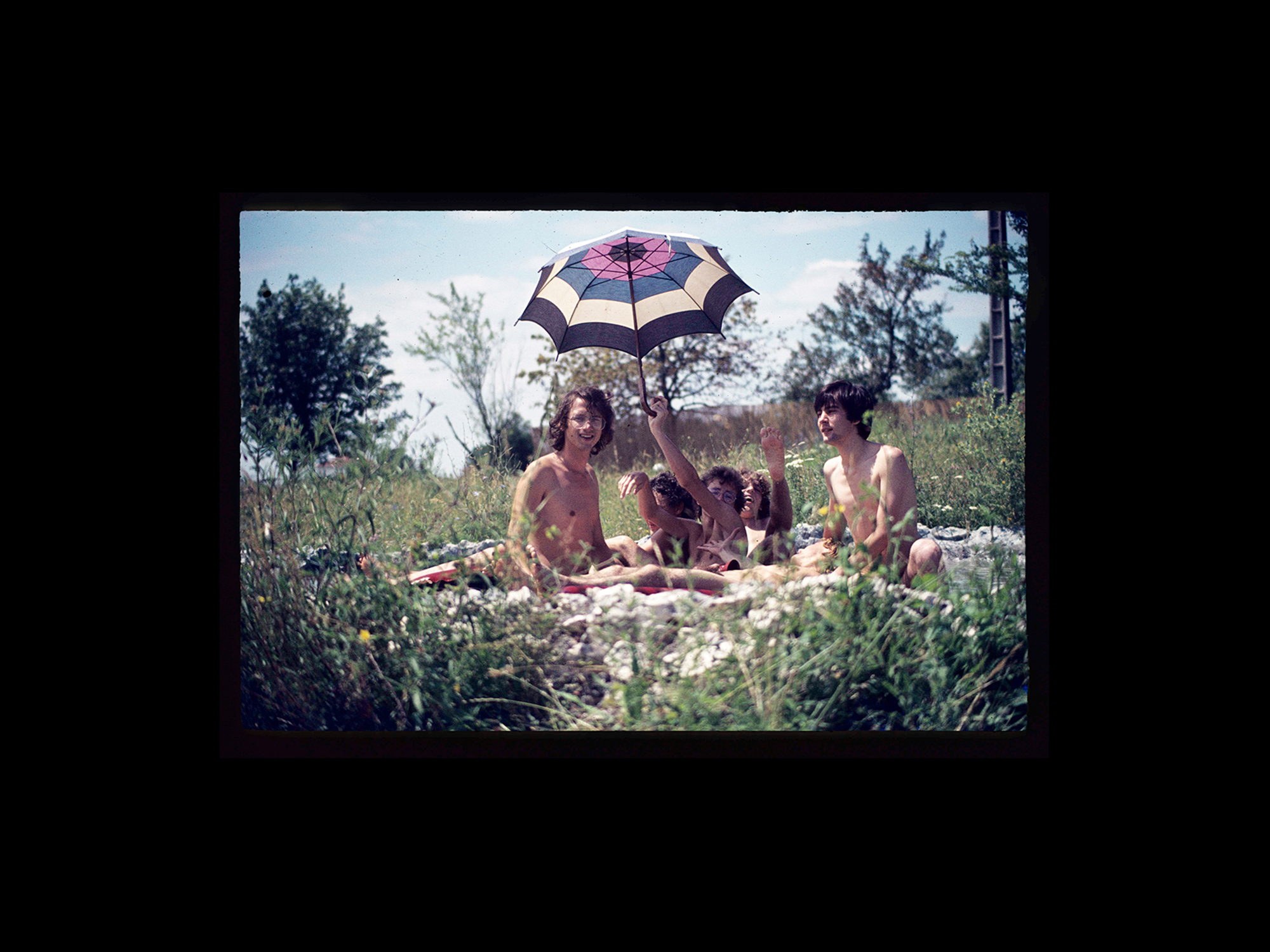 Our Trip to France (Mont de Tantes) film still, 2021 HD video © Courtesy of the artist. Photo: Eric de Keizer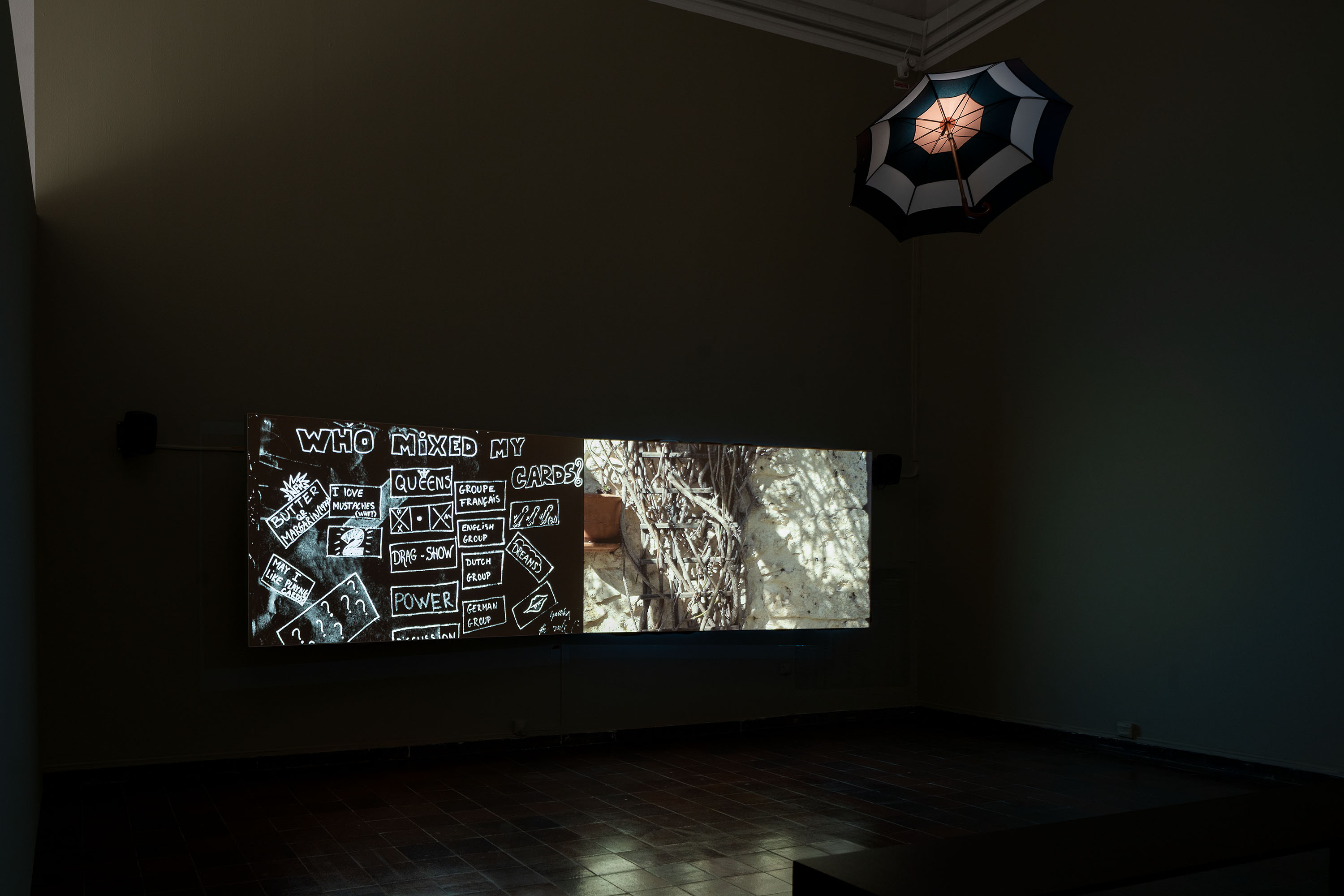 Gibca 2021 Göteborgs Konsthall. Photo: Hendrik Zeitler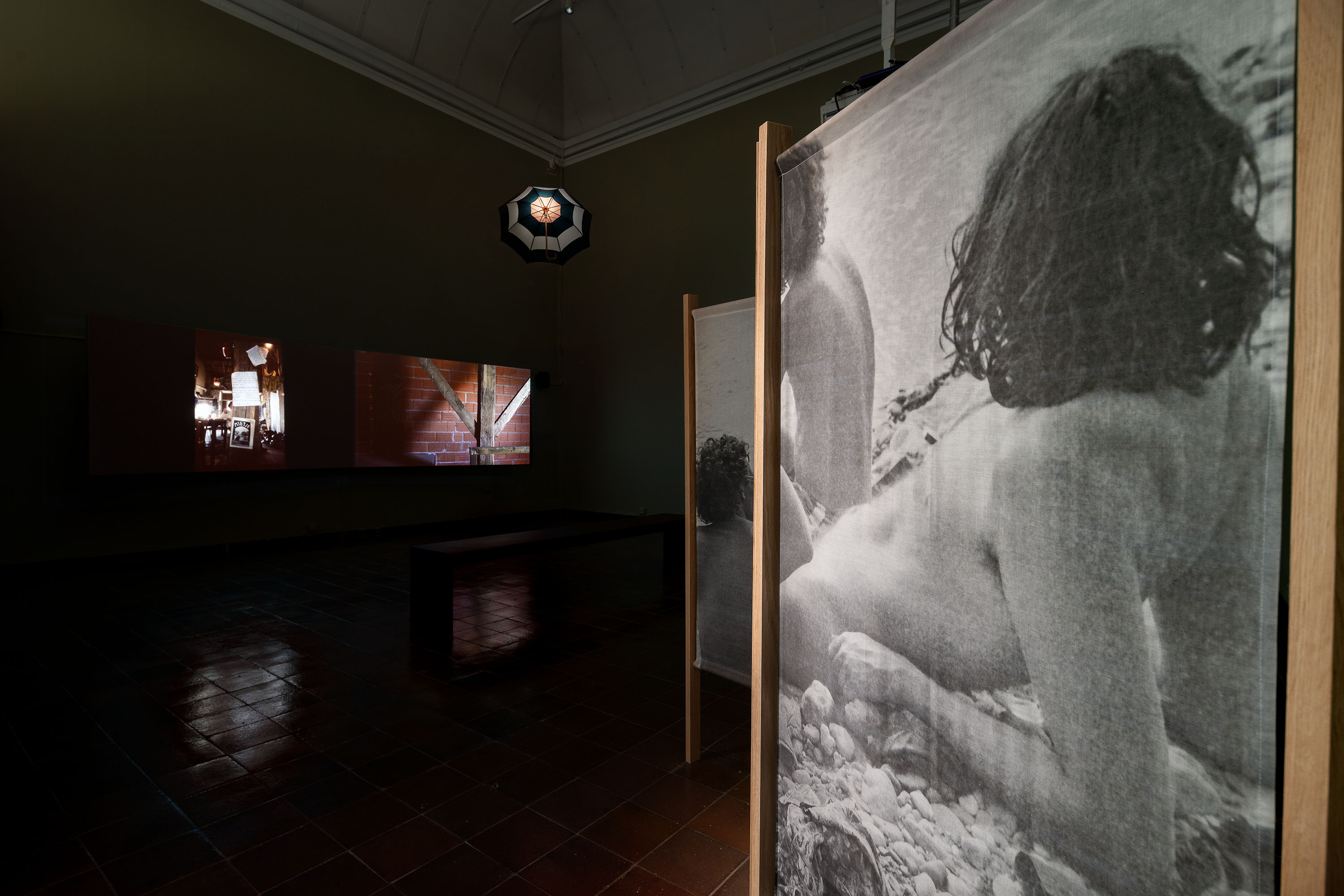 Gibca 2021 Göteborgs Konsthall. Photo: Hendrik Zeitler
Our Trip to France (Mont des Tantes)

2021 
27 min 35 sec
HD, 2 channels,
color/sound 
Parasol (After Eric)
Cotton, wood 
Screen (After Verfaillie)
Pigment print on cotton voile, wood 
Pond (After Hans)
Sandblasted mirror glass 
Director, Camera & Editing: Conny Karlsson Lundgren
Archive Photo: Eric de Kaiser
Voices: Zafira Vrba Woodski, Olov Kriström, Eddie Mio Larsson, Finn Hellman
Script: Conny Karlsson Lundgren & Clara Diesen (based on the travel journals of T, S, B and H taken from Red Faggots' Discussions folder No 8/1977)
Grading: Ulf Lundén 
Sound: Jesper Norda
Translation: Tomas Hemstad & Benny Nemer
Assistant: Mike Karlsson Lundgren 
The work is based on a travel diary written in the summer of 1977 by four young homosexual men from the Gothenburg area during their stay at an international liberation camp in the south of France. These Swedish men belong to the Gothenburg-based socialist association Röda Bögar (Red Gays) and, like others who attended the camp, they were active in the struggle for the freedom and rights of homosexuals. In spite of the camp's shared goals, however, there were some big differences. These small-town Swedish gays' tentative longing for the more worldly continental men and their insecurity around them permeate their journals. So do their femininity and their ability to use female-coded expressions as playful weapons against the patriarchy. In the film we hear a young generation of activists give expression to these journal entries, which depict several intense weeks of both joyful and anxious encounters in the heat of the south French summer. In this way, the work becomes a place for meeting across generational boundaries, where the experiences and desires of different eras, memories of the past and fantasies for the future, are woven together.  
In the work the word Fjolla occurs, a Swedish derogatory term used to refer to a gay man, especially one who is flamboyantly campy or effeminate.
Thank you: Mme Christine Vivet, Eric de Kaiser, Gert Hekma, Verfaillie Eddy, Krist de Munter, Guido Totté, Bart Hellinck, Regional Archives Gothenburg, Olov Kriström/The Archives and Library of the Queer Movement (QRAB), Hanna Johansson/VI Magazine, Markus Hasselblom/Kokokaka, Camilla Iliefski, Lisa Rosendahl, Sister Tui.  
Archive Photo Screen (After Verfaillie): Verfaillie Eddy 
---
Biography
Conny Karlsson Lundgren (b. 1974, Sweden) is a visual artist based in Stockholm and Hoby Mosse, Sweden. With film, text, image, and performance, his work traverses the boundaries between social, political, and private identities. In his practice, the artist employs interdisciplinary methods to present alternative realities and social agreements reimagined through experiences, contrapositions, desires, and secret codes. Karlsson Lundgren is interested in the archive as both a carrier of information and a mechanism of control. He holds an MFA from the Valand Academy of Fine Arts in Gothenburg, Sweden and participated in the Studio Program at the Jan van Eyck Academie in Maastricht, the Netherlands in 2014–15.  Conny Karlsson Lundgren has exhibited work at Moderna Museet Malmö, Gothenburg Museum of Art, and Extra City Kunsthal (Antwerp).