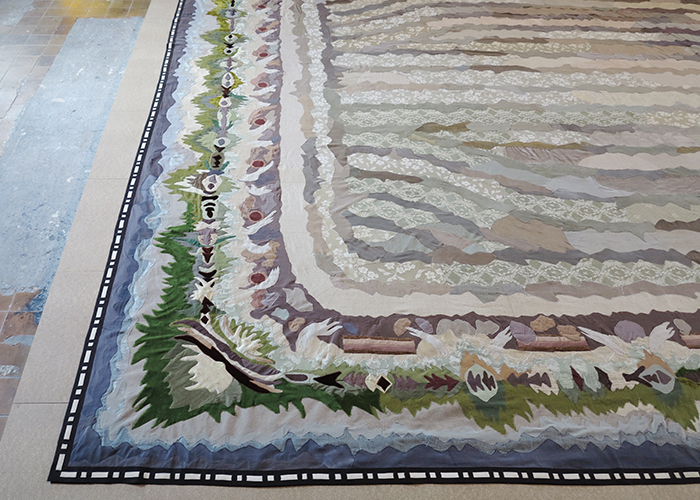 "Transcript of A Fallow" by Åsa Elzén. Photo Malin Griffiths
Åsa Elzén
To leave land fallow means to allow it to lie uncultivated in order to regain its fertility. The piece is a continuation of Åsa Elzén's long-term work with the legacy of the feminist initiative the Fogelstad Group formed in Sweden in 1921. Elzén's work is a transcript of a carpet titled, En Träda ("A fallow") made by Maja and Amelie Fjaestad in 1919–20, that lay in the library at the farm and education centre Fogelstad. The use of the term transcript, rather than copy, proposes a historiographical process interwoven with the present: by reworking the original, a contemporary reading of the piece becomes a visible part and continuation of its history. While the original carpet was woven of linen and wool from Fogelstad, Elzén's version is made of recycled fabrics from a variety of different sources, materials, and years of manufacture. Visitors may tread the carpet without their shoes.
Åsa Elzén (b.1972 in Visby, Sweden) lives in Berlin and Näshulta, Sörmland. She studied at NCAD Dublin, The Royal Institute of Art Stockholm and Whitney Independent Study Program NYC. Her practice has recently focused on the legacy of the Fogelstad-group. Elzén worked within YES! Association / Föreningen JA! 2008–2018 and is currently collaborating with Malin Arnell on a public art commission related to Fogelstad with the title Forest Calling – A Never-ending Contaminated Collaboration or Dancing is a Form of Forest Knowledge.
Artwork
Transcript of a Fallow
2019
Appliqué, recycled textile
470 x 600 cm
Transcript of the carpet En Träda (A Fallow), tapestry, wool, linen,
470 x 600 cm, 1919–1920; by Elisabeth Tamm at Fogelstad who conceived the idea and commissioned;
by Maja Fjaestad who conceptualized and composed; by Amelie Fjaestad who weaved.
Made together with Malin Arnell, Britta Elzén, Mar Fjell, Enikö Marton and Markus Wetzel.
Special thanks to the Fjaestad family, the Liljencrantz family, Fogelstad and Kulturföreningen Fogelstad
Courtesy the artist, supported by the Swedish Arts Grants Committee
Venue
Röda Sten Konsthall
Image: Åsa Elzén, Transcript of A Fallow, 2019. Photo: Malin Griffiths