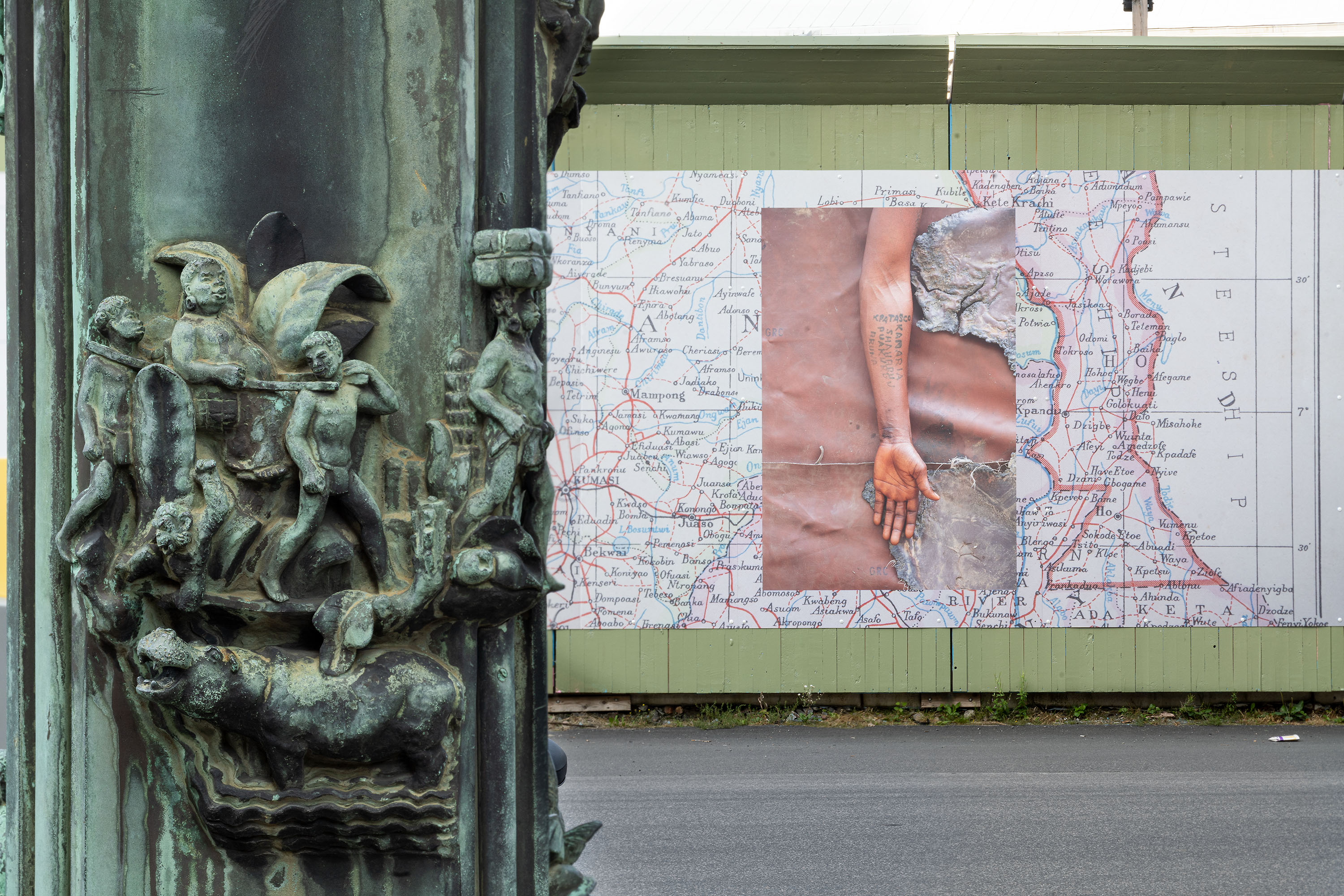 Franska tomten, Göteborg
Ibrahim Mahama
The installation is the second artwork in a series of three commissioned in connection to Franska tomten's history. The artworks are produced by Göteborg International Biennial for Contemporary Art (GIBCA) in collaboration with Trafikverket.
The photographs depict the tattooed arms of collaborators Ibrahim Mahama has worked with throughout Ghana. The arms are overlaid on historic colonial maps of key locations, cities and villages across the county. Others are photographed against leather train seats, salvaged from the Gold Coast Railway, which was built during the colonial time.
Ghana's colonial history led to the forced migration of multiple ethnic groups from the lands that previously supported them. Due to a lack of identification papers, tattooing family names or locations of birth on forearms is a common practice throughout rural Ghana. Many of the collaborators Mahama has worked with have migrated from rural areas to port cities such as Tema and Accra in search of work. Working conditions can be treacherous, and the tattoos are often used to identify people who have been injured or die at work.
The art installation at Packhusplatsen is a reminder of how colonial structures still operate through global inequality linked to working conditions, economy and migration. Packhusplatsen was formerly called Franska tomten (the French plot) and was in 1784 part of a trade agreement between France and Sweden, through which Sweden took over the colonial rule of the Caribbean island of Saint Barthélemy. Up until 1847, the main economic activity on the island during the Swedish rule was connected to the Transatlantic slave trade. In 1878 the island was sold back to France.
ABULAI KPATARGU GRC
ABULAI MARIAMA
ABULAI REHI LOCATION
AZARA SEIDU
BINTU ABRASIPU SEKONDI
KAMARIA KPATASCO GRC
KAMARIA SHAHARU ACCRA
MAMUNA AZARA LOCO
C-print on gobond
2,8 m × 30 m
Courtesy the artist and White Cube Gallery
Image: Installation view at Packhusplatsen (Franska tomten). Work by Ibrahim Mahama (2019–2020). Photo: Hendrik Zeitler