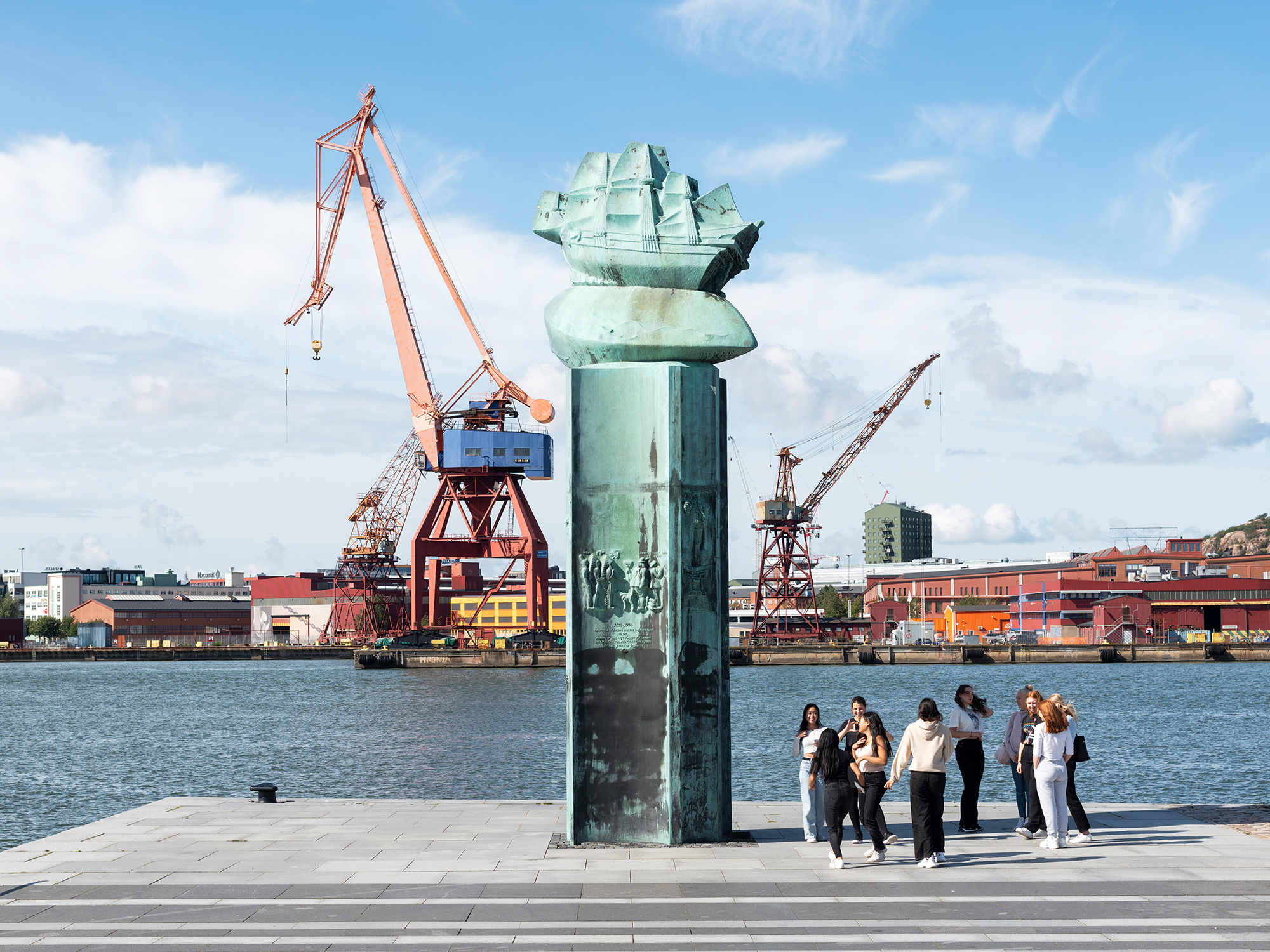 Delaware Monument at Stenpiren, Gothenburg. Photo: Malin Griffiths. © Carl Milles / Bildupphovsrätt 2020.
Possible Monuments?
The role of art in making Swedish colonial history publicly visible
Contributors: Aria Dean, Ayesha Hameed, Daniela Ortiz, Fatima Moallim, Hanan Benammar, Jimmy Robert, Morgan Quaintance, Runo Lagomarsino, Ylva Habel, in dialogue with Lisa Rosendahl, curator GIBCA 2019 & 2021.
Since 2019, GIBCA has initiated a series of seminars and artistic commissions on the topic of the visual representation in public space of Sweden's colonial past and its contemporary consequences. For the seminar on 26 November artists and writers have been invited to respond to Franska tomten, a site in Gothenburg harbour with connections to Sweden's colonial activities in the Caribbean. Their responses is available online at www.possiblemonuments.se.
Considering recent actions directed at public statues with colonial connotations, as well as the underdiscussed Swedish involvement in colonial trade, the seminar addresses the need of remembrance and memorialization in honour of the victims of colonialism and its contemporary consequences.
How can we open existing monuments to re-contextualization? What role can art play in making Swedish colonial history publicly visible? How can new monuments, be it material or immaterial, trace past to present? How should a potential future commissioning process be conducted to avoid reproducing existing structures of inequality and exclusion? Is there indeed such a thing as a possible monument, and if so: for whom and by whom should such monuments be made?
Franska tomten got its name in 1784 when it was exchanged for the Caribbean Island of Saint-Barthélemy as part of a trade agreement between Sweden and France. While the French were given free trade rights in Gothenburg, Sweden took over the colonial administration of Saint-Barthélemy. Until 1847, Sweden's economic activities connected to the island were almost exclusively concerned with slave trade. In 1878 the territory was sold back to France.
Today, no official information acknowledging Sweden´s involvement in colonial violence, nor any commemorative gesture honouring its victims, exist on site. Furthermore, there are no public monuments or memorials in the country as a whole acknowledging Sweden's colonial relations and those who suffered their consequences. The country's colonial activities, of which Saint-Barthélemy is but one example, are also not generally part of how the narrative of the formation of the Swedish industrial Welfare State is told.
What does remain on site at Franska tomten are artworks commissioned in the first half of the 20thcentury by modern day transatlantic shipping companies.  As power structures of colonialism, anti-blackness and white supremacy continue to inform our present, artists are invited to reflect and comment on these visual traces of political and aesthetic ideologies.
Organised in collaboration by Göteborg International Biennial for Contemporary Art (GIBCA) and Public Art Agency Sweden, the seminar is part of the biennial's ongoing engagement with Franska tomten and alternative historiography. 
The Ghost Ship and the Sea Change, the eleventh edition of the biennial opens in two phases on 5 June 5th and September 11th, 2021.
Image: Delaware Monumentat Stenpiren, Gothenburg. Photo: Malin Griffiths
© Carl Milles / Bildupphovsrätt 2020.