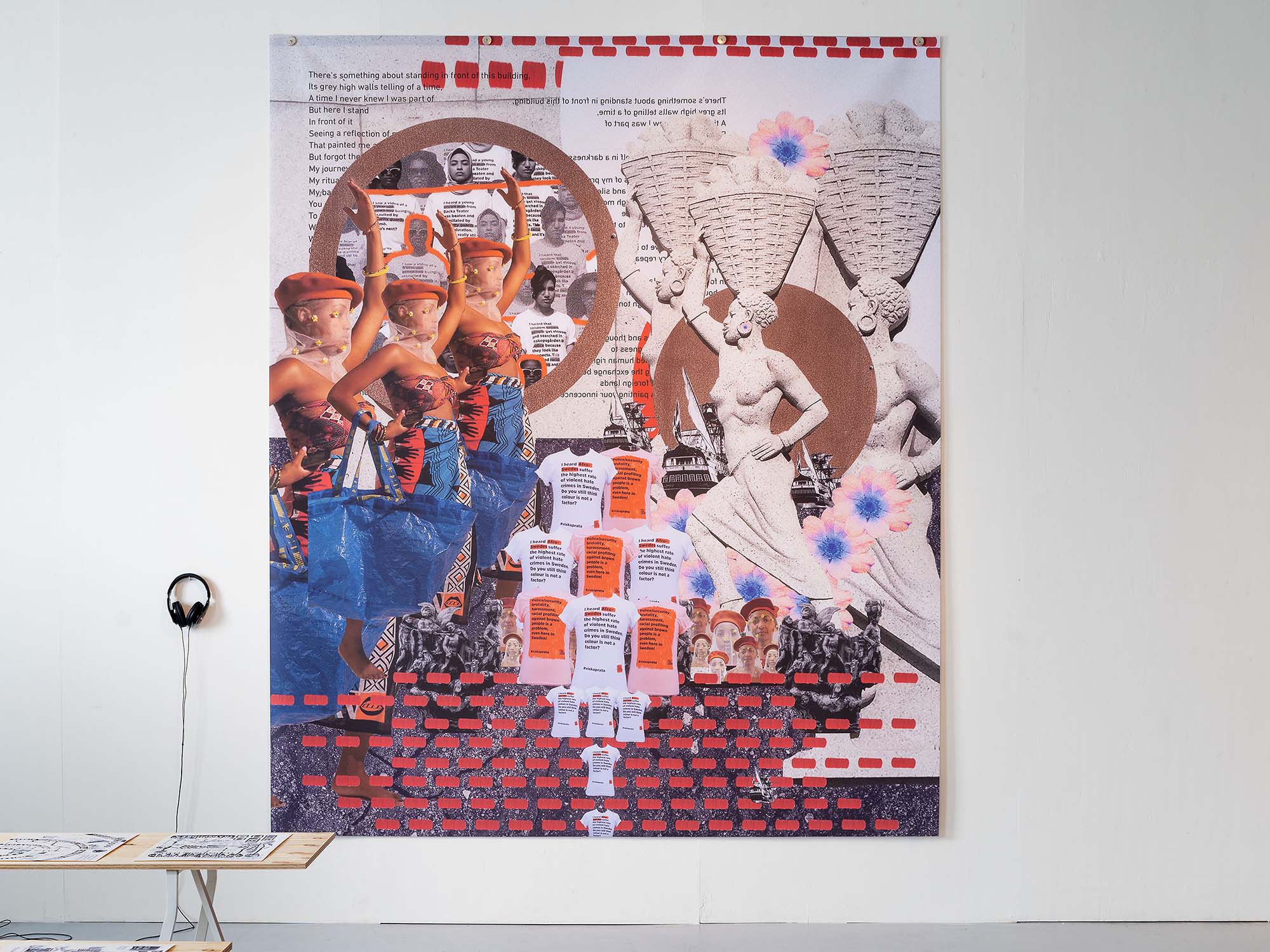 Photo: Henrik Zeitler
Here I Stand
2021
Digital collage, 300 x 250 cm, and audio installation,
1 min 51 sek
Here I Stand is a life-sized print that directly confronts colonial history and how it hovers over us. The
contemporary silhouette of the artist is staged to mirror the colonial relief still visible on the streets of central Gothenburg. Her use of collage merges geographies, namely Sweden and South Africa, and puts them into relationality. Her work focuses on the questions "Am I the only one seeing these images and wondering how they are still here? Why is this violence still echoing in my memory?" This interrogation rises in defiance of the process of national colonial pride upon which states are still being built. The artist's practice is often combined with actions of engagement in the daily realities of a segregated city.
"Everyday visuals, often left unnoticed, even the most harmful of them all. A red thread linking the past, present and potential future experience of the brown identity (POC) in Gothenburg, highlights the existence of ongoing violent colonial power in everyday life. It's painful to leave home, cross oceans and be confronted by it."
(Nontokozo Tshabalala)
---
Biography
Nontokozo Tshabalala is a multidisciplinary artist, poet, Afrofuturist, and designer. Born and raised in South Africa, she uses her work as an avenue for posing deeper questions about her identity and the black experience wherever she goes. Inspired by her nephew, Siyamthanda a.k.a Ncufi, she writes and creates from a place of curiosity, naivety, and instinct and uses colour to express the happiness she wishes to share with the world.  
---
Provocation
Structured around the theme of the city as a machinery of the present time, Comforting the machine synthesised and gave its audience a tight and poignant grasp of truths in the raw. In preparation for the exhibition, the ten artists were also invited to submit something the curators called "Provocations". The provocation to each artist was a task to expand themselves beyond the walls of the gallery by mapping traces of their work in the region, in history and the future, and to collate them as a string of continuations.
---
Provocation image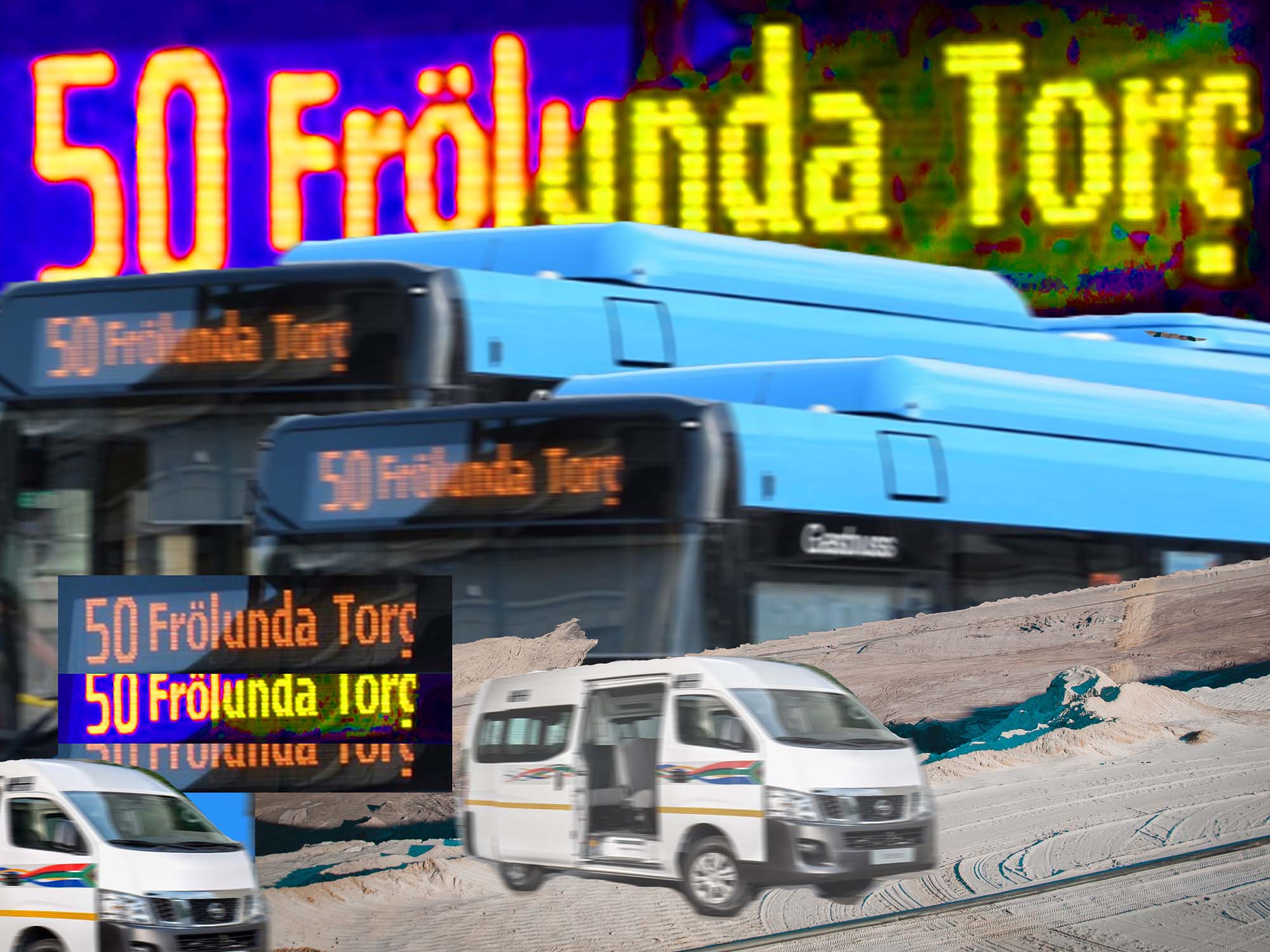 ---
Provocation text
I present 'A Journey of Journeys' an audio piece I made for Raumdeuter Radio that explores two journeys through the lens of bus 50 that goes between the Korsvägen and Frölunda Torg route (Gothenburg), and a taxi ride to Soweto (South Africa) from Johannesburg CBD. I explore the legacies of segregation and the way cultural and societal expectations/norms enforce a way of being on public transport. From how we pay the fare, sitting arrangement, architectural surrounding and the noise levels. The trip to and from Frölunda Torg feels a little too familiar. Crossing highways, lavish neighbourhoods, fields of nothingness, construction sites. It reminds me of home. Both ends of the ride, literally worlds apart, bring questions of displacement, history, equality, safety, ethnicity and culture.
http://www.raumdeuterradio.com/
https://open.spotify.com/track/1arpqzVhFo6JraWdGjE3sq?si=1d9fe9615b274284