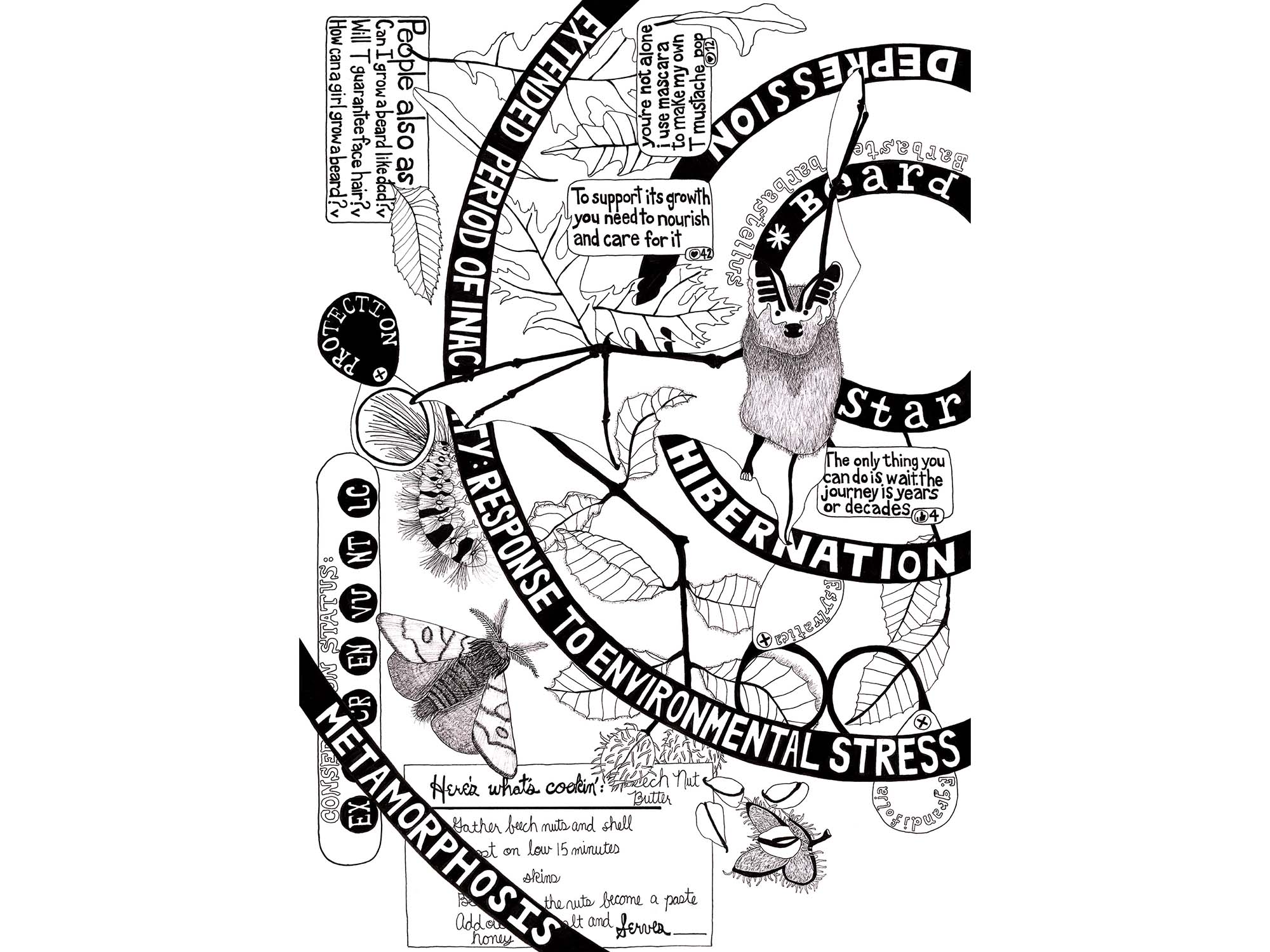 We Are Waiting
2020 – ongoing
Digital prints after ink on paper drawings
Variable dimensions
MC Coble has amassed twenty years of experience as a performer and teacher. For Comforting the machine they chose to present drawings, a newer medium of expression for them. They return again and again to these drawings, which contain many layers of thought to accompany the lonely time of the pandemic as well as the intensely introverted time of transitioning at a later stage in life. Setting the scene is the Swedish medical system and the chemical language of daily life. Coble fragments and layers the process of thinking, writing, and relating to their surrounding world in these drawings. This new uncharted practice that the artist uses to outline the many nuances of transition is a fragile, open and generous mirror and journal.
"This work originated as sketches, documenting and reflecting on the process of coming out as a non-binary trans* person at the age of 40. The constantly growing archive testifies to a time-consuming and emotional labour, which in turn reflects various temporalities – of queer time, of anti-capitalist progress, and of being put on hold."
(MC Coble)
---
Biography
MC Coble is a non-binary trans* artist who aims to manifest problems of bodily, societal, and symbolic navigation, focusing on issues of social injustice and normative boundaries. Often working with live art, photography, installation, and now drawing, their practice revolves around trans*/queer/ feminist politics, play, and failure. Integral strategies involve intersectional activism, site-specificity, research-based and collective processes. For more information, please visit: www.mccoble.com 
---
Provocation
Structured around the theme of the city as a machinery of the present time, Comforting the machine synthesised and gave its audience a tight and poignant grasp of truths in the raw. In preparation for the exhibition, the ten artists were also invited to submit something the curators called "Provocations". The provocation to each artist was a task to expand themselves beyond the walls of the gallery by mapping traces of their work in the region, in history and the future, and to collate them as a string of continuations.
---
Provocation images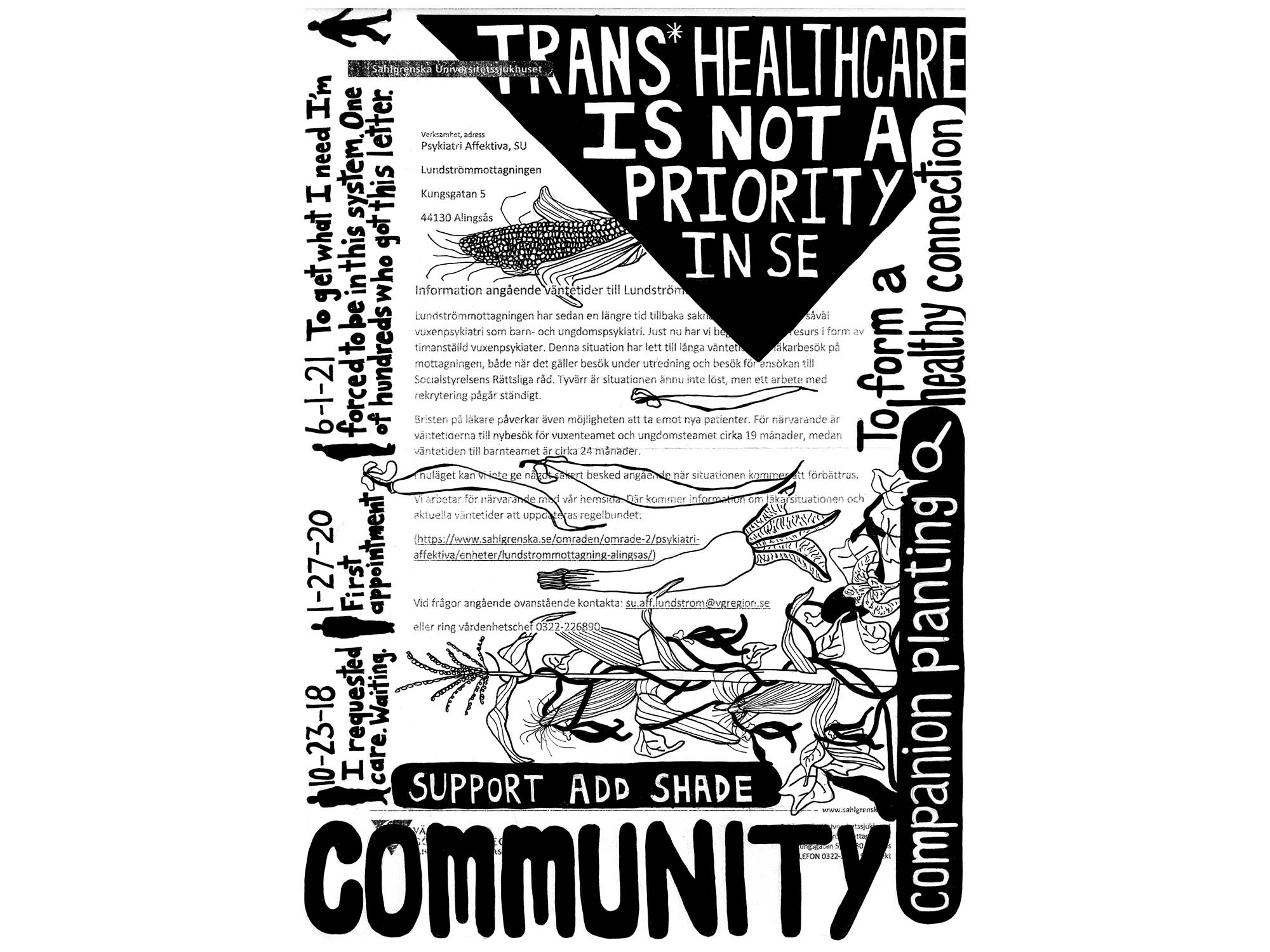 Bild: Trans* Healthcare, 2021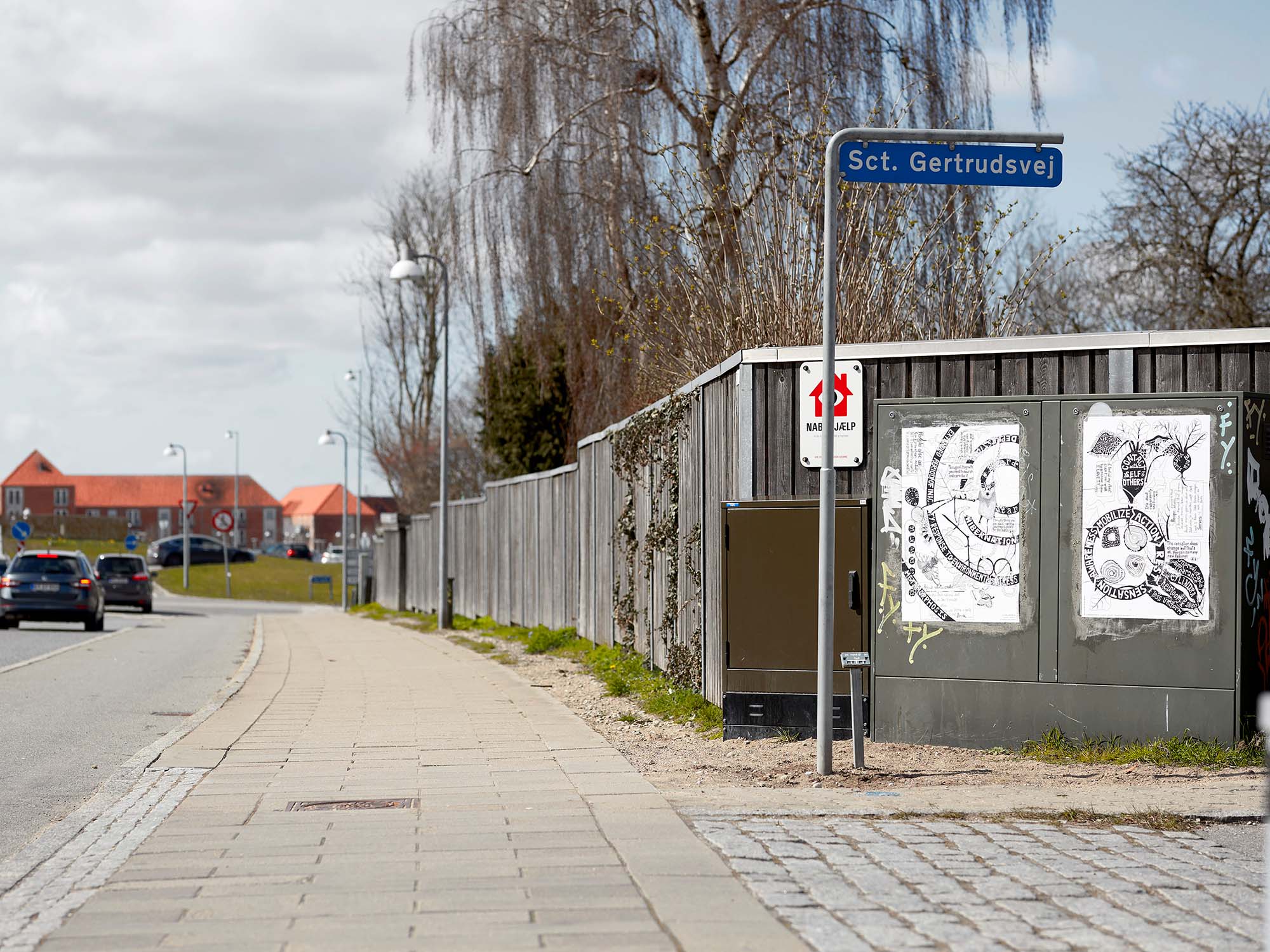 Bild: Unpredictable Beets and The Beard Star Bat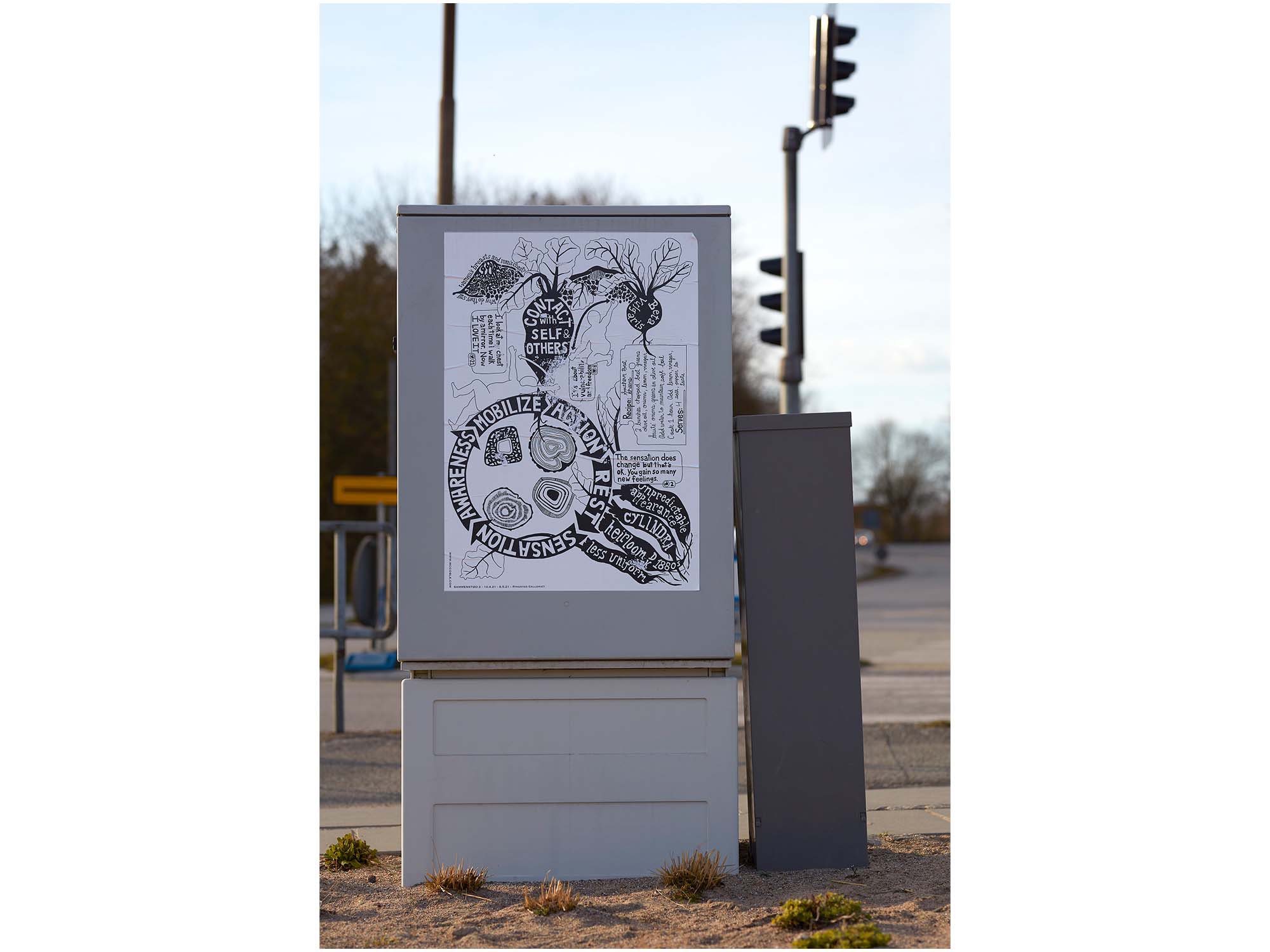 Bild: Unpredictable Beets and The Beard Star Bat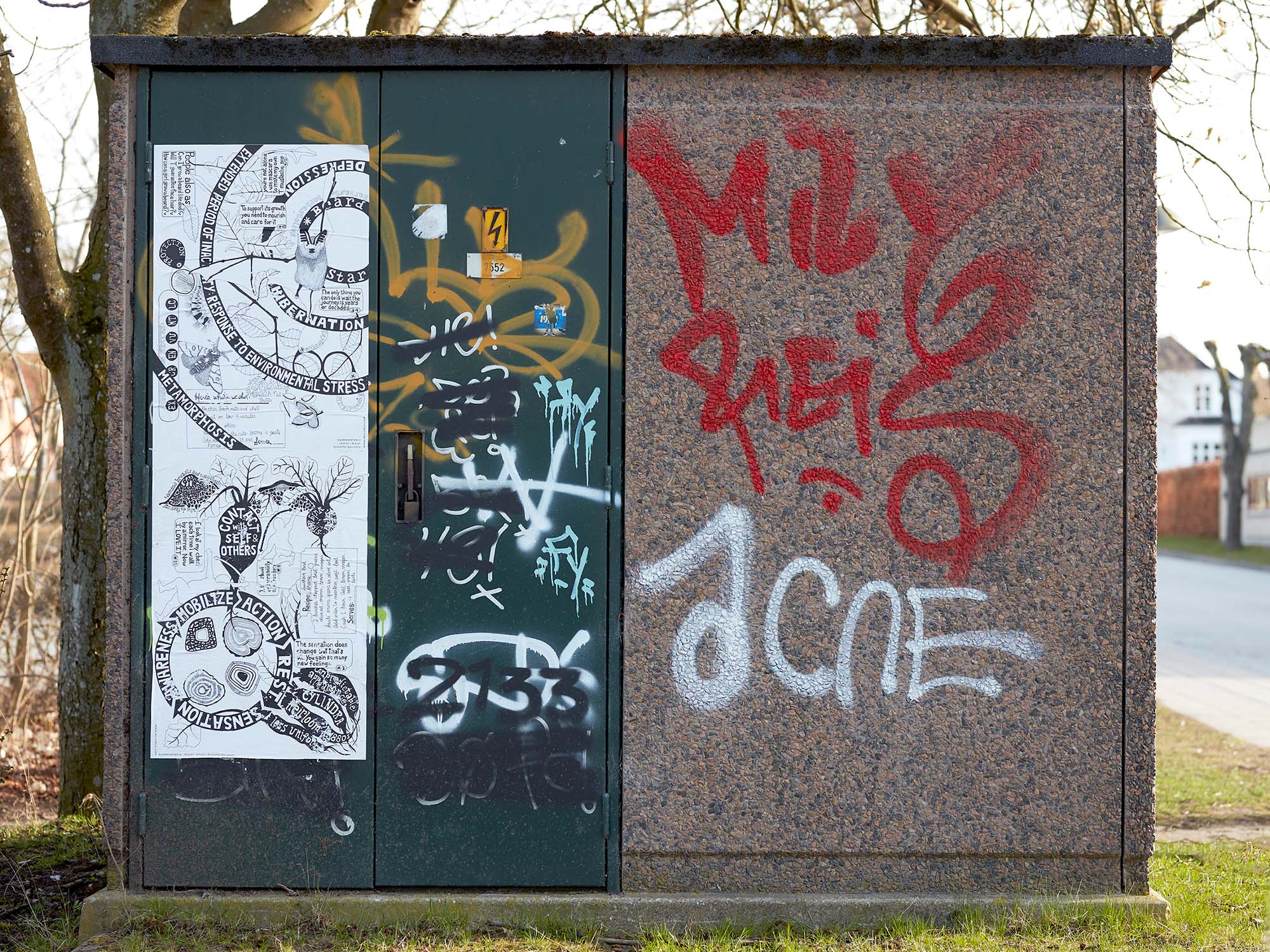 Bild: Unpredictable Beets and The Beard Star Bat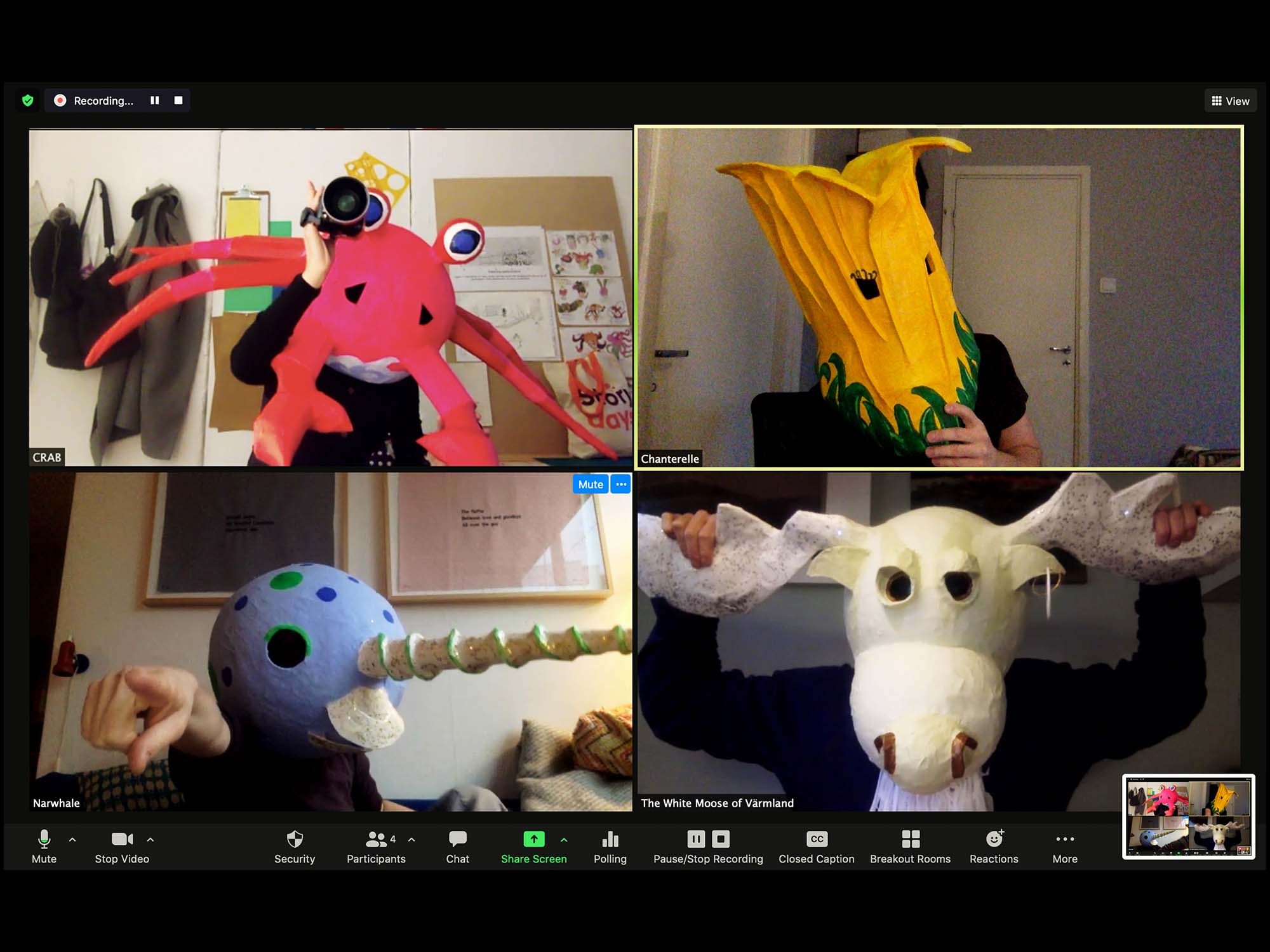 Bild: Public* Display* of* Actions*
---
Provocation text
Image #1
Provocation Drawing
Trans* Healthcare, 2021
Credit:  MC Coble
Recent Traces
Images # 2-4
Unpredictable Beets and The Beard Star Bat
As part of SAMMENSTØD 2021, through Ringsted Galleriet
Displayed in public space in Ringsted, Denmark
Photo credit: Morten Jacobsen
Unpredictable Beets and The Beard Star Bat were two drawings originally made for the exhibition SAMMENSTØD 2021, through Ringsted Galleriet in Ringsted, Denmark.  The drawings were printed as posters in order to appear in public space and refer to public platforms: social media communities (Facebook groups), where the exchange of comments and experiences provide important support for people outside of 'the system'. They also call for the queering of public spaces – for letting bodies and expressions outside of the norm take up space on their own terms.
Image #5  
Public* Display* of* Actions*
Radical Empathy, A Continuous Score, Act 11: The Musical, 2021
Photo credit: P*D*A*
P*D*A* (Public* Display* of Actions*) is a collaboration between artists and educators Kjell Caminha, MC Coble, Andreas Engman and Jeuno Kim.
Working together since 2017, the group is informed by queer feminist performance art, street/guerilla theater, agitprop and Speakers' Corners as well as by the differing contexts from which the members identify (Korea, USA, Brazil, Sweden and Denmark).
Radical Empathy, A Continuous Score is an ongoing project that, with each act introduced, seeks to find new tools of action and awareness. How can the visual and performative literacy of art be shared and used collectively among artists, activists, researchers, and the general public to navigate the swiftly changing social and political climate?  P*D*A* asks: Can radical empathy allow us to counteract paralysing detachment and apathy that is growing today by the use of cynicism and irony? Can radical empathy be deployed as a strategy through which we investigate how to be aware and socially responsible? How do we counteract apathy and feeling unable, scared, or too vulnerable to join in a direct process? How can radical empathy be practiced or used as a tool or a method by which we examine racism, xenophobia, anti-semitism, islamophobia, homophobia, violence and hate?