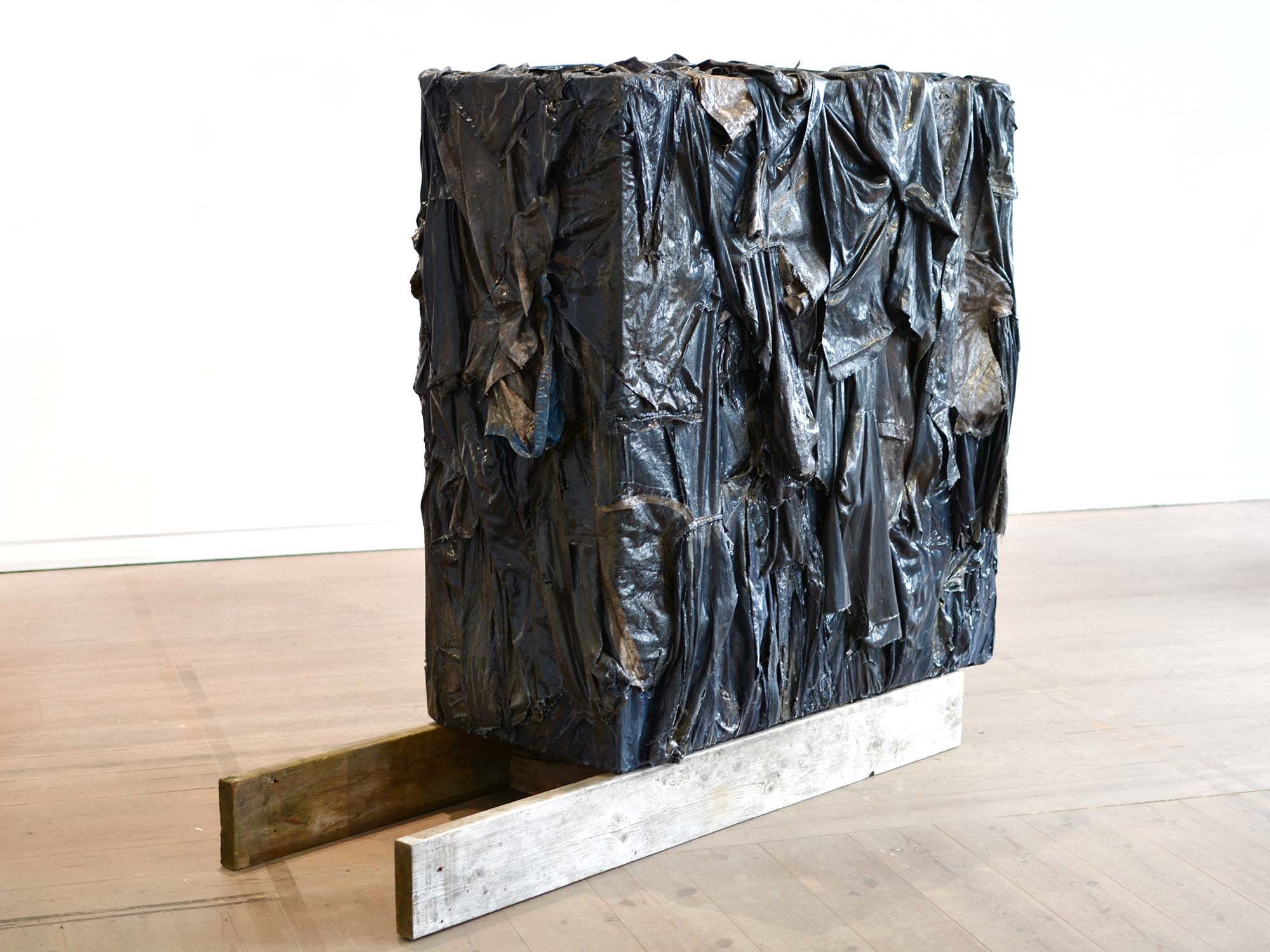 Inverto 1935–2020, ll
2020
Sculpture 148 x 179 x 70 cm
Jackets, shirts, children's overalls, mud, glue, wood
Kemilä writes in an online conversation preparing for the exhibition, "the process behind Inverto 1935–2020 is long." The sculpture is part of a series that explores traces of trauma and absent history from various landscapes. Nation-states, most often than not, aim for denial and concealment when it comes to digging into their own past. They hide the remains of those murdered in their prisoner-of-war camps, in this instance, or make them disappear from the landscape and public memory. Coming from a personal, family history angle, the artist retraces these omissions and, in a sense, makes a mould of them that then becomes a memorial object.
"At a former military training field in Gothenburg, I use violence and kick clothes in mud in order to get in touch with my family history. The sculpture Inverto 1935–2020, II is a box covered with these muddy jackets, shirts and outerwear. It spans from the mass executions in the former Soviet Union and the prisoner-of-war camps of the Second World War to
present-day Gothenburg."
(Dominika Kemilä)
---
Biography
Dominika Kemilä (b. 1985, Sweden) is a visual artist. In the media of sculpture, painting, and video, she investigates extinction and belonging through site-specific actions. Kemilä has been engaged in self-initiated artistic research on Second World War prisoners in the Nordic countries since 2014. Her own family roots are in several minority populations that existed in the Soviet Union. Kemilä has been selected as a guest artist in Trondheim, Vadsoe, and Lofoten in Norway. Her work has been shown in solo and group exhibitions in Sweden and Norway.