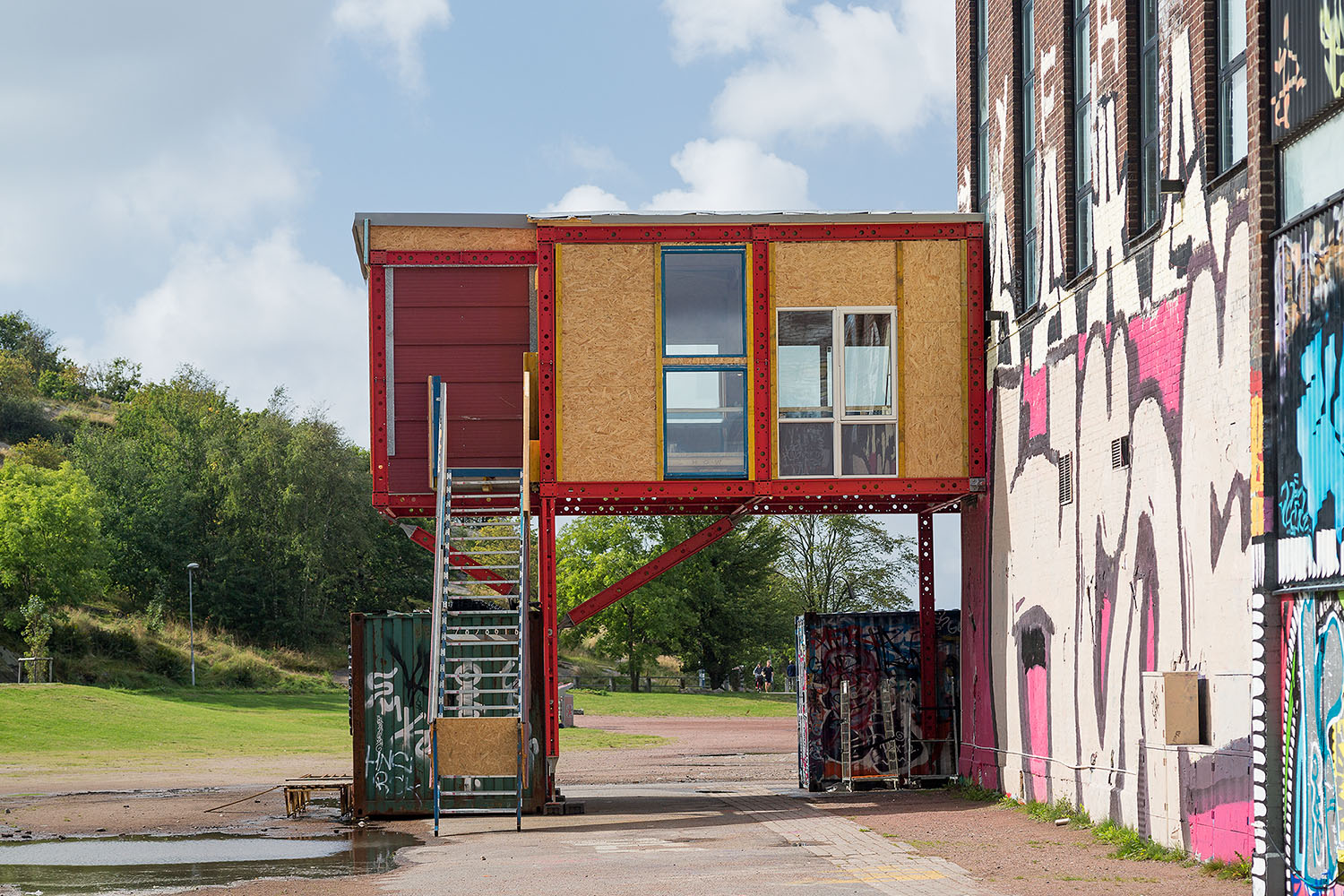 House of Words (HoW), 2015. Foto: Hendrik Zeitler
HoW-samtal
Själva begreppet House of Words (HoW) refererar till "la Casa de la Palabra", en traditionell mötesplats i vissa afrikanska samhällen, där berättelser, ritualer och olika uppträdanden tar plats. Konstbiennalens HoW fungerar framför allt som en social plattform för diskussion, erfarenhetsutbyte och samarbete. Bygget av själva paviljongen, lett av Santiago Cirugeda, var en kollektiv process som involverade ett stort antal grupper och individer. Paviljongen är byggd av återvunnet material och är under biennalen tillfälligt fäst i Röda Sten Konsthall.
Under biennalperioden aktiveras HoW av konstnären Loulou Cherinet som kommer stå värd för en rad rundabordssamtal. Varje samtal är en kollektiv upplevelse: Här finns Berättare, en Värd eller Värdinna, en Kamera och ibland också en Publik. Berättarna är inbjudna gäster som inleder kvällen med en gemensam middag och delar med sig av en personlig historia, upplevelse eller syn på en aktuell frågeställning. Värden eller Värdinnan underhåller gästerna och i mitten av bordet cirkulerar en Kamera som dokumenterar samtalen runt bordet.
Alla samtal sker på engelska.
Programpunkter i House of Words:
13/9 HoW-samtal: Post-colony, kl 16–18
Dikterar postkolianialism fortfarande hur vi ser på oss själva, vårt samhälle och vår framtid?
Participating storytellers:
Sara Jordenö – GIBCA artist
Lawal R. Ayoolaand – Scandinavian Coordinator for APC – All Progressives Congress
Andrea Phillips – Akadamin Valand
Alfeus Mvula – Konstnär som visas i Etosha-utställningen, Vänersborgs konsthall
Maxine Chion – Clandestino Institute
Elvira Dyangani Ose  – curator GIBCA2015
23/9 HoW-samtal: Participatory Architecture 16–18
Samtalet krestar kring vår syn på det offentliga rummet och kollektiva arkitektoniska projekt som ingriper i stadsrummet.
Participating storytellers:
Santiago Cirugeda – HoW architect, Recetas Urbanas
Jessica Segerlund – Process manager Älvstranden – Frihamnen
Henric Benesch – Architect, phD, Critical Heritage Studies, Gothenburg University
Linda Shamma Östrand – Artist, guest teacher Critical Heritage Studies, Gothenburg University
Emilio Da Cruz Brandao – Chalmers, Design for Sustainable Development
Elvira Dyangani Ose – Curator GIBCAHost: Aukje Lepoutre Ravn – Konstnärlig ledare GIBCA 2015
30/9 HoW-samtal: Community & Participatory Politics. kl 18–20
I samarbete med Polska Institutet, detta samtal kretsar kring olika föreställningar om ett "community" och individens roll i kollektivet.
Participating storytellers
Karolina Bregula – Multimedia Artist
Dr. Angela Muvumba Sellström​ – Researcher, the Nordic Africa Institute
Masoud Vatankhah – Poet, Author and Activist
Jasmine Lyman – Owner & Founder of Playcentric Industries, Story architects and Think&DO Collaboratory, & Epic Unidragon Gallery
Lasse Fryk – Senior Lecturer – Global Studies, Göteborg University
Sven Bartilsson – Leader and Coordinator of Coompanion Göteborgsregionen
Phoebe Boswell – GIBCA 2015 Artist
Malin Windehammar – Staden vi vill haHost: Aukje Lepoutre Ravn – Konstnärlig ledare GIBCA 2015
7/10 HoW-samtal: The Museum. kl 18–20
I samarbete med Historiska Museet, Stockholm, detta HoW Samtal analyserar historierepresentation vid museum såsom konst-, historiska- och etnografiska museer.
Participating storytellers
Erik Berggen – The Museum of Forgetting
Sebastian De la Cour – GIBCA Artist, The Museum of Nothing
Guttorm Guttormsgaard – Norwegian ​Artist
Nicholas ​Maleve – Scandinavian Institute for Computational Vandalism (SICV)
Mariá Jansen – Senior Curator and Museum Director, Historiska Museet
Britta Söderqvist – Head of Content & Learning, Världskulturmuseet,​ Göteborg​
Hans Ruin – Professor of Philosophy, Södertörn University, & Director of Research Program: Time, Memory and RepresentationHost: Aukje Lepoutre Ravn – Konstnärlig ledare GIBCA 2015
21/11 HoW-samtal: Queerness kl 14–16
I samarbete med Goldsmiths, University of London, London och Akademin Valand, Göteborg, Samtalet undersöker hur identitet politiseras i en hyllning till normbrytande ambiguitet.
Participating storytellers:
Gavin Butt – artist and art historian, professor Goldsmiths, University of London, UK
Dr. Henriette Gunkel – Lecturer in Visual Cultures, Goldsmiths, University of London
Tanya Charif – artist, aktivist, founder of G.I.A Gays In Angered
Hannah Heilmann – artist and lecturer, Royal Academy of Art, Copenhagen
Mary Coble – artist and professor, Valand Academy
Anna Linder – artist, curator and researcher, Valand Academy
Aukje Lepoutre Ravn – Artistic Director of GIBCA 2015 & Curator of Röda Sten Konsthall will be the host for the evening.