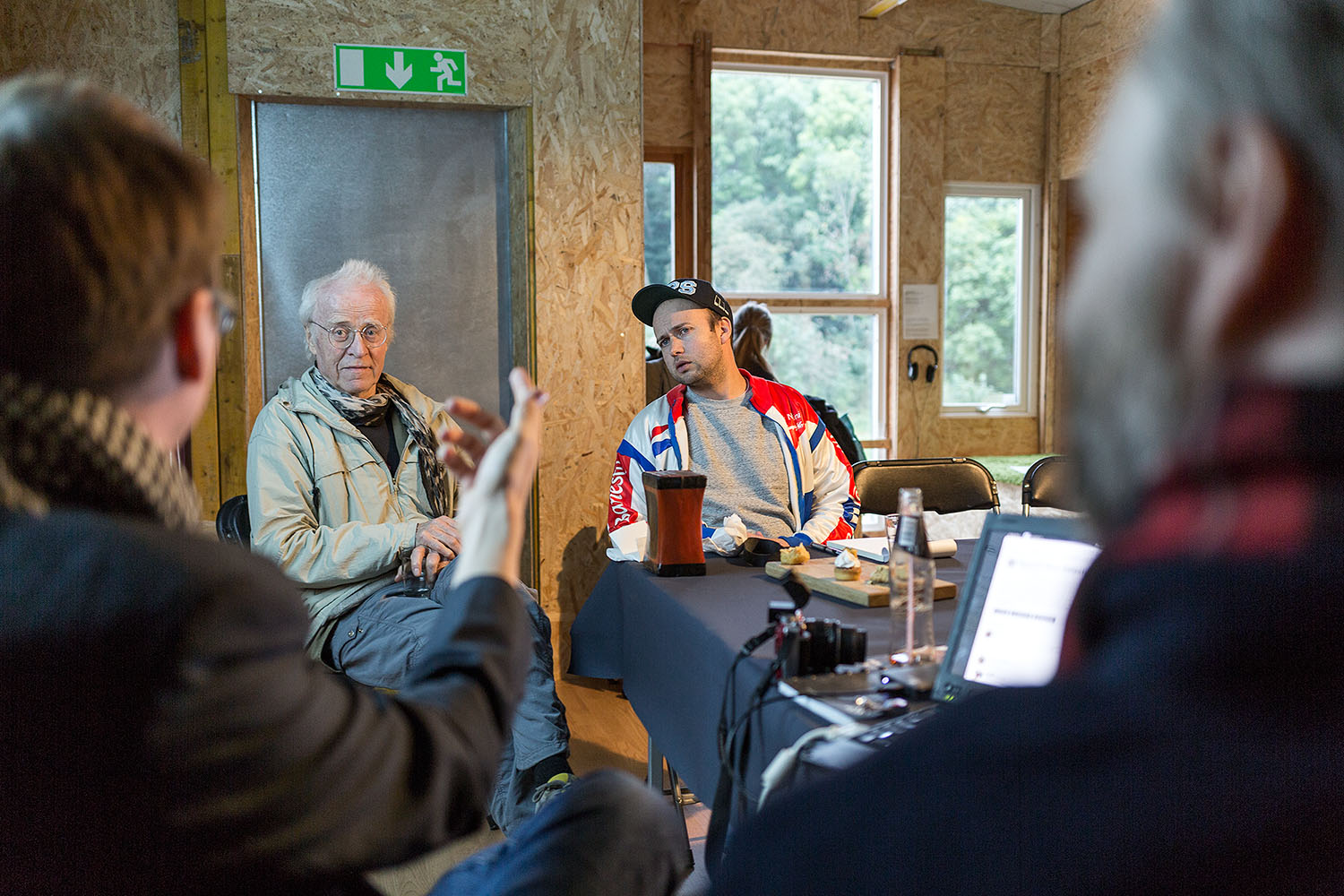 House of Words, workshop. Foto: Hendrik Zeitler
Att bläddra genom sidorna i Guttorm Guttormsgaard arkiv
Den norska konstnären Guttorm Guttormsgaard har under sitt liv samlat mer än 25 000 föremål – allt från köksattiraljer, böcker, möbler och modernistiska målningar – som finns samlade i ett "arkiv" i Blaker, i närheten av Oslo. I HoW experimenterar Guttormsgaard och SICV i en interaktiv installation och workshop som på olika sätt ingriper i detta arkiv.
Projektet visar på kontrasterna i olika organiseringsmöjligheter – analogt arkiv eller digital databas – och väcker frågor kring hur vi definierar och förvarar saker som konst och kunskap. Kan ett arkiv rymmas i en samling ord? Eller i en e-bok? Hur kan vi skriva om de historier som genereras av arkivet?
Öppet: 7–15 oktober
Workshop: 8 oktober, kl 15-18
Konstnärssamtal: kl 18.30–19.30
Guttorm Guttormsgaard
Guttorm Guttormsgaard (1938, Norway) is an artist living and working in Blaker and Oslo. A prolific artist since the 1960s and a former professor at the Art Academy of Oslo, his practice spans the fields of graphic art, major decoration assignments, teaching, book making and the curation of a growing "archive" (www.guttormsgaardsarkiv.no). Recent exhbitions include the Busan Biennale 2012 as well as a major retrospective at the Stenersen Museum in 2015.
Scandinavian Institute for Computational Vandalism
Nicolas Malevé, Michael Murtaugh & Ellef Prestsæter are founding members of the Scandinavian Institute for Computational Vandalism. See http://sicv.activearchives.org and http://sicv.activearchives.org/logbook for an overview of the activities of the art and research group. Their most recent publication is a conversation with Matthew Fuller published in the Spanish magazine Concreta, available in English at http://editorialconcreta.org/Vandalist-Iconophilia.
Michael Murtaugh (1972, USA) designs and researches community databases, interactive documentary, and tools for new forms of reading and writing online. He teaches on the Masters Degree programme in Media Design and Communication at the Piet Zwart Institute in Rotterdam, and is an active member of Constant in Brussels.
Nicolas Malevé (1969, Belgium) is an artist, software programmer and data activist developing multimedia projects and web applications for and with cultural organizations. His current research work is focused on cartography, information structures, metadata, archives and algorithms. He lives and works in Barcelona and Brussels. Since 1998 Nicolas collaborates with Constant, a non-profit association, based and active in Brussels since 1997 in the fields of feminism, copyright alternatives and working through networks: http://www.constantvzw.org
Ellef Prestsæter (1982, Norway) is a writer, researcher and curator. He works at the University of Oslo and writes regularly on art and literature for Klassekampen, Vinduet and Kunstkritikk. He is the editor of the publication project Rett Kopi. Most recent publication: The Invention of the Bright Day by José de Almada Negreiros, translated from the Portuguese into Norwegian. Prestsæter is the director and curator of the exhibition project The Gutenberg Galaxy at Blaker (http://www.obs-osv.com/gutenberg).
I samarbete med Guttorm Guttormsgaard och the Scandinavian Institute for Computational Vandalism (SICV), med stöd från Office for Contemporary Art Norway (OCA).