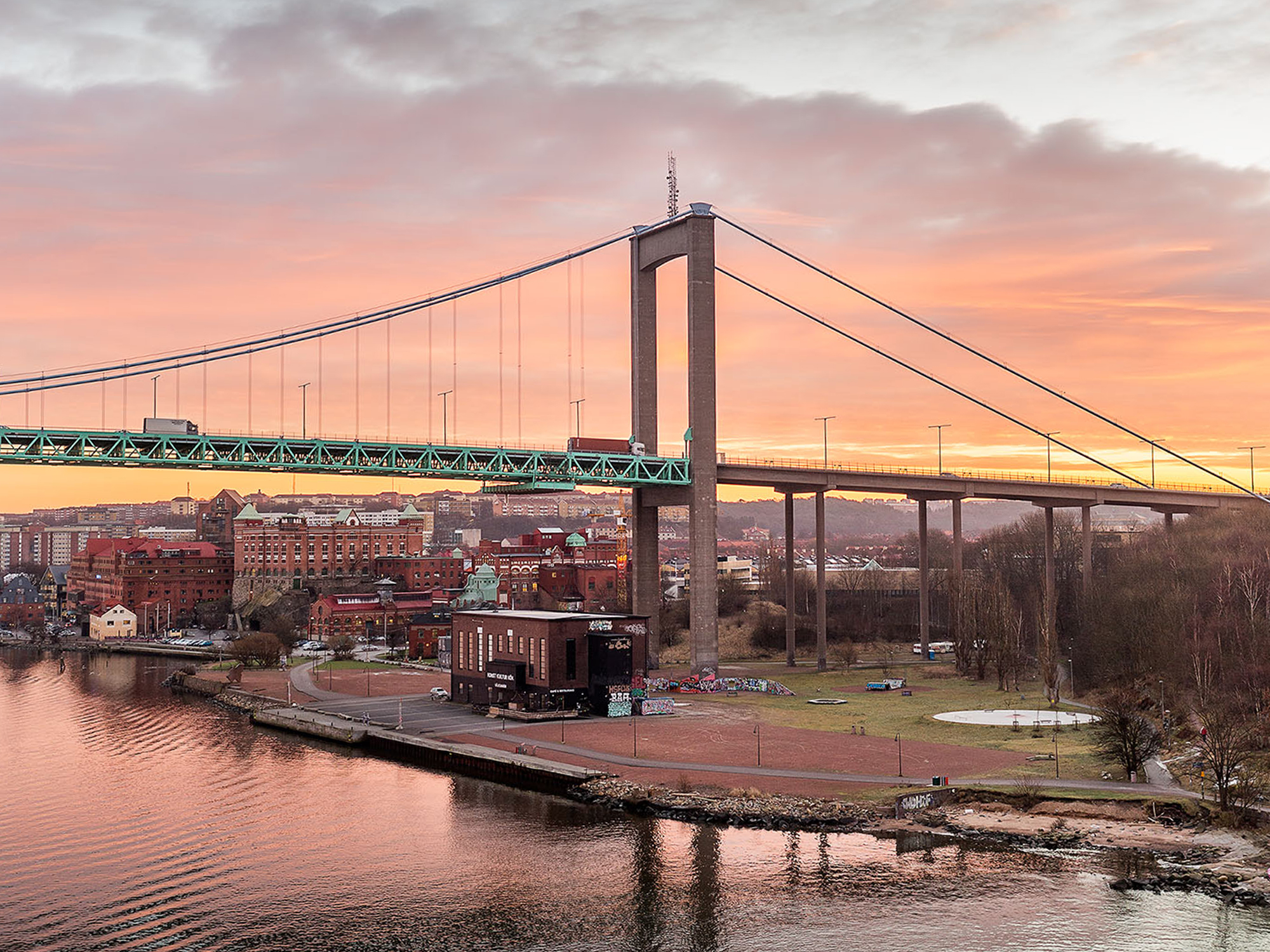 Röda Sten Konsthall. Photo: Hendrik Zeitler.
Röda Sten Konsthall
Röda Sten Konsthall is the press center and main venue of GIBCA. Located at the harbour entrance of Gothenburg, under the Älvsborgs bridge, it is one of the most original sites of the city, where urban splendor meets the landscape of the Swedish West Coast.
Lisa Rosendahl, curator GIBCA 2019 Part of the Labyrinth, about the exhibition at Röda Sten Konsthall:
Röda Sten Konsthall was once a boiler house where coal and wood chips were burned to provide local industries with heat. The building still bears the traces of that time, as well as from the years after the boiler house was decommissioned and transformed into a self-organized venue for a variety of cultural activities.
The point of departure for the exhibition at Röda Sten Konsthall is the linked histories of industry, colonialism, and environmental destruction and the marks these have left on both human and nature. Several of the works renegotiate Western modernity's linear narrative structures and unrelenting forward progress. By cross-referencing past and present—and earth, image, and body—the artists create material and associative metabolisms that propose other relationships between the human and the world than industrial capitalism's one-way incineration of it.
By making the spiral staircase in the heart of the building accessible, visitors will be able to circulate through the galleries in a variety of ways and experience the works from different perspectives.
---
Artists
Özlem Altin
Black Quantum Futurism
Kajsa Dahlberg
Michelle Dizon
Åsa Elzén
Tamara Henderson
Susanne Kriemann
Kent Lindfors
Oliver Ressler
---
Contact
Opening hours:
Tue, Thu, and Fri 12–5pm
Wed 12–8pm
Sat–Sun 12–6pm
Address:
Röda Sten 1
414 51 Gothenburg
Telephone:
+46 (0) 31 12 08 16
Website:
www.rodastenkonsthall.se
Public transport stops:
Vagnhallen Majorna
Klippan
Klippans färjeläge