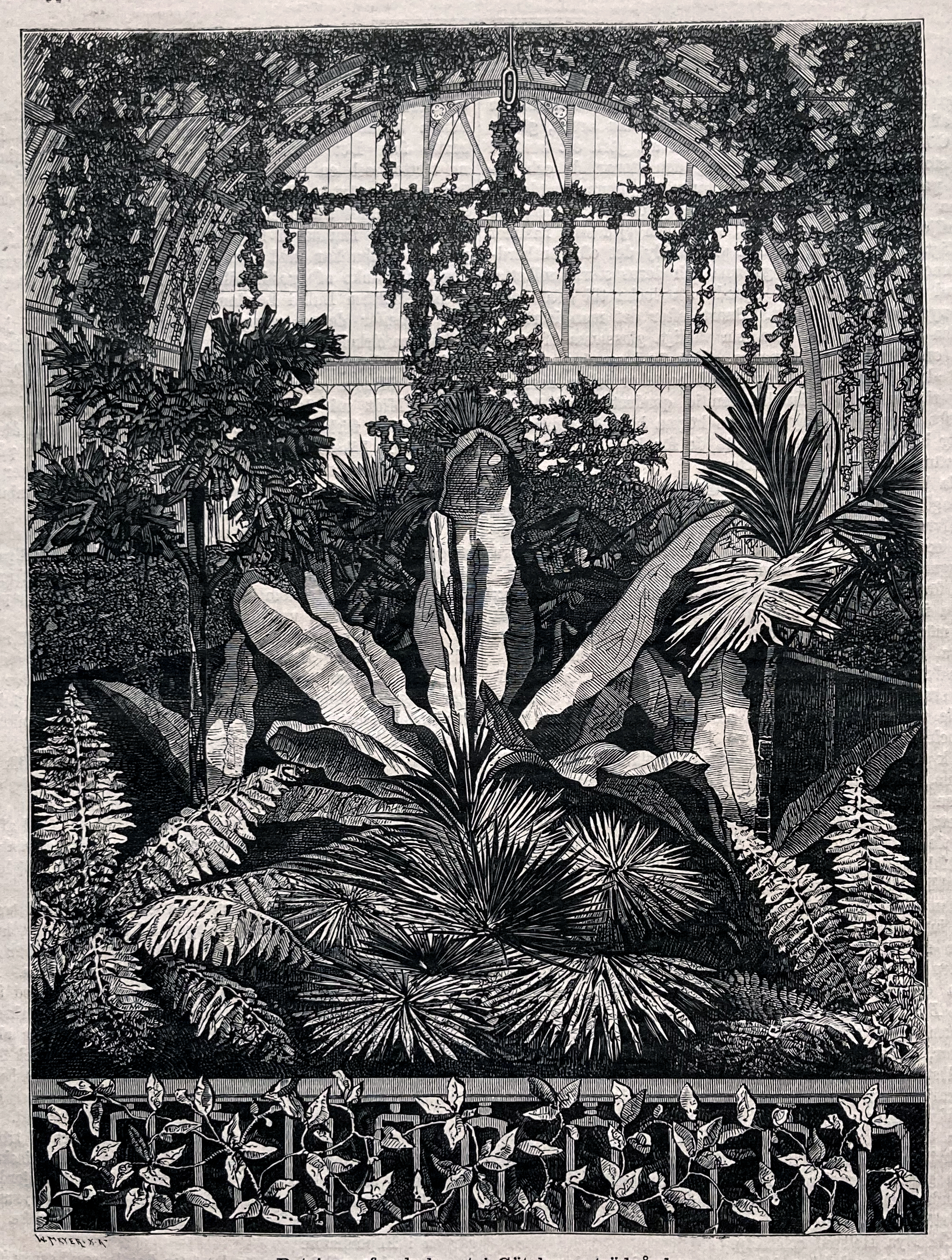 O.L. Janssen, wood cut, 1880. "Palmhuset i Göteborgs trädgård"
Program
Thursday 30 September–Thursday 30 September
17.00 – 19.00
Free entrance
Svenska
Palmhuset, Trädgårdsföreningen, 411 38 Göteborg
Second Nature
Palmhuset, "the Palm Tree House", is a cast iron greenhouse built in 1878 to display a botanical collection of living plants. It is an artificial environment staged to replicate vaguely defined, far-off places. Arguably, though, it says more about this place than anywhere else. 
Welcome to Second Nature, an attempt at understanding what kind of situation Palmhuset is reproducing – right here and right now. The programme is arranged by Neighbours of Architecture in the frame of Göteborg International Biennial for Contemporary Art.
17.00 – 18.00 
Starting at regular intervals, you are guided through the building accompanied by a recording and a small kit of things you can carry with you. These temporary props are designed to enhance and exaggerate the synthetic aspects of the space you are in.  
18.00 –19.00 
The audience is invited to an informal talk between Neighbours of Architecture, Marie-Louise Richards, and Monica Sand about the experience, and how to interpret the architectural and cultural legacy of Palmhuset today.  
Second Nature is made possible through funding from the Swedish Arts Council, as part of Neighbours of Architecture ongoing project In Situ – Curating Architecture on Site.
---
Participants
Neighbours of Architecture is a practice and an institution, producing and directing architectural culture in the form of exhibitions, events, publications, objects and other media. It is co-directed by architect Björn Ehrlemark and curator Carin Kallenberg. 
Marie-Louise Richards is an architect, lecturer and researcher at the Royal Institute of Art in Stockholm. Her work explores invisibility as embodiment, a critical strategy and a spatial category through methods of architectural and artistic practice, curatorial practice, and writing.  
Monica Sand is an artist, researcher and Research Adviser at the Faculty of Fine, Applied and Performing Arts, Gothenburg University. Sand holds a PhD in artistic research at KTH Architecture. Her earlier work focus on the spatial relations between art and science, as well as collective actions in public space. 
---
Visitor information
d(-_-)b Please bring your own smart phone and headphones, if you can.
RSVP in advance to info@arkitekturensgrannar.se if you plan to attend – thank you.
Attendance is limited and audience participation will be adjusted to follow current restrictions regarding risk of infection.