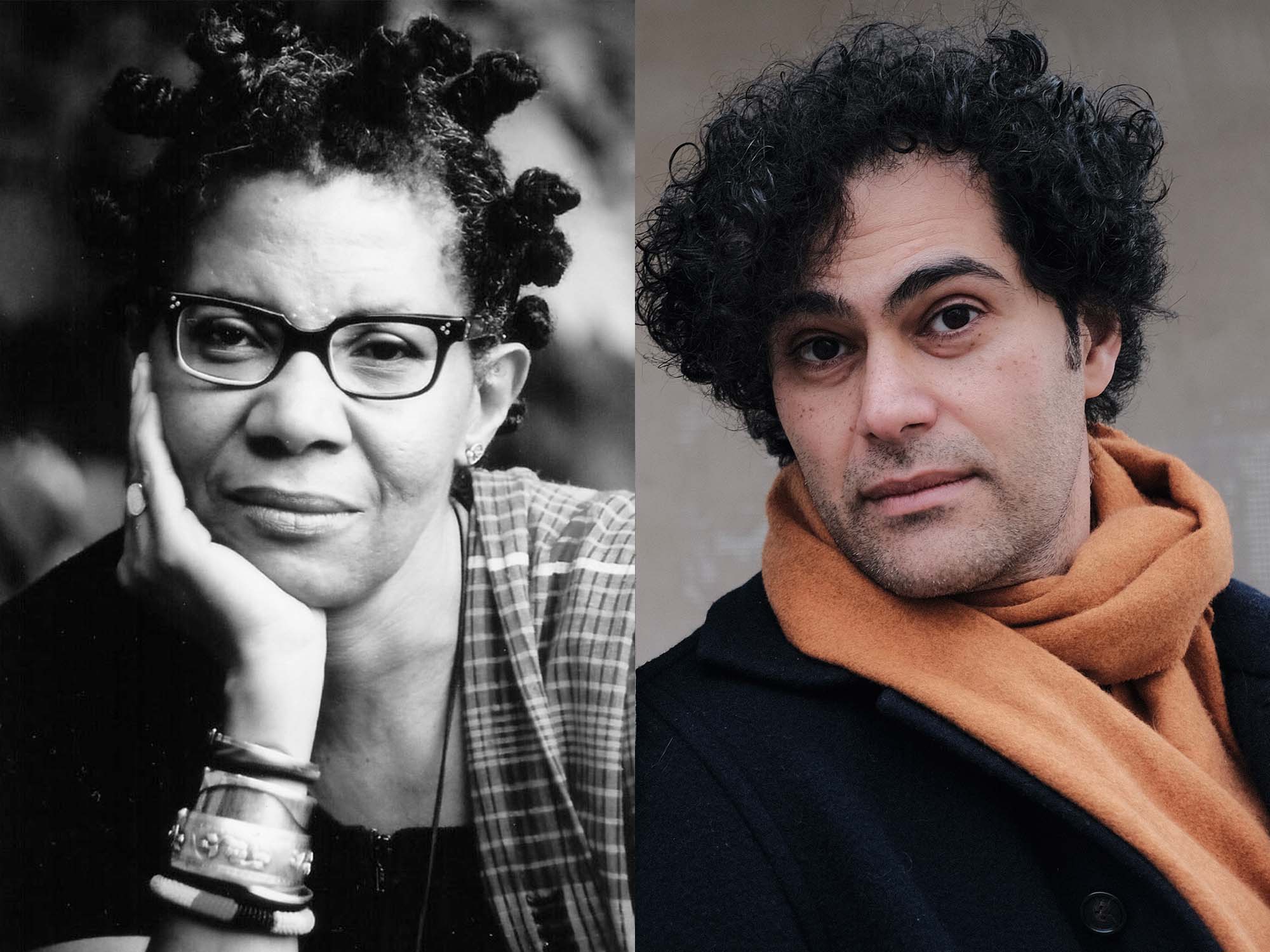 Program
Wednesday 27 October
18.00 – 19.30
Engelska
Online
M. NourbeSe Philip in dialogue with Khashayar Naderehvandi
Online on Zoom here.
Meet artist and author M. NourbeSe Philip in dialogue with writer and literary critic Khashayar Naderehvandi.
For the eleventh edition of Göteborg International Biennial for Contemporary Art poet M. NourbeSe Philip has translated her work Zong! into another medium – from a book into an artwork in public space. The work is on view at Franska Tomten, a place in Gothenburg's historical harbour with connections to Swedish colonial history, and takes the form of a 17m long temporary installation on view until November 14th.
The poem Zong! revisits the historical trauma of a massacre at sea, telling a story that cannot be told yet must be told. In November 1781, the captain of the slave ship Zong ordered that some 150 enslaved Africans be murdered by drowning so that the ship's owners could collect insurance money. The insurance claim was documented in a legal decision — the only existent public record of the massacre. The poem relies entirely on the words of the legal document, excavated and transformed by M. NourbeSe Philip into a chant where the many other voices and perspectives on board the ship emerge. Excerpts from the original poem have been selected by the author for presentation as a public artwork. Its placement at Franska tomten in Gothenburg commemorates the victims of Sweden's involvement in the transatlantic slave trade and of the colonial rule of the Caribbean island Saint Barthélemy (1784–1878).
The programme is organised by Göteborg International Biennial for Contemporary Art in partnership with the Fine Art Academy at the Oslo National Academy of Art and supported by Embassy of Canada in Sweden.
---
Participants
M. NourbeSe Philip (b. 1947 in Tobago, based in Vancouver, Canada) is an unembedded poet, essayist, novelist, playwright, and independent scholar who lives in the space-time of the City of Toronto, where she practiced law for seven years before becoming a poet and writer. Her published works include She Tries Her Tongue, Her Silence Softly Breaks, Looking for Livingston: An Odyssey of Silence, Harriet's Daughter, Coups and Calypsos, and BlanK. Her book-length poem Zong! is a genre-breaking epic that explodes the legal archive as it relates to slavery. Among her awards are numerous Canada Council and Ontario Arts Council grants, including the prestigious Chalmers Award (Ontario Arts Council), the Canada Council's Victor Martyn Lynch-Staunton Award (Outstanding mid-career artist), as well as the Pushcart Prize (USA), the Casa de las Americas Prize (Cuba), the Lawrence Foundation Prize (USA), the Arts Foundation of Toronto Writing and Publishing Award (Toronto), and Dora Award finalist (drama). M. NourbeSe Philip is the 2020 recipient of PEN/ Nabokov Award for Achievement in International Literature.
Khashayar Naderehvandi (b.1981, based in Malmö, Sweden) is a poet and writer of fiction. He holds a PhD in Artistic Practices and his most recent publication is his dissertation Vem vittnar för vittnet? (Autor, 2020). He is currently working on the translation of M. NourbeSe Philip's Zong! to Swedish. His upcoming novel is planned for publication in 2022.