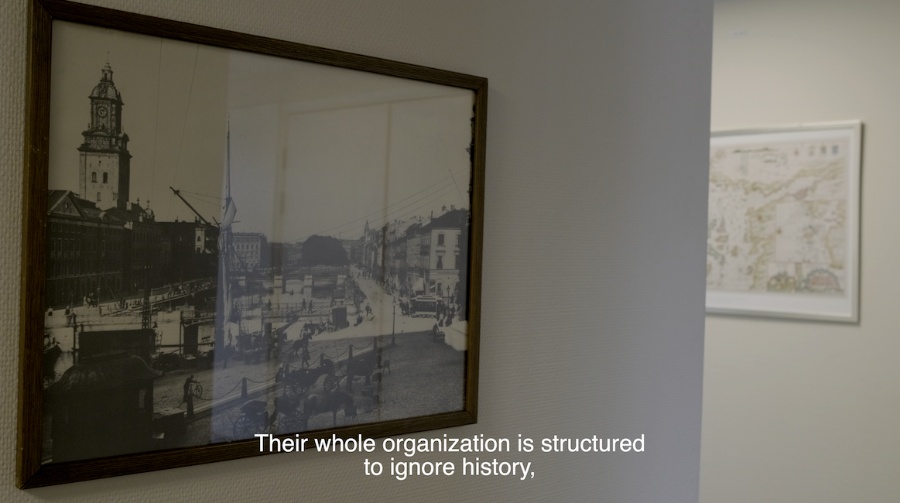 Videostill "Det är ju alltid ett jättejobb att hålla ihop ett kollektiv" by Benjamin Gerdes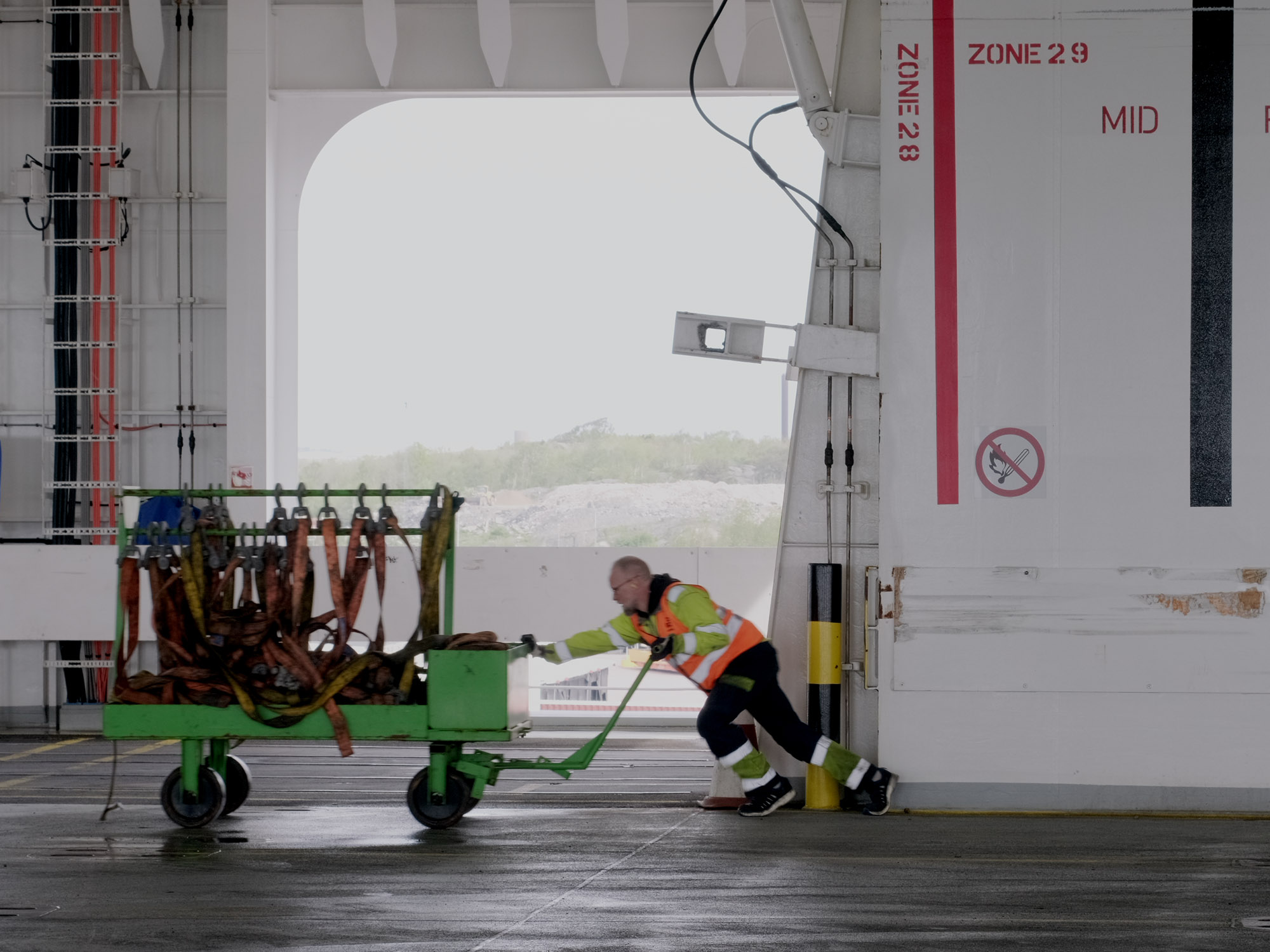 Video still from "Det är ju alltid ett jättejobb att hålla ihop ett kollektiv" by Benjamin Gerdes
Program
Saturday 2 October
19.00 – 22.00
Free entrance
English
Skogen, Masthuggsterrassen 3 SE-413 18 Göteborg
How to Haunt the System: Can Ghosted Labour Be Collectivized?
The seminar is available online live on this page on October 2, starting 19.00 CET.
Scroll for livestream.
Participants (online presentations): Charmaine Chua, Katy Fox-Hodess, Latipa (Memory and Resistance Laboratory), Magda Malinowska and Elena Raviola.
The programme is organised by artist Benjamin Gerdes.
Expanding upon Benjamin Gerdes's video projects made in collaboration with the Swedish Dockworkers Union for the edition in 2021 of the biennial, this "assembly of the unseen"—a series of workshops, talks, and other creative interventions—explores ways to connect underrepresented labour sites and struggles related to logistics and software industries. It will pair events in two cities with ports and tech industries—Oakland, California and Gothenburg—to propose strategies for connecting local tensions to global networks. Contributors will come from logistic labour, film studies, design, ethnography, geography, architecture, art, sociology, and urbanism, with performative interventions and creative input from workshop participants into the co-creation of more viable and compelling streaming assemblies. The workshop is open to all who are interested in understanding the workings of the world differently. Together, how can we haunt the system? 
Partners: Skogen, Kungl. Konsthögskolan/Royal Institute of Art, Pro Arts Gallery and Commons Oakland, CA.

With support from US Embassy Stockholm on the Occasion of Gothenburg's 400th Anniversary
.
---
Visitor information
The keynotes on October 2 be streamed and responded to at Pro Arts Gallery and Commons Oakland, US as well as on social media channels of the biennial.
The seminar is accompanied by a workshop on two occasions, October 3 and October 30. The workshop is open to everyone and registration is open at info@skogen.pm.
---
Participants
Charmaine Chua is Assistant Professor in the Department of Global Studies at the University of California, Santa Barbara. Her research and teaching interests are in technologies of globalization, global political economy, infrastructure studies, empire and imperialism, and ocean studies.
Dr. Chua's research is concerned with the politics of global circulation: how things move, who moves them, and why systems that are supposed to provision life might actually distribute inequality and death. Her first book project, "Logistics Leviathan: Circulation, Empire, and the TransPacific supply chain," explores the expansion of US-China commercial trade through the rise of logistics, and demonstrates how just-in-time global supply chains are imperial infrastructures that accelerate and intensify economies of carceral, ecological, and racialized violence in the US, China, and the Asia-Pacific. Chua received her Ph.D. from the University of Minnesota in 2018. She is the Reviews and Open Site Editor for Environment and Planning D: Society and Space, and is on the editorial and advisory boards of the Journal of Narrative Politics, and Abolition: A Journal of Insurgent Politics. She also collaborates and engages in public education and organizing with the Empire Logistics and Abolition collectives.
Katy Fox-Hodess is a lecturer in Industrial Relations at the University of Sheffield and took her doctorate in Sociology at the University of California, Berkeley. She is currently Research Development Director of the Centre for Decent Work (CDW) and an Associate Fellow at the Sheffield Political Economy Research Institute (SPERI), as well as co-founder of the International Labour and Logistics Research Network. Her research and teaching interests include industrial relations, globalization, political sociology, political economy and social theory. Current writing projects draw on the work of Nicos Poulantzas to develop a non-orthodox theory of worker power able to account for its simultaneous grounding in economy, state and ideology. Her PhD dissertation, Dockworkers of the World Unite: Transnational Class Formation and the New Labor Internationalism, examined the construction of 'bottom-up' labor internationalism by rank-and-file dockworker union activists affiliated to the International Dockworkers Council. The project was a global organizational ethnography  employing a nested multi-level comparison of union coordination in response to recent labor disputes in Europe (Greece, Portugal, England) and Latin America (Chile, Colombia). Spanning four years, the research, conducted in forty cities in twenty countries, is comprised of over eighty in-depth interviews, as well as participant observation at a dozen international meetings of dockworker union activists, and analysis of union archival documents and media reporting of key disputes. The project has received generous funding from a number of different sources, including the the International Dissertation Research Fellowship of the Social Science Research Council.
Latipa / Memory and Resistance Laboratory
Latipa (née Michelle Dizon) is a visual artist, theorist, and Associate Professor of Media and Cultural Studies at the University of California, Riverside.  Her work summons sites of memory and resistance in the wake of historical dispossession, migration, and diaspora. Latipa's projects include Gaza Before the Law, a film about failure of the US legal system in matters of justice for Palestine, The Archive's Fold, a multi-image slide installation that explores the violence of the US colonial archive by reading its images through past and future ancestors, and White Gaze (with Viet Le), an artist's book and photographic installation that poses a decolonial counterpoint to National Geographic and its legacy of imperialist visuality.  Past projects of note include Perpetual Peace, a multichannel video installation about extractivism and ecological disaster in the Philippines, Basing Landscapes, a single-channel video installation about the gendered violence of neocolonial occupation, and Civil Society, a three-channel video installation that considers cultural memory through the lens of two events: the 2005 uprisings in the French banlieues and the 1992 uprisings in Los Angeles.  Most recently, Latipa has co-edited an issue entitled On Being Included on the politics of inclusion and gave the Keynote Lecture for the 2019 Singapore Biennale Online Symposium. Latipa earned an MFA in Art with a specialization in Interdisciplinary Studio from the University of California, Los Angeles, and a Ph.D. in Rhetoric with designated emphases in Film and Women, Gender, and Sexuality from the University of California, Berkeley.
Magda Malinowska is a member of Inicjatywa Pracownicza trade union, co-organizer of the Social Congress of Women. Currently she is working in the Polish branch of Amazon, where she is engaged in shop floor organizing. She is also a graduate of philosophy, film postproduction and Doc Pro course at the Wajda School and Studio in Warsaw. She is the author of several social-related films. Among them are: Bourgeoisie returns to the center, Mothers' Strike, Special Exploitation Zone and Women's Strike Continues about the working and living conditions of women in Poland.
Elena Raviola is professor of Design at HDK – Valand Academy at Gothenburg Univeristy. Raviola's research interest lies in understanding the role of technology and other material artifacts in organizing and managing professional work, especially in cultural and creative fields. She is more specifically interested in how professional norms, rules, structures and ideas are enacted, changed and maintained, in practice and how technology intervenes in these professional practices, transforming over time what is considered professional. Her main field of investigation has been news production. She has conducted a number of ethnographic studies in Italy, France and Sweden in established and new news organizations, all struggling with the establishment and development of so-called digital journalism. Most recently, she have been following two relatively new trends in journalism, namely entrepreneurial journalism and robotjournalism. Both enabled by digital technologies, they have been different responses to the so-much-debated crisis of journalism and news organizations.
Natalia Mount is the Executive director of partner organization Pro Arts Gallery and Commons in Oakland, CA, and will host a viewing for the livestream as well as participate in the seminar in late October.