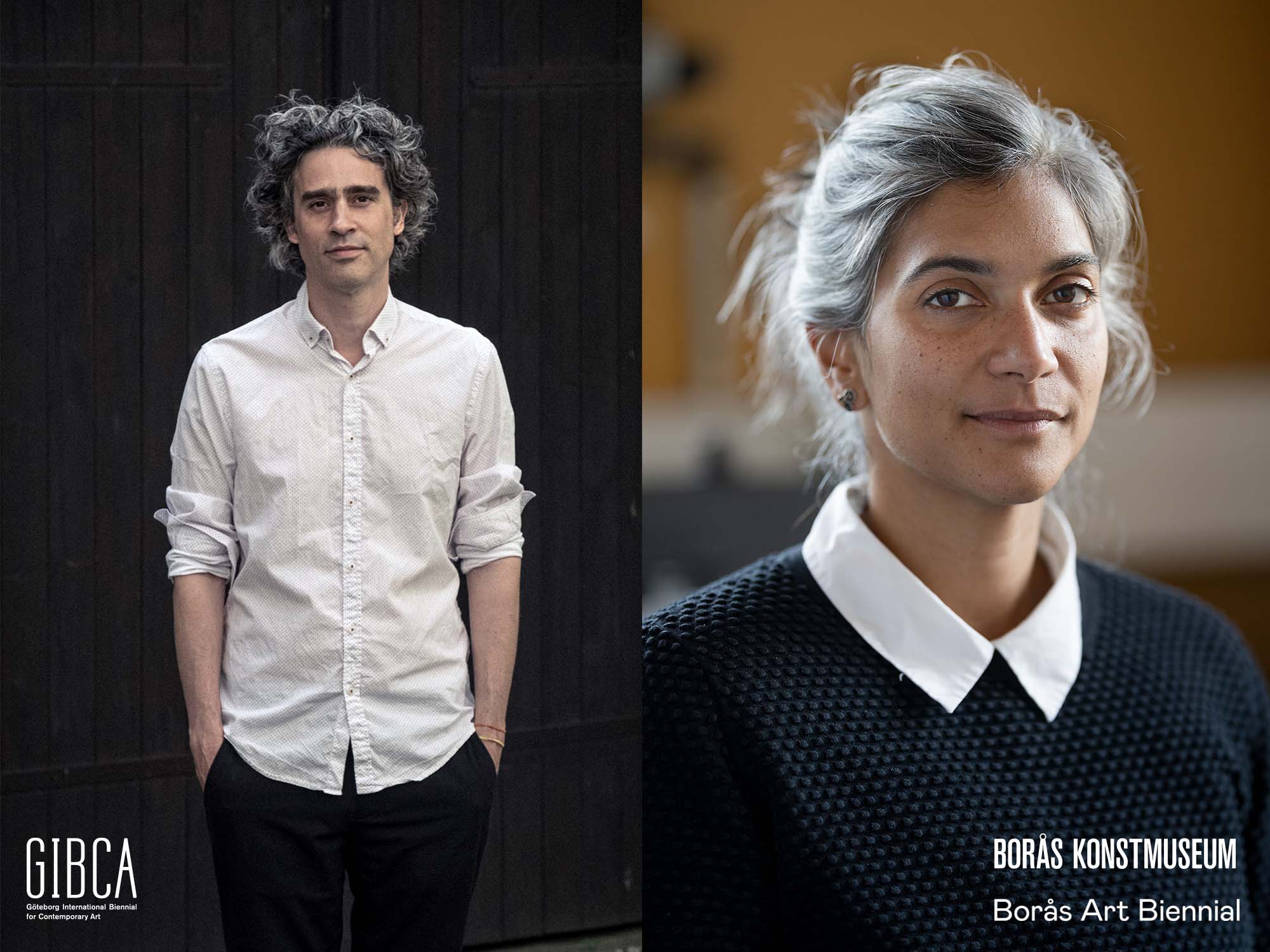 Runo Lagormasino, foto Lotten Pålsson. NIna Mangalanayagam, foto Henrik Zeitler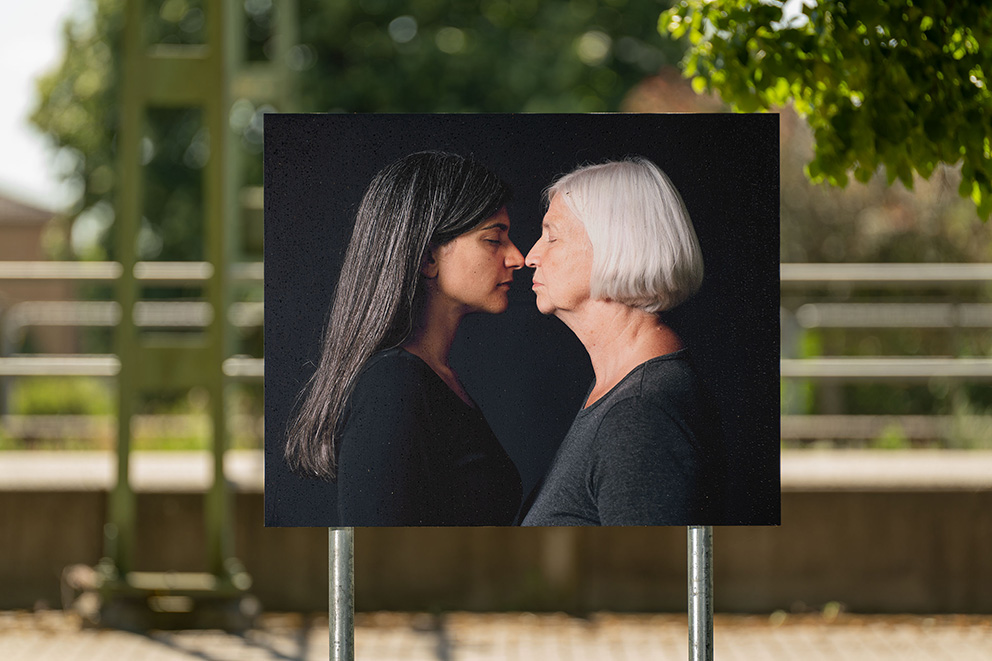 Borås Art Biennial 2021 Moving Out by Nina Mangalanayagam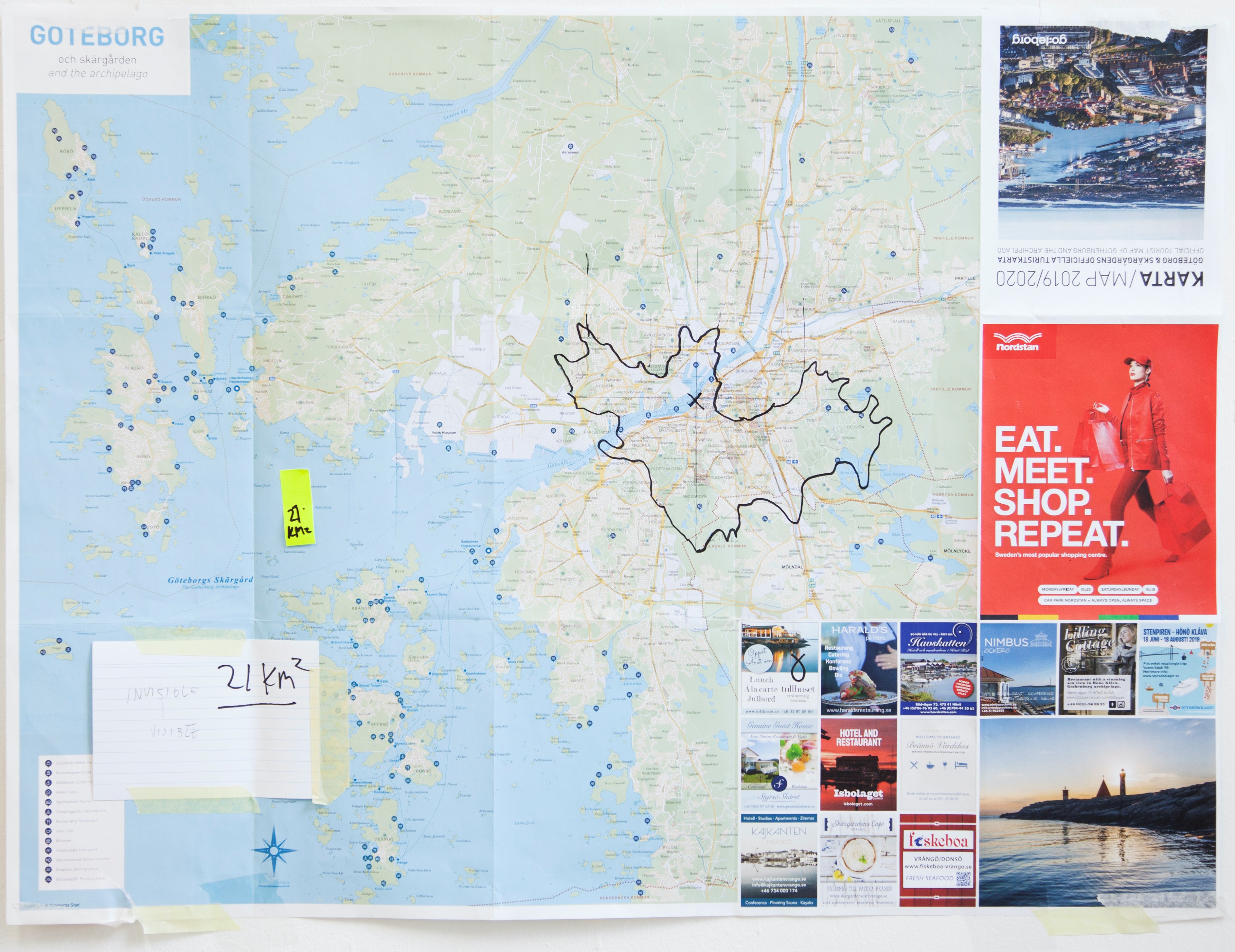 Sketch for Geography of haunted places by Runo Lagomarsino. Photo: Lotten Pålsson
Program
Wednesday 22 September
18.00 – 20.00
Free entrance
Swedish
Stadsbiblioteket
Biennials in/of a city
Artist talk: Runo Lagomarsino and

Nina

Mangalanayagam
What stories are told by art in a city? How do the stories we keep of our cities, our collective pasts and our possible futures root in the streets we walk on and the traces they hold? And how does contemporary art contribute to narratives in public space?
At the 400 years anniversary of the cities of Borås and Gothenburg, the art biennials taking place in these cities in 2021 invite you to a conversation with artists Runo Lagomarsino and Nina Mangalanayagam, on the relation of art with history writing and the works they present in Göteborg International Biennial for Contemporary Art, respective Borås Biennial. The conversation is moderated by Ann Ighe.
Runo Lagomarsino (b.1977 in Lund) lives and works in Malmö. In the eleventh edition of Göteborg International Biennial for Contemporary Art Runo Lagomarsino presents a speculative proposal for a public monument connecting the history of Gothenburg with Sweden's colonial history. 
Language, geography,and historiography are themes that Lagomarsino revisits often in his artistic practice. Lagomarsino's work has been presented internationally at a.o. Museo Nacional Centro de Arte Reina Sofía, Madrid, Guggenheim Museum, New York, the 56th Venice Biennale, the 30th São Paulo Biennial, Liverpool Biennal, 12th Istanbul Biennial and, most recently,  in a solo exhibition at Lunds Konsthall in summer 2021.
Nina Mangalayagam lives and works in Gothenburg, Sweden. For Borås Biennial Nina Mangalanayagam presents a series of large-scale photographic prints in public spaces in Bor[s, Vårgårda and Bollebygd. Mangalanayagam's research analyzes the shifting points of identifi­cation she experiences as a mixed-heritage subject to explore the dichotomy of black and white notions of identity.  Mangalanayagam is a lecturer at the HDK-Valand Aca­demy in Gothenburg. Recent exhibitions include: Vigilance, Struggle, Pride: Through Her Eyes at Umelka Gallery, Slovak Union of Visual Arts, Bratislava, Slovakia (2019); No Looking Back, Okay? at Umetnostna galerija (UGM), Maribor, Slovenia; Vigilance, Struggle, Pride: Through Her Eyes at the Organ Vida Festival, Museum of Contemporary Art, Zagreb, Croatia; Sisterhood and Gentle Men at Forum Stadtpark, Graz, Austria; The Tangled Web of Belonging at PhotoEast Festival, Ipswich, UK.

Ann Ighe is lecturer in Economic History at Gothenburg University and editor of Ord&Bild. 
The programme is presented in collaboration by Borås Biennial, Göteborg International Biennial for Contemporary Art and Stadsbiblioteket Göteborg.
---
Participants
Artists Nina Mangalanayagam and Runo Lagomarsino. Moderator: Ann Ighe