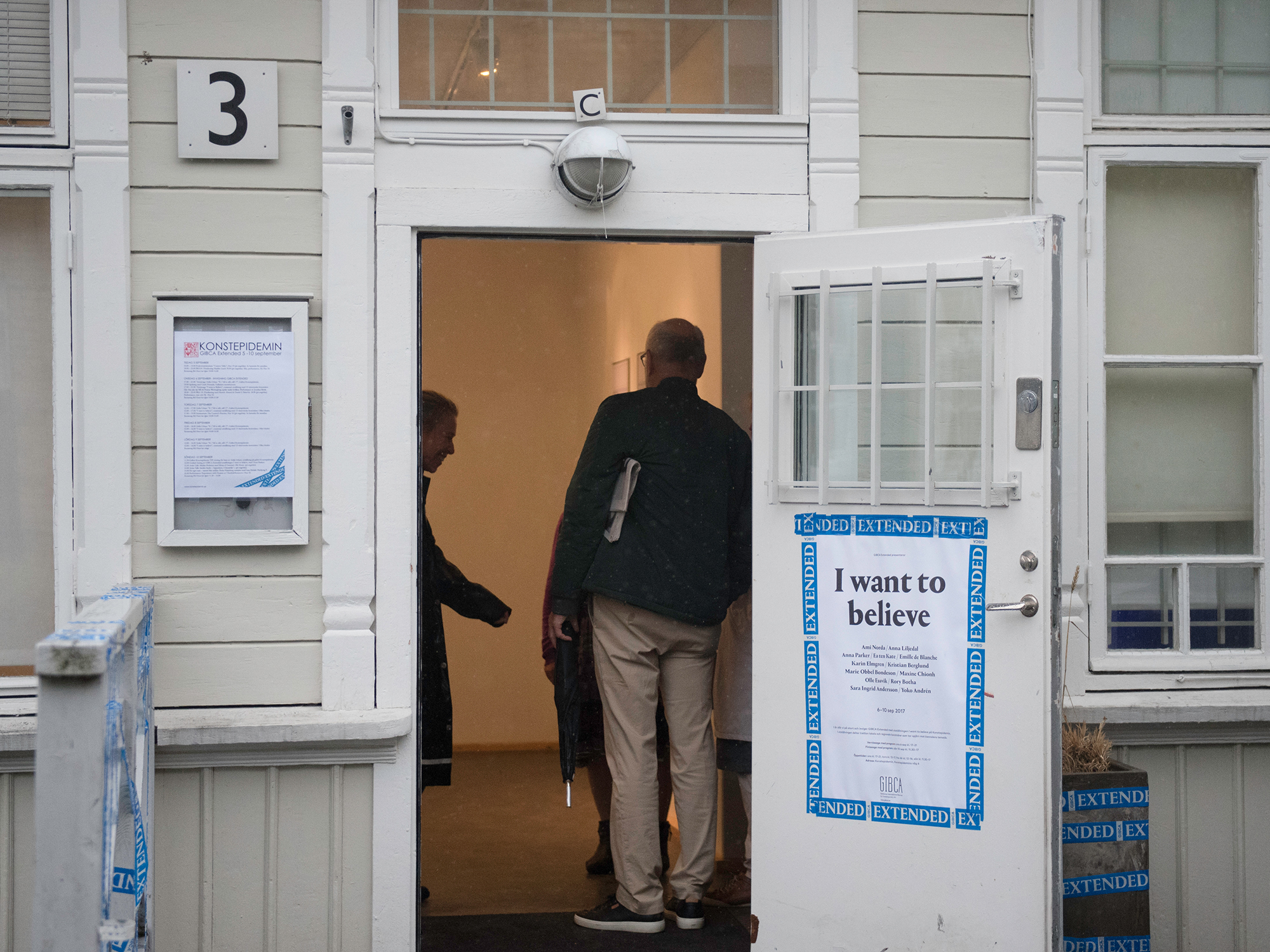 I want to believe at Konstepidemin. Photo: Rebecka Bjurmell.
Exhibition
I want to believe
September 6–September 10 2017
In 2015 and 2017, GIBCA Extended has grown to feature many participating platforms implementing their own exhibitions and programmes – offering a place where local artists can present their work for a visiting international audience. To expand upon the GIBCA Extended programme and more easily facilitate artists' participation, in 2017 we were proud to present the exhibition I want to believe. This group exhibition featured thirteen local artists who presented work based upon the title and theme of GIBCA 2017 – On Secularity.
The exhibited artists were chosen from an Open Call that went out during the Spring of 2017. Approximately 70 artists submitted proposals and the thirteen were selected for the exhibition, chosen by a jury of representatives from regional art platforms.
It is a great pleasure to be able to present an exhibition of artists active in Västra Götaland as part of the GIBCA Extended programme. GIBCA would like to send a warm thank you to the artists, Konstepidemin, Coordinator Oscar Ramos, the jury who selected the exhibited artists and everyone else involved in making this exhibition possible. Together we can create more spaces and opportunities for artists to exhibit their practices and work together to continue expanding this vivid and exciting art scene in Western Sweden.
Exhibiting Arists
Ami Norda
Anna Liljedal
Anna Parker
Ea ten Kate
Emille de Blanche
Karin Elmgren
Kristian Berglund
Marie Obbel Bondeson
Maxine Chionh
Olle Essvik
Rory Botha
Sara Ingrid Andersson
Yoko Andrén
The opening was Wednesday 6th September 6pm-9pm
Open from: 6–10 september, Wednesday 6-8pm, Thursday 12–5pm, Friday-Sunday 12–4pm.
Address: Konstepidemin, Konstepidemins väg 6, Göteborg.