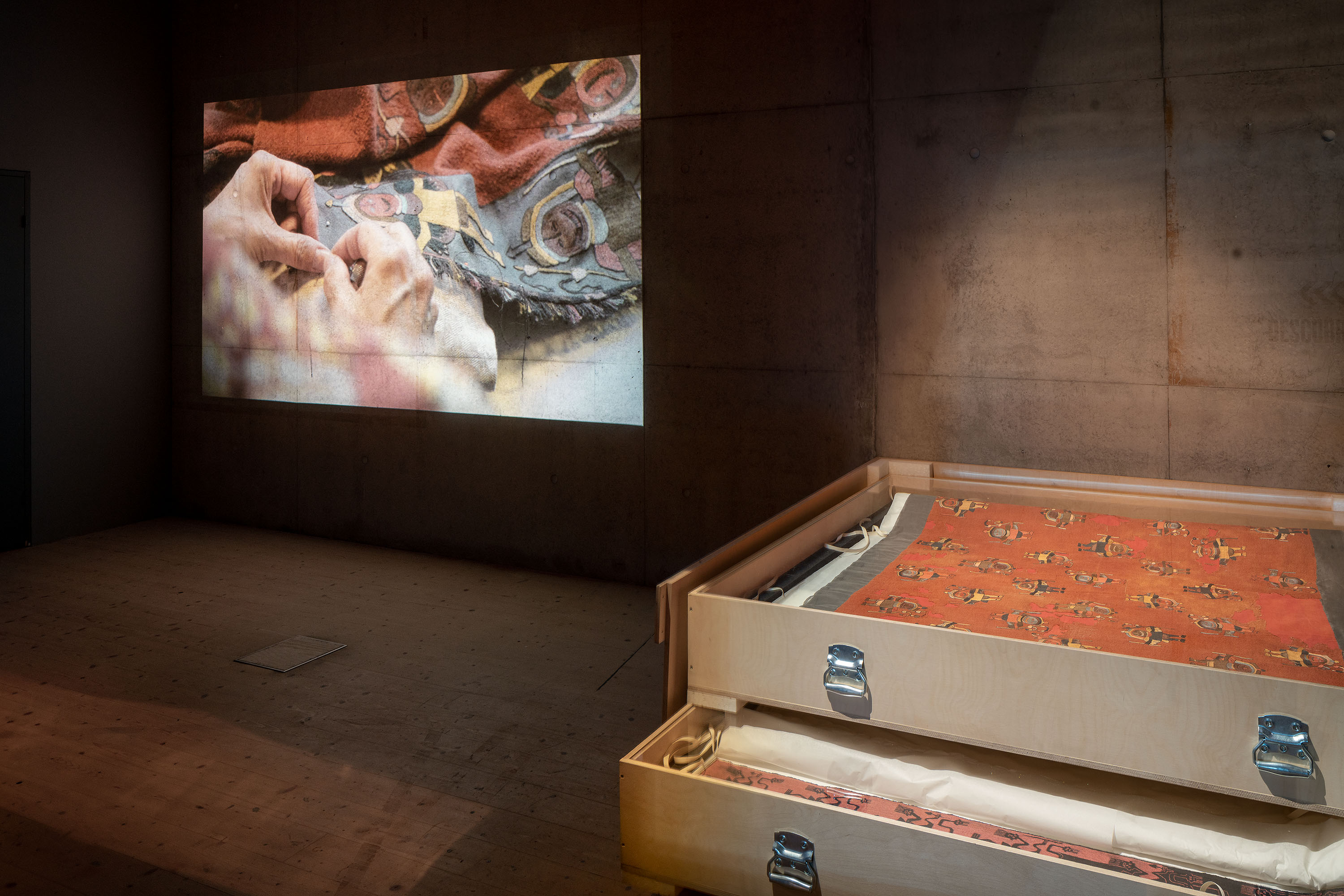 Gibca 2021 Världskulturmuseet. Photo: Hendrik Zeitler
Program
söndag 21 november
14.00
Engelska
Världskulturmuseet
Seminarium: Oscar Lara i samtal med Natasha Marie Llorens
This seminar is built around the last chapter of Oscar Lara's project, "Within Heritage Movements", currently on display at the Museum of World Culture as part of the 11th edition of Göteborg International Biennial for Contemporary Art "The Ghost Ship and the Sea Change" (5 September–21 November 2021).
The core element of Oscar Lara's research project is the reproduction process of two textile pieces of the Paracas collection (Textile collection hosted by the Museum of World Culture since the early thirties). A very high demanding process that lasted of a period of four years and involved various professionals.
The seminar will reflect on different aspects of the project and the strategical turns and decisions that the artist made aiming to challenge the tangible impact that art projects can provoke when leaving the symbolic political gesture for getting into the terrain of generating their own politics for accomplishing real structural changes. Within Heritage Moments is the first of a series of projects that constitute Oscar Lara's PhD research for the Royal Institute of Art.
The respondent of the seminar will be Natasha Marie Llorens, independent curator and writer, current professor of Art and Theory at the Royal Institute of Art.
---
About the contributors:
Oscar Lara is a visual artist and researcher based in Stockholm and Lima. His subjects of research navigate among Socially Engaged Art for substantial structural change and recontextualization of ethnographic material for exploring decolonial power as well as areas of social and ethnic diversity. Lara has exhibited a.o. MALI – Museo de Arte de Lima (2017), Örebro Konsthall (2017), Centro Fundación Telefónica (2012), Tetem Kunstruimte (2011), Museum of World Culture (2008), Röda Sten Konsthall (2008). In 2016 he was appointed as Ph.D. candidate for the Program in Fine Arts of the Royal Institute of Art, Stockholm, where he is currently working with supervisors Alessandro Petti and Nina Möntmann.
Natasha Marie Llorens is a Franco-American independent curator and writer. She recently curated Waiting for Omar Gatlato: A Survey of Contemporary Art from Algeria and Its Diaspora at the Wallach Art Gallery and edited the first English-language anthology on Algerian and Franco-Algerian aesthetics in conjunction with the exhibition. A graduate of the MA program at the Center for Curatorial Studies at Bard, Llorens is currently finishing a Ph.D. at Columbia University focused on five experimental films from the 1960s and 70s in Algeria. She is Professor of Art and Theory at the Royal Institute of Art, Stockholm.