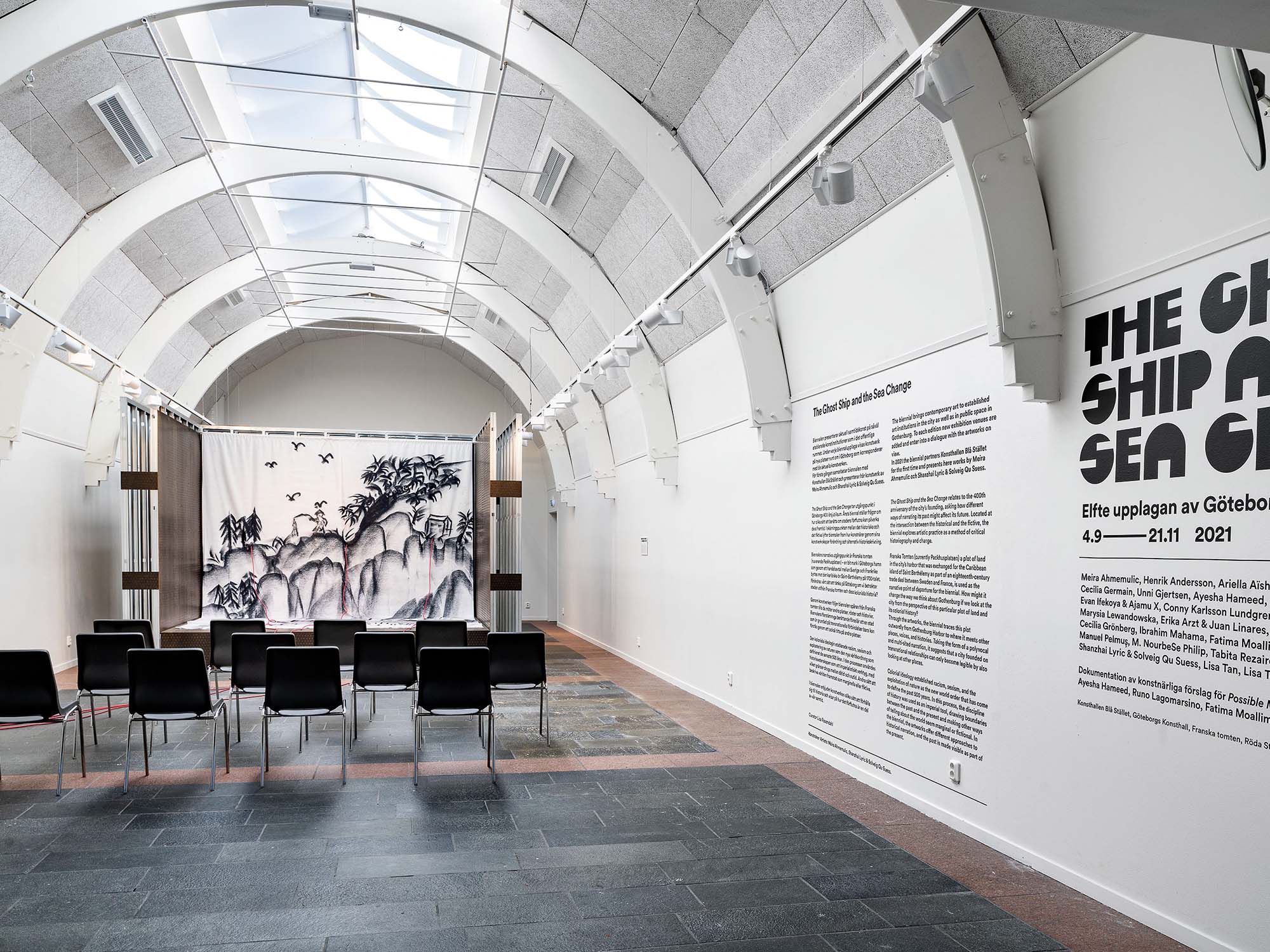 Program
Thursday 18 November
18.00
Engelska
Konsthallen Blå Stället
Artist conversation: Shanzhai Lyric & Solveig Qu Suess
Göteborg International Biennial for Contemporary Art invites you to an evening alongside curator Lisa Rosendahl in conversation with artists Solveig Qu Suess and Ming Lin (Shanzhai Lyric) about their research-based practice, theoretical frameworks and artistic presentations during the 11th edition of the biennial.
At Konsthallen Blå Stället you can take part in the video work AAA Cargo by Solveig Qu Suess and the video work / installation TIMELESS by Shanzhai Lyric & Solveig Qu Suess.
The film essay AAA Cargo is part fiction, part documentary about the New Silk Road. The video traces the anticipation of infrastructure and trade on a planetary scale. It follows distribution networks as they expand between China and Europe.
Timeless is a collaborative project by filmmaker Solveig Qu Suess and poetic research unit Shanzhai Lyric. It takes inspiration from shanzhai, the Chinese word for counterfeit, which literally translates to "mountain hamlet" in reference to an enclave on the edge of empire where bandits redistribute stolen goods. The installation brings together three speculative, geographical, and hypothetical "hamlets": New York City's Canal Street, the Jura Mountains of Switzerland, and the famed hermit retreat of Mount Lu in China. Hamlet is also an iconic Shakespeare character caught in a haunted web of stolen power.
Don't miss!
The programme is in English and will also be livestreamed during the night.
---
Participants
Ming Lin from Shanzhai Lyric (based in NYC) is a body of research focusing on radical logistics and linguistics through the prism of technological aberration and nonofficial cultures.
Solveig Qu Suess (1990, Switzerland) works within the fields of documentary-making, research, and writing. Her moving-image practice has been researching embodied and ecological politics across infrastructures of circulation, attentive to new spatial configurations of power.
Lisa Rosendahl, curator for Gibca 2019-2021 and senior lecturer in exhibition studies at the Oslo Academy of the Arts.