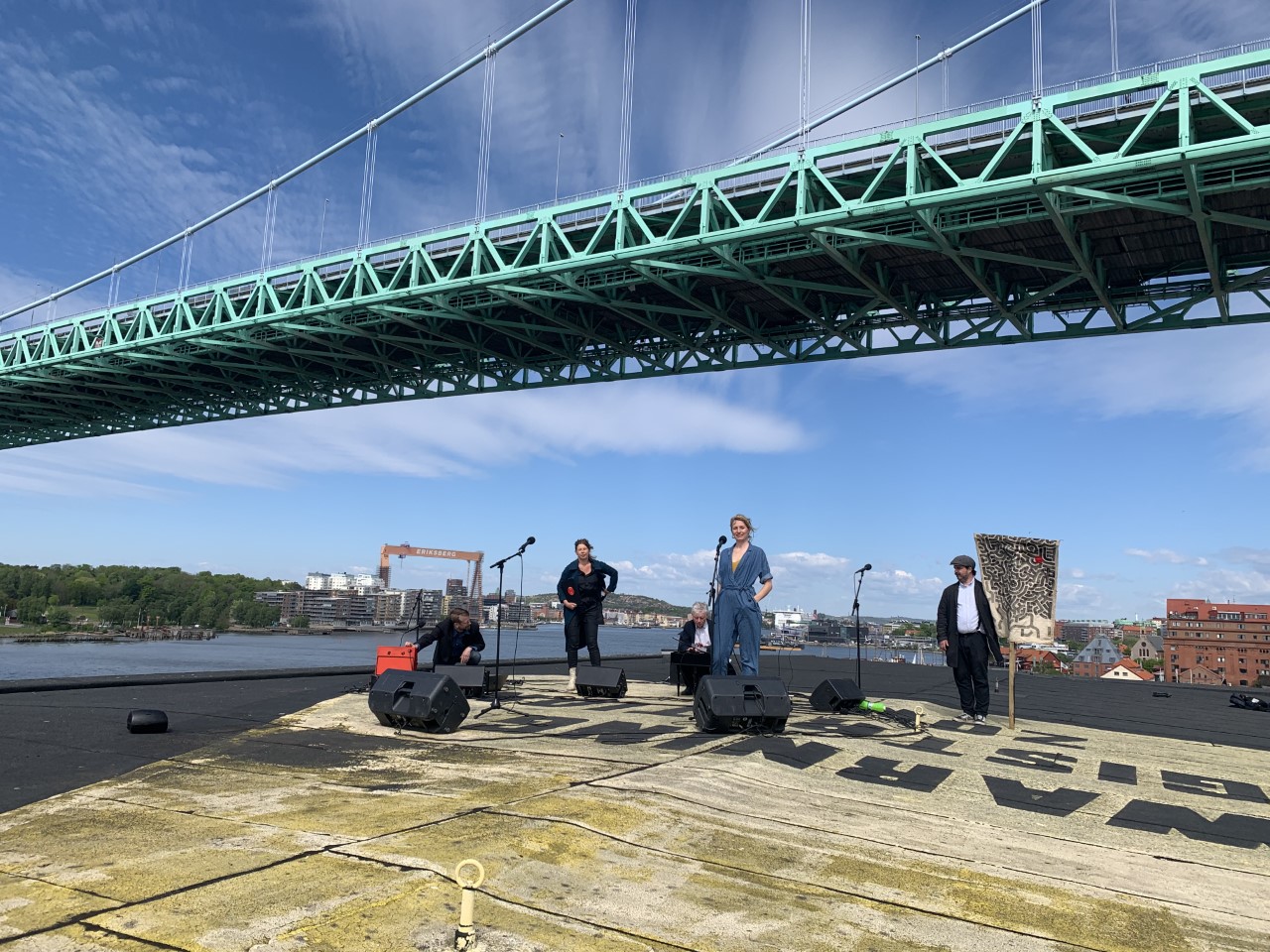 A birthday concert to Gothenburg!
To celebrate Gothenburg's 400th anniversary, Röda Sten Konsthall and Göteborg International Biennial for Contemporary Art invite you to a birthday concert with the project Du är här (You Are Here) – 400 songs about 400 places in Gothenburg. The concert is recorded on the roof of Röda Sten Konsthall. Experience the concert here and on the biennial's Facebook page, Sunday 6 June at 12.
The birthday concert is shown as part of the opening program for the exhibition The Ghost Ship and the Sea Change, this year's edition of the biennial. More information about the opening weekend can be found here: tinyurl.com/gibca2021summeropening
Songs for Gothenburg
The project Du är här (You Are Here) performs on the roof of Röda Sten konsthall, playing eight of their 400 songs and stories about Gothenburg. It's an homage to the richness and variations of the city. From the roof you can see the city in the glorious early summer light, the harbour, the Eriksberg crane, the Stena ferry, the church towers and the fortifications.
The five members of Du är här – Lina Ekdahl, Isak Eldh, Magnus Haglund, Ylva Olaison and Ulf Rönnerstrand – have been working for several years creating this system of connections and memories, texts and melodies. The different snapshots of street corners, squares, bridges, vantage points, promenades and specific addresses, become an everchanging play. A cross-section of the city, in its mundanity and open secrets.
The following portraits of places are included in the performance: Toredalsgatan 22, Lövgärdets centrum, Astronomgatan, Trångets södra väg, Vågmästareplatsen, Hotel Royal, Stigs center, Röda Sten.
Texts by Lina Ekdahl, music by Isak Eldh & Magnus Haglund (apart from Astronomgatan: Ylva Olaison).
For more information, see the website www.duarhar.se