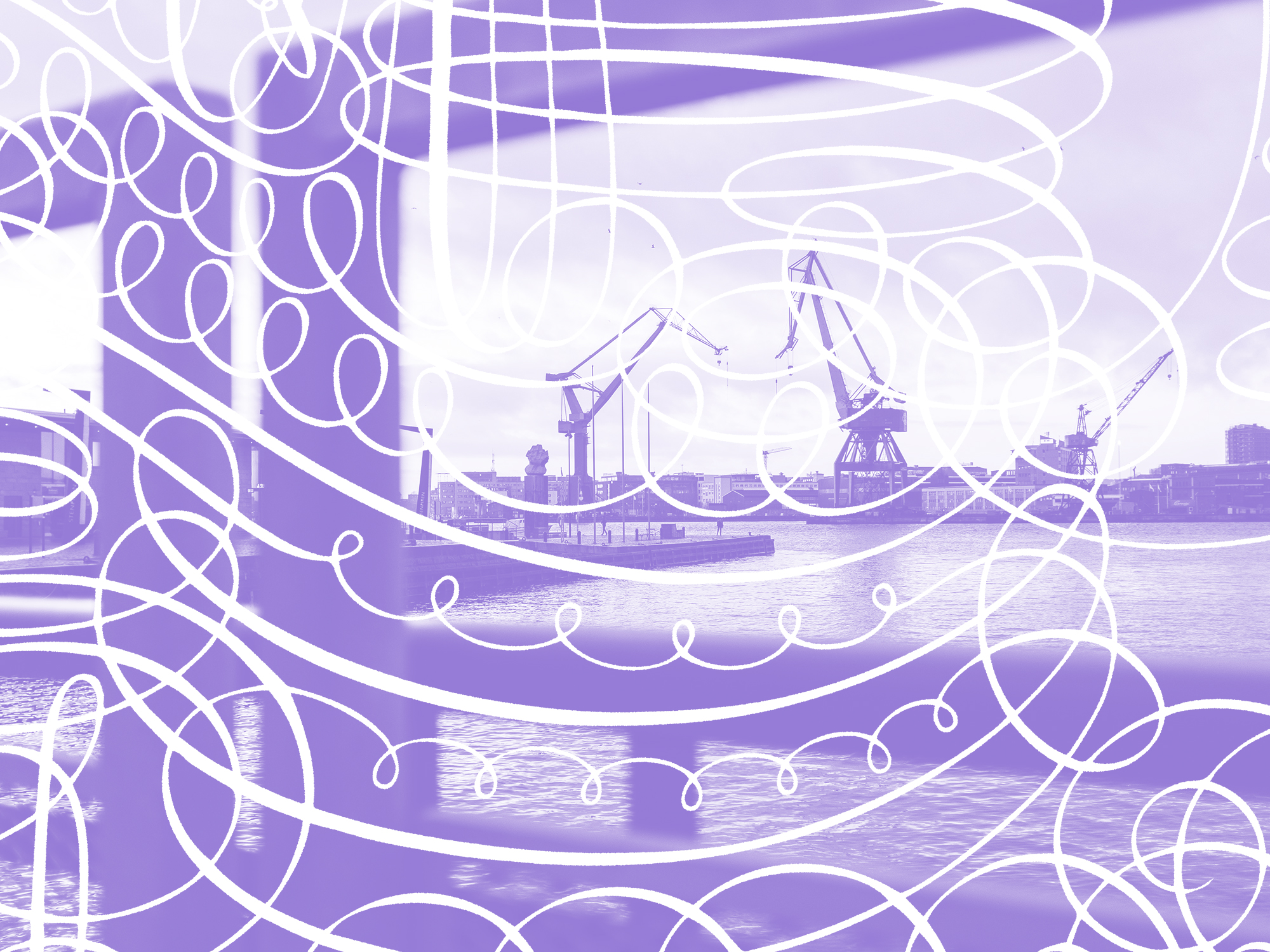 Digital Vernissage Part One
The Ghost Ship and the Sea Change, Part One
In 2021 the art biennial in Gothenburg opens already in the summer! To celebrate the city's 400-years anniversary, the biennial welcomes audiences to meet artworks and artist for 22 weeks in summer and autumn 2021.
Join us on June 5th, 12 CET (online and at Röda Sten Konsthall) for celebrating the opening of Part One of The Ghost Ship and the Sea Change, the eleventh edition of the biennial, curated by Lisa Rosendahl.
In the programme: opening speeches by biennial Director Mia Christersdotter Norman, Artistic Director Ioana Leca, Curator Lisa Rosendahl; introduction to a series of sound commissions; screenings of artworks by Hira Nabi and Tabita Rezaire.
To celebrate the city's 400th years anniversary, the hosting institution for the biennial, Röda Sten Konsthall, presents an anniversary concert on its rooftop, in collaboration with a subjective mapping project ongoing in Gothenburg, Du är här: 400 sånger om 400 platser i Göteborg (You Are Here: 400 songs on 400 places in Gothenburg).
---
Information on the eleventh edition of the biennial
Developed in two parts, to open in June and in September, the project brings together artworks by 39 artists and artists groups.
With stories from Gothenburg and elsewhere, the biennial, titled 𝗧𝗵𝗲 𝗚𝗵𝗼𝘀𝘁 𝗦𝗵𝗶𝗽 𝗮𝗻𝗱 𝘁𝗵𝗲 𝗦𝗲𝗮 𝗖𝗵𝗮𝗻𝗴𝗲 and curated by Lisa Rosendahl, relates to the historical layers of the city, asking how different ways of narrating its past might affect its future. Placed at the intersection between the historical and the fictive, the biennial explores artistic practice as a method of critical historiography and change.
𝗧𝗵𝗲 𝗚𝗵𝗼𝘀𝘁 𝗦𝗵𝗶𝗽 𝗮𝗻𝗱 𝘁𝗵𝗲 𝗦𝗲𝗮 𝗖𝗵𝗮𝗻𝗴𝗲: 𝗣𝗮𝗿𝘁 𝗢𝗻𝗲
𝗝𝘂𝗻𝗲 𝟱 – 𝗔𝘂𝗴𝘂𝘀𝘁 𝟮𝟮
Artists Part One: Michael Baers, Evan Ifekoya & Ajamu X, Damla Kilickiran, Susanne Kriemann, Anna Ling, Ibrahim Mahama, Silvano Lora, Hira Nabi, Daniela Ortiz, Manuel Pelmuş, Tabita Rezaire, Jessica Warboys. Documentation of artistic proposals for possible monuments by Hanan Benammar, Aria Dean, Ayesha Hameed, Runo Lagomarsino, Fatima Moallim, Daniela Ortiz, and Jimmy Robert.
At: Röda Sten Konsthall and Franska Tomten
---
Visiting information
Visit Röda Sten Konsthall between 11.00-18.00 in the opening weekend.
Drop-in visits (max. 20 people in the exhibition space at the same time) between 12.00-18.00. If you want to secure a visiting time, one bookable slot is available at 11.00. Book your tickets here. In case of crowding, we kindly ask for your patience for access in the konsthall.